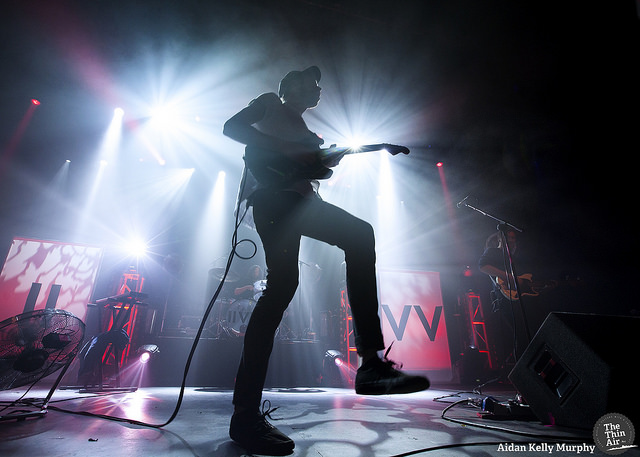 "It's good to be home" says Conor Adams, frontman of All Tvvins after playing their first song in The Olympia Theatre tonight, Book. And it seems that the feeling is mutual, the crowd could not be happier to have the band back on home turf after they have been away touring across Europe in support of their debut album 'IIVV' for the last while. In tonight's show All Tvvins show just why there has been so much talk about them, and this definitely feels like the beginning of something huge.
From the moment they take to the stage they have the crowd in the palm of their hands. Obviously there are songs like 'Resurrect Me' which have gotten a lot of radio play and are clearly going to be favourites. That being said, the whole set is filled with exciting and feel good tracks, perfectly showcasing All Tvvins and what they do best. They treat the Dublin crowd to a new song, that they have never played before, and straight away it's clear to see the song should be a hit, if there's any justice. Catchy and memorable, the song stands out straight away and although it fits in with the set, definitely shows a little flair and something new.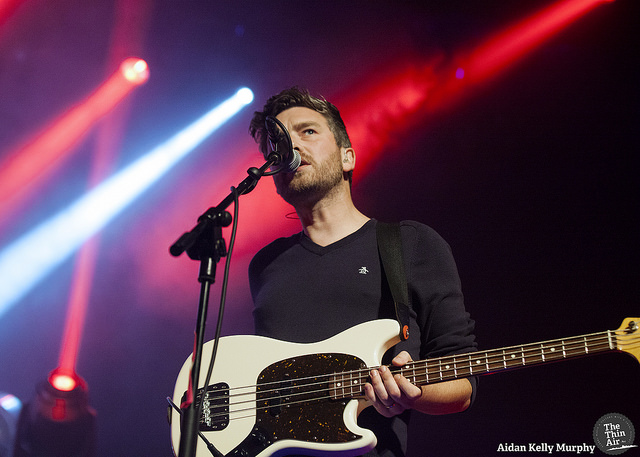 The only slight let down, if you can even call it that, is that at times the band's songs do run into one another slightly. There is a slight lack on dynamism in that for the most part, the set takes on the same pace and sound. But that really is just a small point and can pretty much be brought down to the fact that they have one full length album and they are playing here to support it, and as it is the album that has most likely attracted many of their fans, it is only natural they are sticking to that line.
All Tvvins are a joy to watch partly because of the energy they have on stage. As well as Adam's talents vocally and his charisma, Lar Kaye's stage presence is completely captivating and unwavering. Between the two of them they are totally in control of the stage and as such have everyones full and undivided attention.
If you have ever needed any convincing on All Tvvins, the answer really is quite simply to see them live. They thrive on stage, they come alive and their music truly stands out as its feel good, energetic self. With sounds of the crowd's 'Ole's resonating in the venue, as the confetti begins to settle, it's clear that All Tvvins are on to something special, and Dublin are not wanting to let them go anytime soon. Orla Conway
Photos by Aidan Kelly Murphy