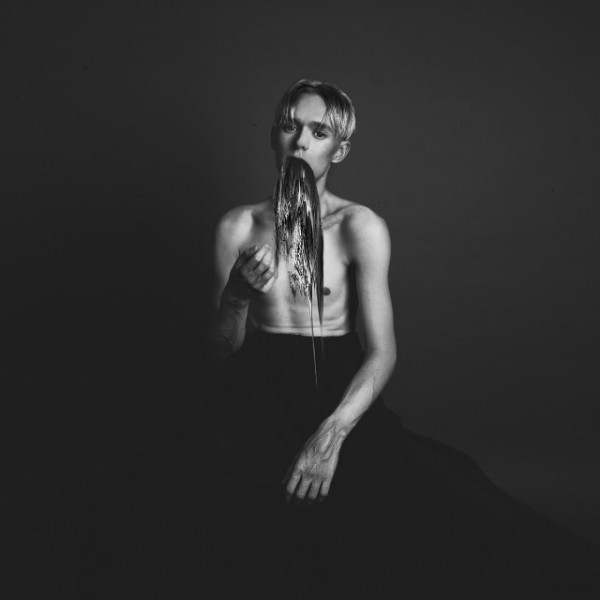 Whelm, the 2014 debut album by London-based songwriter Douglas Dare, was a bold opening statement. It was held together by Dare's powerful voice in spite of its musical idiosyncrasies; a voice that was immediately striking in its delivery and cadences, but which later revealed a fragility that suggested it was the tenor of a man in emotional distress. He has always written from a personal place, but his second album, Aforger, amplifies that to the nth degree. It's an album in which the music is complex (almost to a self-conscious degree) and whose lyrics speak of deep personal strife; a struggle against suffocating despair. Set in motion by coming out to his father in the wake of a brutal break-up, Aforger bears dark cover art that's also strangely fascinating.
The listener is thrust into the immediate aftermath of his breakup on opener 'Doublethink', which cribs concepts and language from George Orwell's Nineteen Eighty-Four and re-contextualises them within the narrative of an emotional collapse. "Ignorance is my bliss / Don't want to fall out of this … What's this I read? You've betrayed me / But I don't recall / I'm buried in doublethought" he proclaims, trying to make sense of everything, background sirens and a wailing vocal coda suggesting that all is not well.
The unflinching nature of Dare's lyrics will attract as many people as it repels, but naked honesty is Aforger's lifeblood. By track 3, Dare is pleading with his father to accept his sexuality over machine-gun snare blasts and plodding piano. "I want you to love him as much as I do / He is my lover and a son to you" he insists as the musical backdrop rises to a fever pitch, attempting to soar before being dragged back down into the mire.
At times dark and oppressive to the point of overpowering the listener, Dare's latest output comes on like Patrick Wolf pouring his heart out over the instrumentals from a Thom Yorke solo project. It's got that same insular, self-examinatory vibe to it, with Dare's warped and pitch-shifted vocal on 'The Edge' sounding like Wolf multi-tracking himself while disoriented and hungover, and 'Venus' reminiscent of 'Videotape' off In Rainbows in its offbeat percussion and shameless accessibility. It's one of the more immediate moments on an album that is heavy going, but makes for a good starting point for those who may be intimidated by the emotional baggage the record comes with.
Further listens of Aforger shed light on its melodic sensibilities; 'Greenhouse' and 'New York' are compelling in their intricacies and tangents, while the bittersweet penultimate track 'Thinking of Him' pairs one of the album's best melody lines to its ruminations on heartbreak and loss. When entering Dare's realm, preconceptions are best left outside, and perseverance is rewarded. If you can bear its stark worldview, Aforger has much to offer. Gareth O'Malley