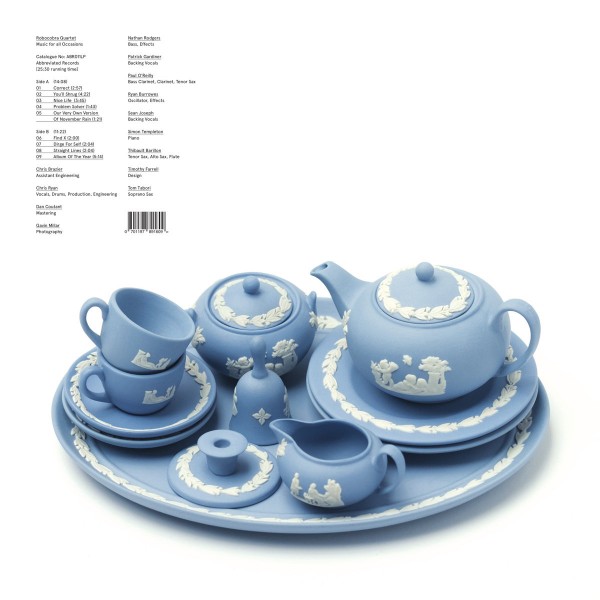 Take some seedy post-punk jazzy brass, heavy anchored basslines, sporadic nuanced drum fills, and the expressive vocal stylings of the beat generation's slam poets and you're left with a vaguely accurate depiction of Belfast's own Robocobra Quartet. Music for all Occasions is a fascinatingly fierce attack on the Irish music scene. The nine track collection is refreshingly ambitious and entirely bold throughout, with wandering variations of song length, style, and approach. It's a very complete record designed to be listened to and appreciated from beginning to end.
Lead single 'Correct' opens the record and immediately sets the tone for everything else to follow with the cleverly inquisitive line "I wondered why instead of calling me a critic, you called me critical." This consistent introspective wit remains throughout, being swarmed and accentuated by saxophone hooks and gritty bass, and stands as a perfect example of what you're letting yourself in for.
Scatterings of shorter tracks such as 'Problem Solver' and 'Our Very Own Version of November Rain' are expertly placed as respites among the otherwise controlled chaos, though never lack an impassioned moment. Staggering through into 'You'll Shrug' we touch upon a more subdued vibe, reminiscent of a lowly rain-soaked backdrop such as some late night Tom Waits imagery from the early 1980's. It's the sort of easy sway that would seem right at home as the soundtrack to a classic film noir, though doubtlessly modern in its delivery.
The record then leads on with some shorter, more condensed pieces as previously mentioned, before we eventually land on another note-worthy track, 'Dirge For Self'. It's only fair to say that Robocobra Quartet know how to manipulate simplicity and drag the soul of a note out with well-meaning intention, as this particularly sluggish track is unequivocal proof of. It almost sounds like how it feels to run underwater, without the frustration of not reaching your destination in a hurry. It's slow, and it's staggered, and it's sparing, but it's also rather seductive, and expert in what it's aiming to achieve.
This record is a celebration of Irish music and the ever-exciting imaginations that thrive here. Keep an ear to the ground for Robocobra Quartet, and you'll know when they're near. They'll be tough to miss. Trev Moran