Galleries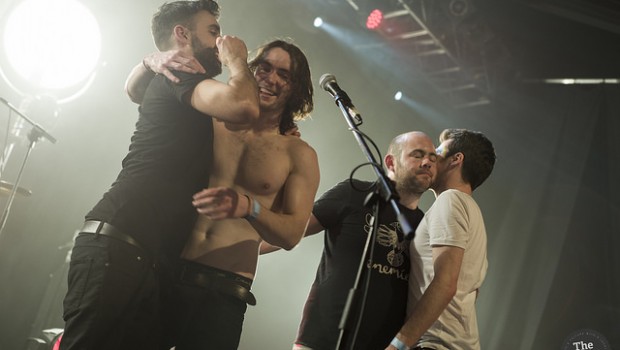 Published on December 20th, 2016 | by Eoin Murray
0
Enemies Final Show @ Vicar Street, Dublin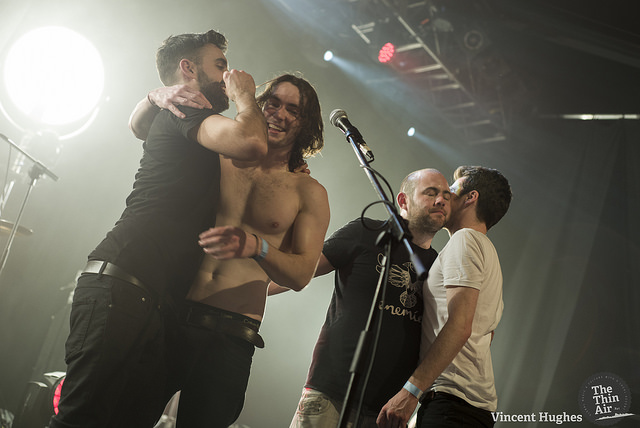 For Enemies' final show to land at this stage of an already turbulent year for Irish independent music felt significant. Throughout the course of a Sunday night in Vicar Street there was a sense of one era's gradual end and another's step further to the fore permeating the venue. Looking back on a year that saw more than a fair share of independent acts bow out gracefully from the scene, to have this gig as somewhat of a bookend for that felt meaningful. It re-instilled the importance for a band or artist to always act on their own terms, to end things the way they would want them to end and to leave no box un-ticked when that last note is played. Not only that, but we caught more than a few glimmers of hope on behalf of some of those that will keep Irish music thriving into the new year and beyond. Enemies' last gig was a triumph, one of those gigs where every exchange between the audience and the performers felt sincere and purposeful, where every guest appearance felt celebratory and joyous, and where every final flourish hit just the spot it was supposed to.
First up was Dublin young-guns Search Party Animal (formerly Bagels), a group whose zeal and energy in the past year has shown them to be some of the country's finest candidates to carry the torch of big-sounding-guitar-bands after the departure of tonight's headliners. While still in their nascent stages as a band and still honing their own niche as distinct from their obvious influences, there is a determination in this five-piece that, given time, should manifest itself as something really fantastic. Tracks like 'To and End' and 'Heads High, Feet Firm' are a testament to that, and their energised performance tonight packs enough promise into 40 minutes to make any imminent releases from the band a very exciting prospect indeed.
After a brief lull, Enemies walk onto the stage to the tune of Sinatra's 'My Way', the poignancy of which seems to be lost on nobody in the near-capacity venue. Once they walk out there is an immediate acknowledgment of what this gig means to its members, an open admission of nerves, emotions, shakes. Once they launch into 'itsallwaves', 'We've Been Talking' and 'Nag Champa' however, that shakiness reveals itself only as fervent energy. That energy is mirrored by the crowd, who cheer the house down at every given opportunity and who sing along to every word – and even to a bit of the guitar parts – in 'Indian Summer'.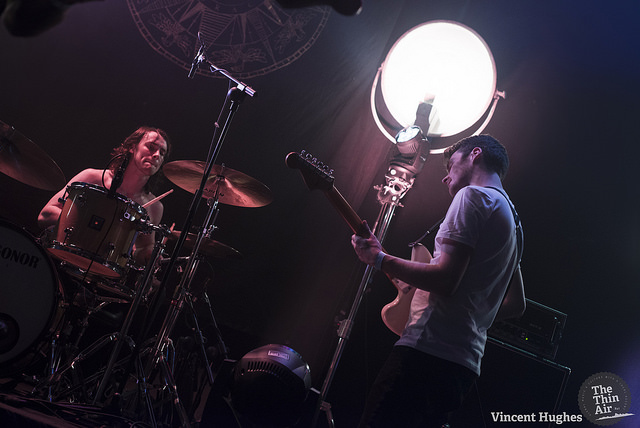 The first surprise of the night then comes in the form of the band's former drummer Oisín Trench joining them on stage for 'Coral Castle'. A fan favourite and a live spectacle in itself, the three-kit finale of the track along with Lewis Jackson's looped guitar and the crowd's wordless chant makes for one of the night's most memorable moments.
Come on Live Long's Louise Gaffney joins the band for 'Glow', one of the night's more ambient, ethereal points, serving as a transcendent breather in the lead up to the storming latter half . 'Robert Reid', a song named after the bassist of another sadly departed band Croupier, is another treat, while indie-pop duo Heathers' guest appearance during 'Nighthawks' is even more exhilarating than it was on record on Embark, Embrace.
Prior to the last few songs of the night, Bassist Mark O'Brien cuts the needless "fake encore" prospect out of the equation, instead opting to say a few words about the band's history, what it has meant to each of them and what it has meant to get to this point. It's a bittersweet speech during which the friendships that powered this band from day one are held proudly for everyone to witness. It was for the sake of those friendships that the band called it a day, and with emotions visibly running high throughout the night and in particular as O'Brien speaks now, that crucial bond among these bandmates is visibly as powerful as the music itself. Thanking parents, friends, and the myriad other people who have supported them, there is a real sense of conclusion to this moment that many a band or artist doesn't ever really get to have.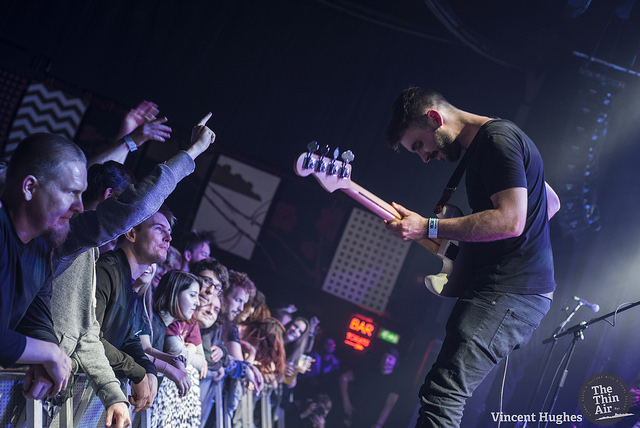 'Morse Code', 'Embark, Embrace' and 'Love Unlimited' close off the night, with Trench joining once again for some triple drum fun on the first of those. It's a climactic, loud, tearful end that could not have been delivered more successfully. The four members of the band hug and bow while the room cheers them off for the last time. We can be as sad as we like watching our favourite bands calling it a day… but there's solace in tonight's performance. There's resolution and there's pride to be found in its honesty. There's joy in the memory of it that will long outlast any disappointment. Eoin Murray
Photos by Vincent Hughes