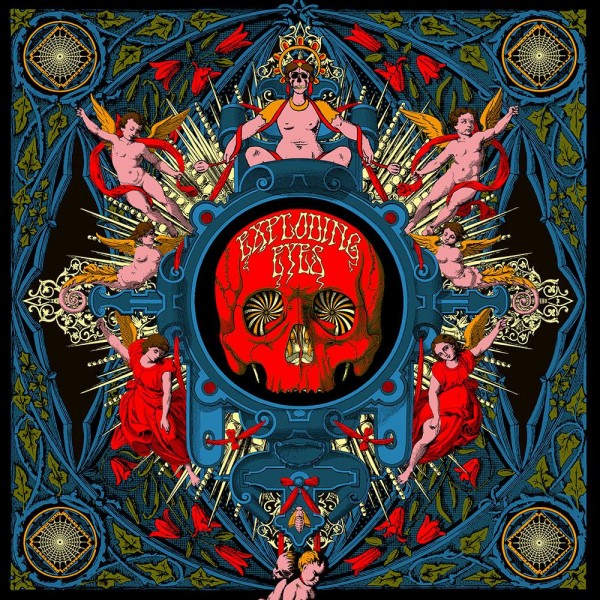 With an eye cast to longer days, warmer weather, and the promise of a new year, the self-titled debut LP from Dublin's gritty blues- rock trio Exploding Eyes greets you with a welcoming invitation to something a little less serious and a lot more fun.
The album is scattered with callbacks to some of the more classic and legendary rock outfits from the golden age of blues pop culture, such as Cream, Janis Joplin, and even some Lynyrd Skynyrd in some of their softer tracks.
Opening up the album in stellar form is the single 'We Need Love' – a track reminiscent of some early Kings of Leon in their Youth and Young Manhood days, with raw roaring guitars, relentless crashing symbols, and the vocal styling's of an un-tethered Jim Morrison, courtesy of frontman and bassist Robert Brady. It rolls along in much the same vein for a few tracks, before finally staggering into a healthy respite from the madness with 'Levitate' – the beautifully sentimental fifth track and halfway point in the ten-track collection. Melody and slow grooves soaked in reverb are the main ingredients for this particularly easy number, and it makes for a welcome change by the time it's heard.
By track nine, we find the gorgeous 'Madman's Lament', which focuses almost exclusively on whispering, nuanced guitars, and emotive vocals, in what is certainly one of the more structurally sound, and all-round impressively professional compositions from the trio.
Now, with many hints to the summer-of-love juggernauts already being mentioned as a comparison, it is not to suggest that any of this is dated in any way. It more so comes across as homage to the greats while ensuring a good time is being had in the occasionally psychedelic performances, which is evident throughout the album. At this point, it would only be fair to say that this album is not one to be minutely dissected over pretentiously expensive gluten-free pale ales by those who prefer to hear their own opinions of music rather than the music itself.
It is a rock record – relatively simple, and desperate for some sunshine and a road-trip. And quite frankly, we could all use a little rock n' roll these days. Trev Moran