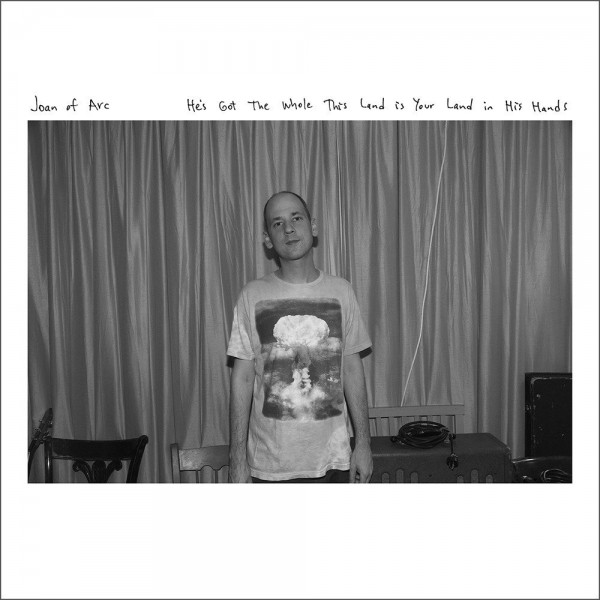 On their latest LP, He's Got The Whole This Land Is Your Land In His Hands, Joan of Arc have rather kindly telegraphed the initial reactions of those unfamiliar with the group in the opening lyrics: "What the fuuuuuuuuuuck?". That line is immediately followed by sampled, compressed drums smashing in completely out of left field while random electronic bleeps float around the mix and vocals offer up curious anatomy lessons. This is just the first thirty seconds. Let's rollback a tad and give some extra context. When emo legends Cap'n Jazz split, brothers Tim and Mike Kinsella formed Joan of Arc, a noisy, acerbic outfit, designed to push as many buttons as possible. The brothers would eventually diverge, heading down drastically different paths. The latter opted to explore an emotional space with his heart-on-your-sleeve Owen project as well as American Football, that super sincere emo band that your bro friends won't shut up about. The former kept with Joan of Arc and ran headlong into complete chaos. With album titles like Joan of Arc, Dick Cheney, Mark Twain and In Rape Fantasy and Terror Sex We Trust, they have anarchic sensibility at their core. No cow is too sacred to be slaughtered and laughed about. All this makes them a tough band to enjoy but a great one to love. After a near five year absence, the band has returned in a big way with their delightful, surprisingly honest nineteenth LP.  
As per usual, there are no rules on with Joan of Arc. Genre twists, vocal bends and all forms of sacrilege are mere seconds away at any point on the album. A big part of that is evidenced in the group's of wordplay with titles like 'This Must Be The Placenta', 'Stranged That Egg Yolk' and 'Isis Is To Be To Be'. Lyrically, their closest companions seem to be Andy Falkous of mclusky and Future of the Left fame. But while Falkous' rambling, tangential nuggets are often pointed and additionally vicious, Kinsella places his focus on the absurdity of life itself and everything that surrounds us. While the lyrics can at times seem haphazard and twee, they, crucially, never have like a "lol random" sensation. In certain cases, Kinsella uses outrageous lines to cut through at a deeper message. For example, 'Stranged That Egg Yolk' features a gentle plea for self-improvement and change with the refrain of "I want to kill that little Hitler in my heart". But of course, there is still just plain fun and silliness, for example, "I know how the nicest guy in ISIS feels" or the vocoded opening of 'Never Wintersbone You', which offers a ridiculous look at Phil Collins. This is musical anarchism in the truest form.
In spite of the disarray and disorder in the words, this time around the music is calmer than one would expect. There is still an everything but the kitchen sink approach to instrumentation and structure, but things are more muted and relaxed. Certain pieces have a greater emphasis on energy and noise, such as 'Ta Ta Terrordome', but for the most part, there is a running thread of gentle piano and fill-the-entire-low-end bass synths on most songs here. Take 'Cha Cha Cha Chakra' which is built around this very deliberately struck piano and a simple drum loop or the metronomic pulsating bass of "F Is For Fake" for example. Delving into nuance and focusing on the mellow instead of bashing you over the head, they allow the listener to appreciate what they're are doing a great deal more.
Nineteenth records would not tend to win over many new fans and this one is no different. It's fun and silly but not disposable. If you're willing to put in the time, this album will pay out dividends and at the very least, you'll get a couple of solid minutes of fun. Will Murphy