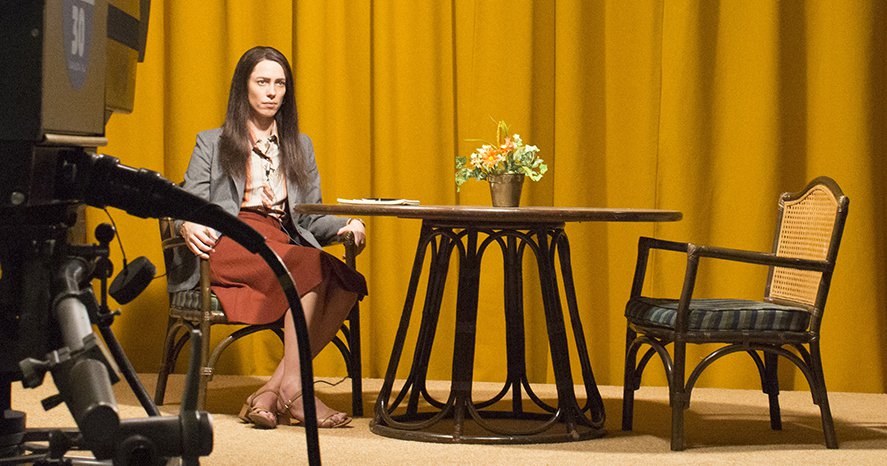 The line 'if it bleeds, it leads' marks a key moment in director Antonio Campos' (Simon Killer) latest movie Christine, about the grim story of US newswoman Christine Chubbuck. Based on real events, this deeply cynical line is delivered in a time when the news started to turn tabloid in the 70s, and sums up much of what the filmmaker is criticising in this shocking, yet intensely mesmerising, depiction of the reporter's last days.
Rebecca Hall (The Gift) stars as Chubbuck, an intelligent but highly strung news reporter whose personal life and career collide, causing her world to spiral out of control. Her aging hippy mother has a habit of taking liberties in her home, her love life is non-existent and health problems seem to be escalating, while her moralistic and uplifting approach to news reporting has her on a crash course with her boss, who demands more controversial stories to raise the ratings of their struggling station. As all of her problems begin to overwhelm the troubled reporter, a devastating climax is reached that remains one of the most disturbing moments in news reading history.
Set against the backdrop of Nixon's Watergate scandal, the paranoia and intensity of Chubbuck's last days are recreated with astounding realism by Rebecca Hall, whose acting can only be described as impeccable, given how complex and nuanced the character is. The decline of her mental state as the film moves towards its disturbing end is laid bare with an uncomfortable rawness, which eventually morphs into a subtle calm that will shock you to the core, even if you are familiar with the story's finale. But there is an empathetic tact to the performance and representation from Hall that is undoubtedly a career best for the actress. This performance is complemented by a great supporting cast, with key roles played by Michael C. Hall (Dexter) as a love interest and work colleague, J. Smith-Cameron (Margaret) as her mother and Tracy Letts (The Big Short) as the boss who she constantly locks horns with in her struggle for recognition.
The director has to be given credit in how he combines her personal life with an intelligent recreation of the newsroom, switching between on-screen and behind-the-scenes footage, giving an intriguing fly on the wall feel to her work life. The relationships with her work colleagues and mother create a fascinating dynamic – in particular with Hall and Letts – that lays out how fragile and deeply sensitive a woman she was. Most importantly, it is a timely critique of the decline of the mainstream media, along with a sharply delivered dig at America's open carry gun laws, demonstrating the paranoid influence that it can have on some people's mindset.
Campos' biopic of Christine Chubbuck will be seen by some as a controversial and in some ways exploitative take on her last days, but the movie is a great example of telling a tragic story in a manner that is sensitive and provocative in equal measure, while hitting home with important themes that are more relevant now than ever. And even though it is a challenging watch for much of its runtime, Christine is undoubtedly essential viewing. Kev Lovski