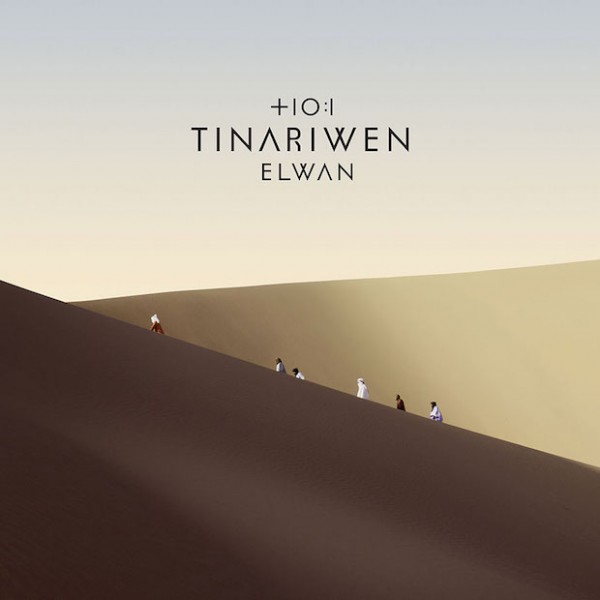 It's fair to say that in our Western-centric music industry, few artists from an African country like Mali tend to get much of a look in. With that in mind, for a band of Tuareg musicians like Tinariwen to break through as they have must be a signal that they're pretty damn good. Formed as long ago as 1979 as political exiles in Algeria but only releasing their first album proper in 2001 after their return to their native country having picked up several new members along the way, their gradually growing international profile culminated in fifth album Tassili – an album boasting guest appearances by TV on the Radio's Tunde Adebimpe and Kyp Malone and Wilco's Nels Cline – winning 2012's Grammy Award for Best World Music Album.
Their seventh LP Elwan ('The Elephants' in Tamashek) is the band's second album to be recorded largely away from the Sahara region, swapping one desert for another in California's Joshua Tree, but it's less a result of a band spreading their wings and more a sad consequence of the ongoing conflict in Mali – indeed, before they fled to Joshua Tree to record 2014's Emmaar, guitarist Abdallah Ag Lamida had been briefly seized by Al-Qaeda-linked militant group Ansar Dine, a group opposed to 'Satan's music', while trying to save his guitars – though this time around some extra work some was able to be completed closer to home in Morocco as well. But if there is one advantage at least to be taken from their enforced change of recording location, it's the ability of guests to more easily drop by – this time around, Kurt Vile and Chavez's Matt Sweeney both fit seamlessly into the meld of desert-blues guitar. Mark Lanegan's vocal is immediately recognisable on 'Nànnuflày', his trademark bluesy delivery making him a natural collaborator. He is only truly given away as an outsider by the fact that he's singing in English.
The band's desert rock shouldn't sound too unfamiliar to western ears – their bluesy electric guitar stomp has much in common with the American blues tradition, and the addictive call and response vocals and driving percussion of tracks like the standout 'Hayati' will remain in your head for days. While some Western bands like the mysterious Swedish genre-benders Goat borrow from this sort of north African desert groove to wonderful effect, it's another experience entirely to hear the sound of the Sahara in its natural, most genuine form. Other than on the slow-burning 'Ittus', Elwan turns down the reverb on its guitars to forsake much of the droning tension that made last album Emmaar stand out, but it remains more electric than the stripped back Tassili, resembling their original 2006 breakthrough Aman Iman more than anything they've done since, but there's plenty to love here for anyone who has enjoyed any one of those albums over the last few years.
In these times of Brexit and Trump, Western nations are increasingly shifting their gaze inwards. Tinariwen serve as a reminder of the rich culture outside of our own shores that we risk ignoring if we embrace such suspicion and isolationism. But more than that, their astonishing story (having played – and at times even fought – through so much tumult in Mali over the past few decades) is a potent reminder of the rebellious force of music. Their country's woes far outstrip our own, but Tinariwen continue to triumphantly tour the world, flying the face of those at home who wish to silence them. Cathal McBride