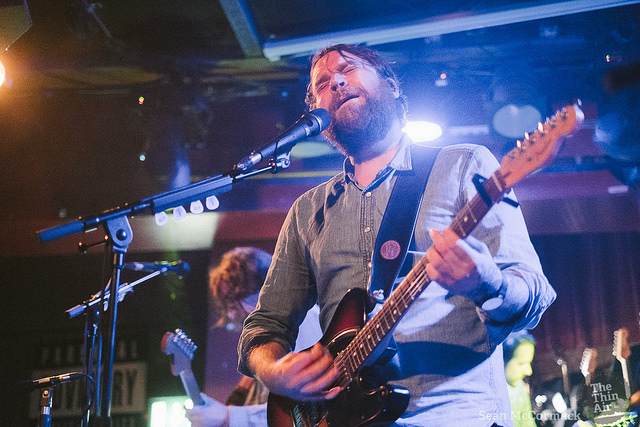 Frightened Rabbit live at Belfast's Limelight 1, Kilkenny's Set Theatre and Galway's Roisin Dubh. Photos by Colm Laverty, Ian McDonnell and Sean McCormark.
Limelight 1, Belfast
As strange as it may sound, Frightened Rabbit are at their best when they are on the verge of falling apart. Watching the band rip through selections from their back catalogue this evening, it is striking just how often they are precariously balanced on the edge of chaos. It is this very quality that makes their music so beguiling. The remarkable tension in any given Frightened Rabbit song stems from a finely wrought balance between the quiet and the raucous, the melody and the discord, and the celebration and the lament. This internal conflict produces a peculiar intensity: it is quite the thing to hear an audience sing along so joyfully with lyrics quite so forlorn. In reviews, frontman Scott Hutchinson has often been burdened with the description "miserabilist", a lazy adjective that does not capture the rousing nature of tracks such as 'The Loneliness And The Scream' or 'Old Old Fashioned', the latter of which, towards its endpoint, transforms into an impromptu communal sing-along.
There is nothing much miserable about a roomful of friends and strangers hugging, cheering and swaying to songs to which they know every word.
Of course, Hutchinson's romantic entanglements and unentanglements have been well documented, and largely by himself. Songs such as 'Fast Blood' and 'Keep Yourself Warm', which closes the show in a wall of curse-laden noise, are propelled by an alarming power, thanks largely to their lyrical honesty. Hutchinson does not so much wear his heart on his sleeve as rip open his chest and proudly display all of his internal organs. He is a master of self-vivisection, so much so that one wonders if the process is cathartic or deeply painful, if returning to the same wounds take its toll. Hutchinson is clearly aware of the perception: before 'Living In Colour', he jokes that this is an uncharacteristically upbeat song and thereafter it will be non-stop woe and misery.
However, it is not just the lyrics that yank the music in different directions. Rather, it is the music itself that lurches in unexpected, disorientating ways. The undulating guitar lines and rhythms of 'The Woodpile' are even more effective live than on record while 'Nothing Like You' is unrelenting in its emotive assault. Like many of Frightened Rabbit songs, it combines dirty guitars with harmonies, and it is this juxtaposition, in part descended from Scottish folk in a similar way to Black Francis claiming that Peter, Paul and Mary are a key influence, that again provides an infectious energy. At one point Hutchinson, never short of a wry gag, observes that the audience is unusually lively. "So, this is what Tuesday nights are like in Belfast," he says, and the crowd whoops, and another miserable song begins, and everyone loses themselves in the push and pull. Ross Thompson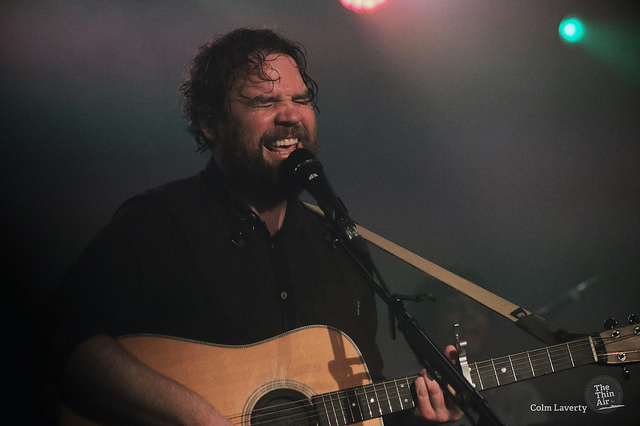 Set Theatre, Kilkenny by Ian McDonnell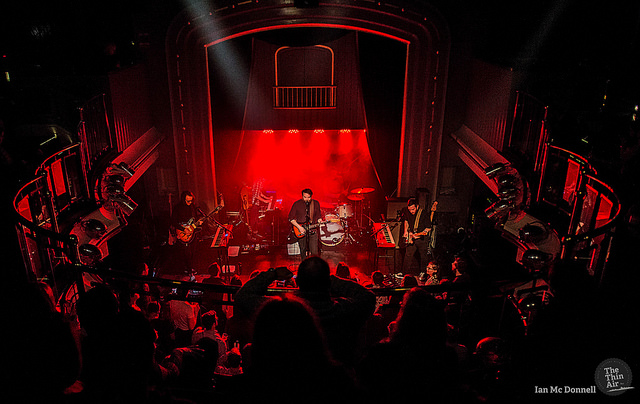 Roisin Dubh, Galway by Sean McCormack