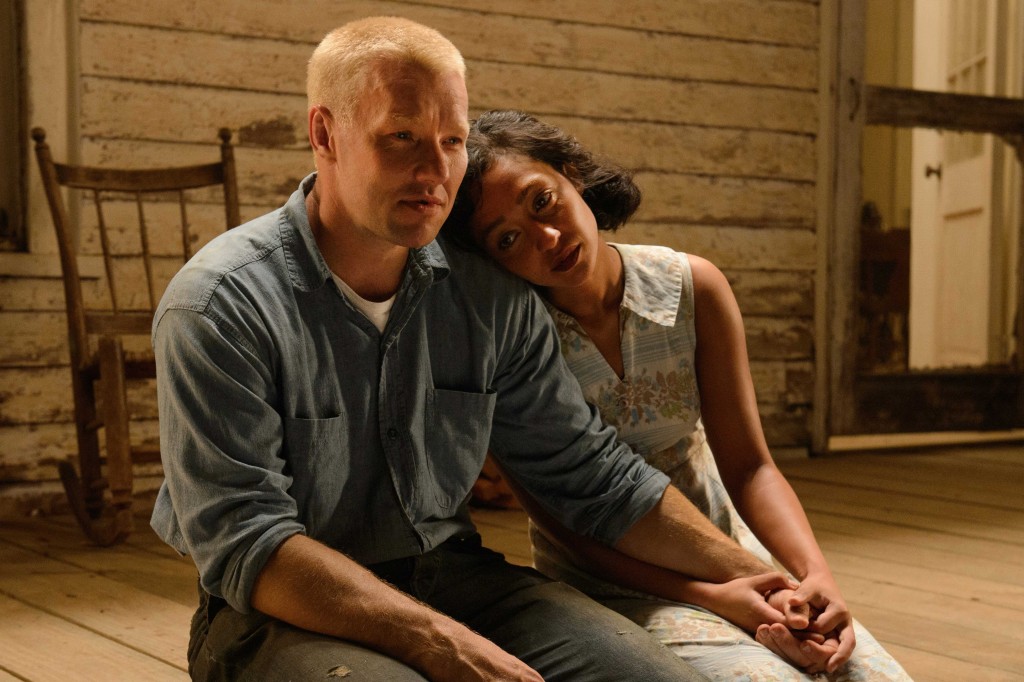 I could probably relate Loving quite easily to the colossal shitstorm currently raging in the United States as a result of the rise to power of the man Dan Savage memorably calls 'Orange Julius Caesar'. I could tease out the parallels between the mid-twentieth century America of Loving, in which laws are used to deny peoples' humanity, and Trump's new playground. But that's a rant best suited to Twitter, or maybe the pub. In any case, Loving offers a much more convincing and compassionate response to the politics of hate than me and my bleeding heart, wringing hands and jerking knee can muster.
The real-life story at the heart of the latest film from writer-director Jeff Nichols shows what happens when Richard (Joel Edgerton), a white bricklayer, marries Mildred (Ruth Negga), a mixed-race woman in the Jim Crow-saturated Virginia of 1958. The immediate consequences of the marriage are imprisonment, threats and exile, but, as a decade-long series of legal battles ensues, the Lovings' case intersects with the causes of the then-emergent civil rights movement and the ACLU. As the Lovings talk to and collaborate with lawyers, judges and journalists, they slowly come to terms with the potential significance of their case. In the process, they also confront what it means for your private life to suddenly become a matter of public interest.
It wouldn't be a huge spoiler to say how the story ends, but Loving isn't overly concerned with the series of court cases in the 50s and 60s that were, appropriately enough, termed Loving v Virginia. Resisting all cliches of boiling Southern courtrooms and Jimmy-Stewart-style grandstanding, Loving instead favours the domestic over the melodramatic. Richard and Mildred's relationship is the film's main subject, and so the bulk of its scenes play out in or around the Lovings' home. Where a lesser 'based on a true story' kind of film (something that's the Lifetime channel's bread-and-butter, for example) would stripmine the story for big moments of sensationalism, and possibly throw in some Klansmen for good measure, Loving's approach is slow and matter-of-fact. This isn't a criticism, however: deliberate slowness plays to the strengths of its cinematography, its direction and its performances. Typical of these elements coming together is Loving's depiction of its protagonists' blissful existence in rural Virginia before their marriage. Whereas a film like Jackie (also set at the birth of the civil rights era; see my review) is concerned with the extraordinary, Loving is very much a film about everyday existence – something, of course, which the Lovings can't take for granted.
That Nichols's film succeeds in spite of its preference for the micro over the macro is particularly impressive given that Loving's unlikely heroes, in true laconic Southern style, say very little of their intentions and feelings. It's a hard gig for an actor to turn a character given over so completely to taciturnity into a fully three-dimensional, empathetic hero, but Joel Edgerton succeeds in doing exactly this. His skittish body language and proximity to his wife suggest hidden depths. Ruth Negga's breakout performance as Mildred Loving is equally praiseworthy; the Oscar-nominated Irish-Ethiopian star subtly charts her character's journey from victimhood to empowerment as she takes an ever-more active role in her and her husband's case.
It's appropriate that Richard Loving's job involves building up foundations. Loving's slow pace and its frequent shots showing Richard at work echo the film's very utopian message of steady progress. They say living well is the best revenge; Loving is a brilliant, powerful and emotionally resonant film that uses a real-life story to vindicate this. Kevin Murray
Loving is showing at Queen's Film Theatre, Belfast and The Irish Film Institute and Light House Cinema, Dublin from Friday 3rd February.