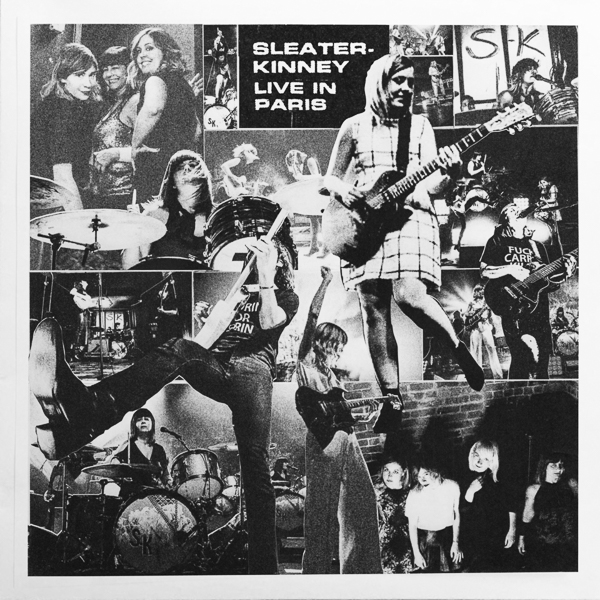 Anyone who claims that Sleater-Kinney do not belong in the pantheon of great bands should be forced to listen to Dig Me Out, One Beat and The Woods until they can see how wrong they are. With their furiously impassioned lyrics, clever off kilter musicianship and jaw dropping live shows, they're a trio who belong in every music lover's heart, not just the punks or riot grrls. Despite their tenure, the group had not released anything which demonstrated how powerful and forceful they are on stage until Live In Paris. Recorded on the tour for their comeback album, No Cities to Love, Live is a statement of intent: Sleater-Kinney are back and they're just as good as when they left us nearly a decade ago.
It goes without saying that every song in the set is stellar. With such a huge and exciting back catalogue to draw on, it would be remiss for to band to choose anything else. The majority of the setlist is taken from No Cities To Love and 2005's The Woods, making up five and four tracks respectively. This makes a lot of sense as you'd be hard pressed to find someone not clamouring to hear the likes of 'Jumpers' or 'What's Mine Is Yours'. The rest of the tracks are cherry picked fan favourites including 'Dig Me Out' and 'I Wanna Be Your Joey Ramone'. On this front, the record is worth the price of admission. The problem is that the songs don't gain a huge amount from the live context. They're all excellent pieces and played with an intensity and precision that is frankly staggering. Every track is a nearly perfect reflection of the studio counterpart and therein lies the problem. By being near mimics of the studio version and having no physical presence to ratchet up the intensity, the magic that the band brings to the stage is diminished.
The best way in which Live In Paris works is as a showcase to understand exactly what each member brings to the band and why these three have created something truly pure. Corin Tucker, rock solid, reliable and unmovable but with an earth-shattering natural vibrato like Alanis Morissette in the movie Dogma. There are few things as special as hearing her seismic wail on the one two punch of 'Price Tag' And 'Oh!'. Carrie Brownstein, in many ways is the antithesis of this, is more like a scrappy street kid armed with a switchblade. She's young, loud and snotty and what her voice lacks in technical proficiency, it more than makes up for it in terms of emotional integrity and passion. There's blood, sweat and tears in every syllable and a genuine concern that her vocal cords might snap at any moment, especially in the finale of 'Modern Girl'. Then there is Janet. Janet Weiss is indie rock's cool auntie; the one you're always excited to see, who has the coolest records and takes you to your first gig. If there is one thing away from this record, it is this: Weiss is the one of the greatest drummers in rock 'n' roll. She is to Sleater-Kinney what Neil Peart is to Rush: the steadfast backbone that everything coalesces around. You can cite examples like the thundering verses of 'Entertain', but really you can take any cut from this and you'll instantly be levelled by the sheer spellbinding quality of her performance.
That's what Live In Paris amounts really: a semi-inessential record for fans that demonstrates unequivocally how Sleater-Kinney are still a force to be reckoned with. Will Murphy