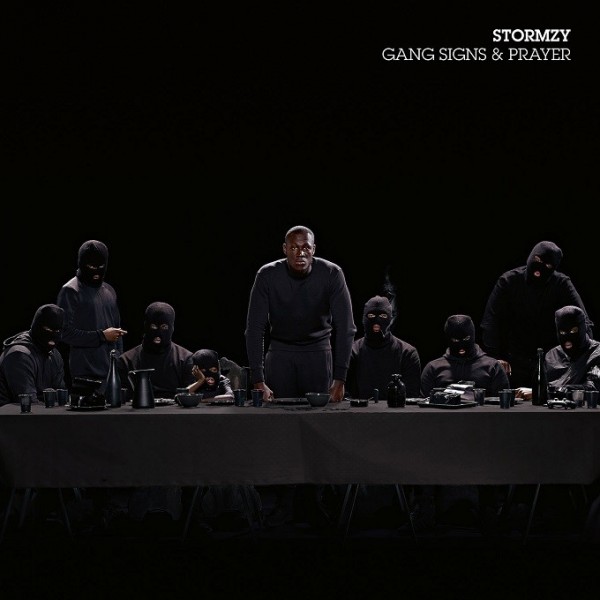 Almost fifteen years after bursting out of East London, grime has officially taken over the mainstream. The genre, originally popularised by the likes of Dizzee Rascal, Wiley and Kano, has had a sudden second wave and has been creeping up AOTY lists and making loud impressions at the Brit Awards. Out of this second wave has emerged Michael Omari AKA Stormzy. The Thornton Heath based 23 year old racked up a 'One To Watch' nod at BBC's Sound of 2015, has won Best Grime Act twice at the MOBO Awards and has scored a summer of appearances at some of the UK's best festivals – all before the release of his debut album. Now with the release of this long awaited debut, Gang Signs & Prayer, Stormzy lives up to the hype… and then some.
Gang Signs & Prayer sees Stormzy presenting a multi-dimensional take on grime, one that is absolutely dripping in charisma and with signs of a young artist about to ascend far beyond his London-centric status, into something much more global. When in default 'grime' mode, Omari beats most artists at their best. 'Big For Your Boots', 'Return Of The Rucksack' and, seminal single, 'Shut Up' come out of the stalls with a blistering swagger fuelled by a somehow simultaneous irreverence and sincerity. The choruses are big and dumb but his verses display a passion and fire that reverberates throughout the course of the album.
If you're only here for the festival anthems, Gang Signs & Prayer won't live up to your expectations. Around those gang shouts, Stormzy has crafted an insightful record with plenty of introspection and slower moments. The soulful 'Velvet/Jenny Francis' channels lo-fi hip hop vibes, 'Cigarettes & Cush' is a modern slow jam featuring the lovely vocals of Kehlani and album highlight '100 Bags' is a touching ode to Stormzy's mother which encapsulates a vulnerability that previously seemed a far reach from the man who hit the world with 'Shut Up'.
Gang Signs & Prayer joins Skepta's Konnichiwa and Kano's Made In The Manor in showing that grime is about far more than these momentary periods of hype. It is from Grime that some of best artists of the UK music scene are emerging and Gang Signs & Prayer is the sound of an artist moving from being 'One To Watch' to running the scene. Kelly Doherty