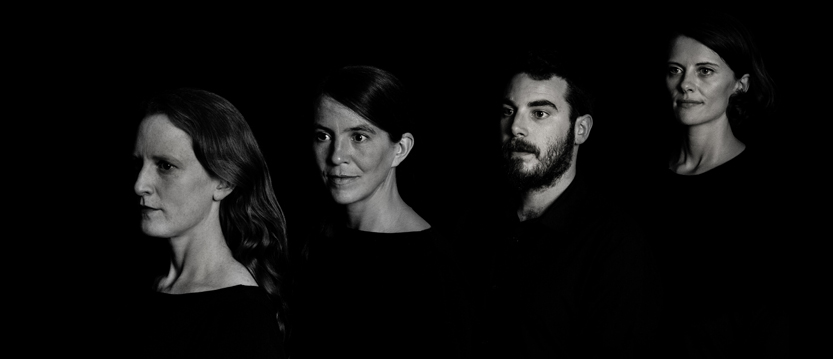 Conceived in London by Wexford artist Laura Hyland back in 2008 as a means to forge her interests in song, story and sound improvisation, Irish quartet Clang Sayne are an act that have been mentioned in the same breath as such alt-folk luminaries as diverse and inimitable as Tim Buckley and Jandek.
Eight years on from their debut Winterlands – a brooding and emotionally potent release – the four-piece (in its current incarnation of in its current incarnation of Hyland on acoustic guitar and vocals, Judith Ring on vocals, Carolyn Goodwin on bass clarinet and drummer Matthew Jacobson) have been busy working on its follow-up, the extraordinary – and exceptionally realised – The Round Soul of the World. Having called it "an ode to the unknown: looking up at the stars and wondering what the fuck is out there; then seeking out that same sense of mystery and majesty in daily life" Hyland and co. unravel a sonic landscape of real, oftentimes transcendental beauty over the release's seven tracks.
Sparse in nature yet refined in its poise and glow, the album is a consistently intriguing extended tale in experimental folk, in which its main lyrical themes of birth, death, work and nature are both framed and informed by Hyland's intensive yet organic process of improvisation. Each cut here is tellingly born from deeply felt psychic transmission, with Hyland's playing carrying with it a sense of import that is rarely conceived with such beauteous command off-the-cuff.
Set for release on Thursday (March 23), will coincide with an Irish tour featuring Donal Dineen on live visuals.
Thursday, March 23 (8pm): Wexford Arts Centre, Cornmarket, Wexford
Friday, March 24 (7.30pm): The Fumbally Sables, Fumbally Lane, Dublin
In Association with Note Productions, support from Vanishing Lakes
Saturday, March 25 (8pm): Black Gate Cultural Centre, Francis Street, Galway
Support from Anna Mullarkey
Sunday, March 26 (8pm): Gulpd Cafe, Triskel Arts Centre, Cork
Support from Mick O Shea and Solamh Kelly
Have an exclusive first listen to The Round Soul of the World below.