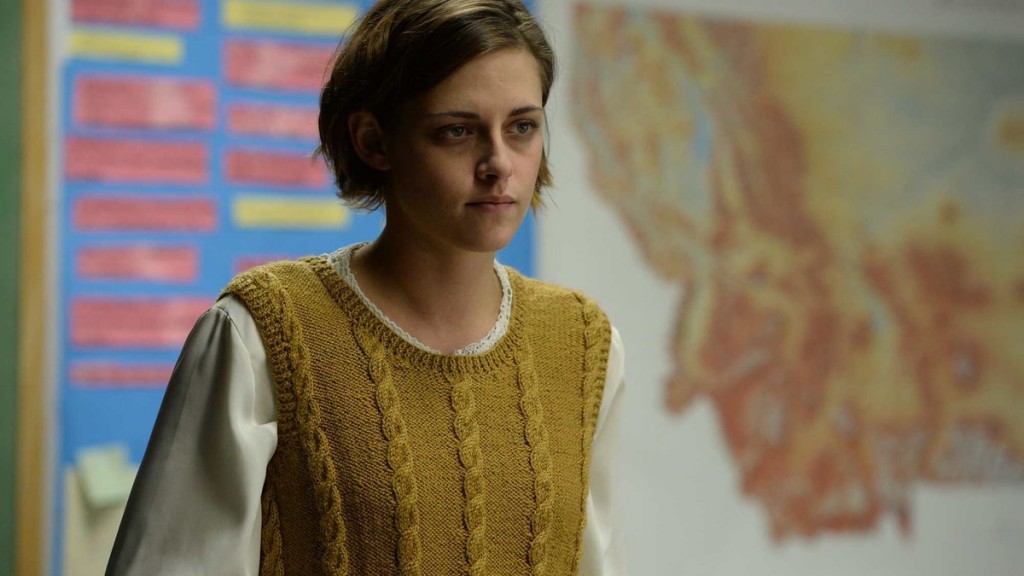 [This review contains mild plot spoilers]
I wasn't surprised to discover, just a few hours after watching Kelly Reichardt's Certain Women, that the film's three, loosely connected narratives were adapted from a collection of short stories. (The author of these stories is Maile Meloy, and the collection from which they're drawn is called Both Ways Is the Only Way I Want It.) Like a good short story, each of Certain Women's segments offers a concise but rich glimpse into other lives, places and experiences. And, while each part could easily stand alone as a minor-key indie drama, they interlock in various and subtle ways.
The most obvious connection between the three segments is that they overlap geographically: the eponymous women all live in modern day Montana, near a city called Livingston. Bisected by a railway line, encircled by mountains and coated with frost, it's an appropriately desolate setting for stories relating to alienation, awkwardness and the need for human connection. As well as sharing a city, the protagonists also cross paths, though obliquely and through coincidence rather than causality. (Think Short Cuts more than the 'we're all connected, man!' triteness of Crash, or, god forbid, the schmaltz of Love Actually.)
In the first segment, Laura (Laura Dern) plays a lawyer whose latest problem client, Fuller (Jared Harris), disregards her professional advice on a workplace injury case. Refusing to accept that he's jeopardised his own case by accepting money out of court, he huffs, storms and threatens suicide. Harris's Fuller treads the line between pathos and ugliness wonderfully: the character is the furthest cry imaginable from Lane Pryce, the suave figure Harris made his own in Mad Men. Only when Laura drags Fuller to a male colleague for a second opinion does he belatedly see the wisdom in her words. This scene is typical of the film's, and Laura's, quietly exasperated attitude towards everyday sexism. Dern's performance encapsulates her character's put upon-ness as she struggles to empathise and maintain professional distance from Fuller even as his unstable behaviour escalates.
The second segment, which is the least conventionally dramatic of the three but is no less interesting for that, sees Gina (Michelle Williams), her sullen daughter (Sara Rodier) and her husband Ryan (James Le Gros) struggle to survive a family camping trip. The couple plans to build a new house for themselves using 'local' sandstone culled from ruins on the land of a friend, the vulnerable and senile Albert (Rene Auberjonois). Gina and Ryan are torn between buying the sandstone and 'allowing' Albert to give it to them: they talk the issue through, sniping and freezing each other out all the while. One possible reason for the couple's hostility comes from the audience's knowledge (obtained in the first segment) that Ryan and Laura are having an affair. Regardless, the implication – hanging over everything like an icicle – is that the foundations of Gina's and Ryan's relationship were undermined long ago, and that no yuppie-friendly, local-stone-only construction job can repair it.
Bittersweet and brutal, the third segment alone makes Certain Women worth seeing. Lily Gladstone is brilliant as an unnamed Native American rancher who lives far from town. The rancher's lack of human, non-animal connection is underscored by scenes depicting a clockwork-regular existence of feeding horses, trash-TV watching and ceiling contemplation. The rancher's loneliness compels her to follow strangers into a high school of an evening, where the diffident law graduate Elizabeth (Kristen Stewart) is beginning to teach a series of biweekly adult education classes. The two go to a diner after the class, the rancher saying little as she watches Elizabeth eat, clearly awestruck.
For her part, Elizabeth is distracted and introverted – anxious, she says, about the four-hour drive home she faces, and regretting having mistakenly accepted work in a town so distant from her own. These interactions are pure, awkward poetry. The dialogue may be sparse, yet each performer inhabits their characters fully, with Gladstone in particular communicating a lot through minute gestures and a variety of ingenuous expressions. The pattern established that first evening – class, diner, drive home – repeats itself with minor variations until Elizabeth gives up the job, having been finally ground down by the commute. The rancher's devastation is, of course, largely unspoken.
The unarticulated same-sex infatuation of the third segment brings to mind Brokeback Mountain (which was itself, incidentally, drawn from a short story). But Certain Women recalls the earlier film in other ways, including cinematography (Reichardt also gets a credit here). Here, too, gorgeous photography dwells on primeval frontier-scapes and vast snow-bound plains, while the soundtrack emphasises – naturalistically rather than for brash stylistic effect – the skirling of winds and the bubbling of icy streams. Certain Women, like Brokeback Mountain, is a masterful character study in which dialogue is less important than the gaps between words, and in which everyday human interactions are depicted with a grandeur to rival that of the landscape. Kevin Murray
Certain Women is screening at Queen's Film Theatre, Belfast and The Irish Film Institute and Light House Cinema, Dublin until Thursday 9th March.