Festivals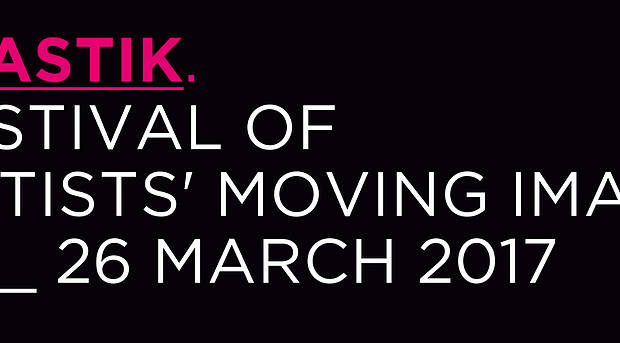 Published on March 22nd, 2017 | by Aidan Kelly Murphy
0
Picture This Special: PLASTIK Festival

Returning for its sophomore edition to Dublin this weekend is the PLASTIK Festival of Artists' Moving Image. Due to run Friday 24th to Sunday 26th, the festival is a collaboration between LUX, Temple Bar Gallery + Studios and the IFI. The latter provides the setting for the weekend's film screenings, which see a number of artists, including Yuri Pattison, aemi and Sasha Litvintseva, present bodies of work that influence their outputs, while others are showcasing current or forthcoming work. The festival begins on Friday at 6:30pm with Abyss Film in the IFI, curated by James Richards. This is followed by Richards and LUX Director Benjamin Cook discussing the work of the late, and hugely influential, Ian White. Temple Bar Gallery + Studios will host this as well as Plastik's other post-screening discussions. It also provides the setting for the festival's flagship exhibition: Hilary Lloyd's Woodall. The exhibition initially opened the same night as the festival's launch and will remain open until the 1st April, providing an extended introduction and synopsis for the 3-day event.
In Woodall, Lloyd has utilised the gallery space to present a series of new video works that investigate the architecture and ambience of environments, while also making use of fabric hangings. On Saturday Mary Cremin (Programme Curator at Temple Bar Gallery + Studios) is due to give walk-through talk of the show, where she will introduce Lloyd's work, whilst also discussing themes and ideas raised within the exhibition. This is due to begin at 6pm, and while the event is free booking is required – full details here.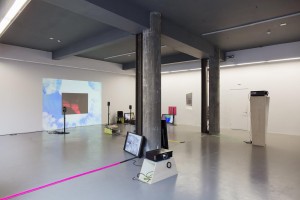 Hilary Lloyd – Woodall, installation shot
(Image courtesy of Temple Bar Gallery + Studios & the artist)
Saturday also sees the winner of the 2016 Frieze Artist Award, Irish-born, London-based Yuri Pattison, present a curation of films in the IFI at midday. This is followed by a panel discussion at 2pm involving Pattison and other artists around their role as curators of the moving image and the motifs raised by the festival itself. That evening sees the only live performance of Plastik as Ann Hirsch presents The Rest of My Life (my fantasies, my choice) in Studio 6 of Temple Bar Gallery + Studios. Hirsch advises that the piece sees her "delves into the predicament of her recent marriage, a growing addiction to pornography, and an endearing bitterness for sex positive feminism", please note that this performance contains images of a sexually explicit nature, and is not suitable for under 18's – full details here.
Sunday begins with the second Plastik New Work Award in the IFI at 12:30pm. Featured are five Irish/Irish based artists Saoirse Wall, Atoosa Pour Hosseini, Caroline Doolin, Patrick Hough and Teresa Gillespie. The festival's final day sees events alternating between the IFI and Temple Bar Gallery + Studios with both talks and screenings, before closing at 8:30pm with a screening curated by aemi entitled Eugene Palette, after the early 20th Century star of both silent and talkie films.
Tickets can be purchased for individual screening or a discounted weekend pass can picked up, and while free talks must be booked separately and have a smaller capacity so be sure to book in advance. Plastik promises to be both an exciting festival as well as a focused one, and one that serves to inject conversations and discourse through the works showcased. Full details on the festival, including the full programme, are available here.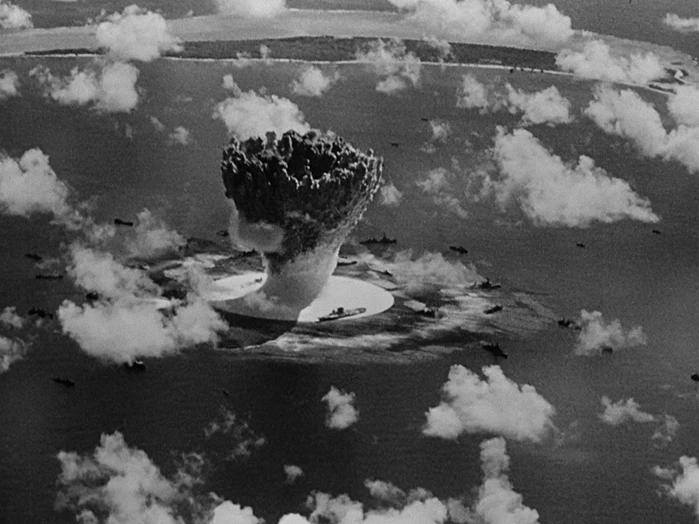 Bruce Conner – Crossroads (1976)