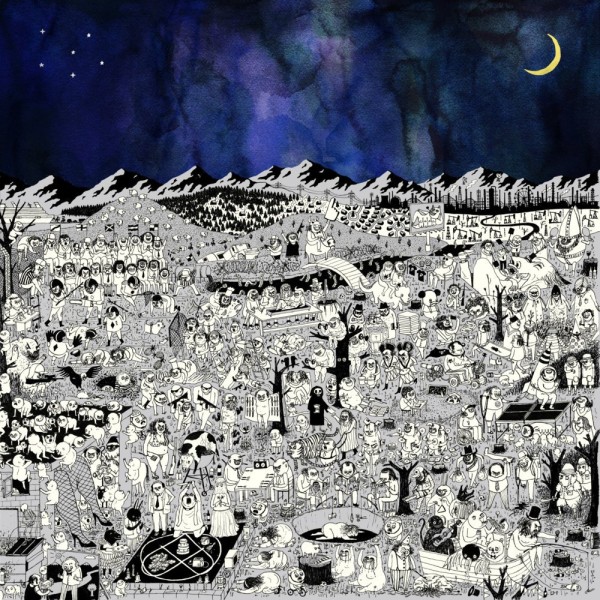 Josh Tillman is a multi-faceted character. You have to regard him as such when considering his work because what he does as a musician he does so with an elusive persona, an alter ego. There are many angles to consider when deconstructing his songwriting, which can often make for interesting debate with friends and among critics. He conjures a similar reaction to Marmite in that you either love him or loathe him. Nonetheless, he has managed to dispel the disdain his personality ignites by making his music the central element of his existence and by exercising thought provoking content throughout his third album, Pure Comedy.
If we look back over Tillman's career there has been constant evolution. This remains relevant today, more than ever. In the early 2000s, he worked simultaneously as the drummer for Fleet Foxes as well as writing and recording solo material under his own name. After some time, Tillman decided to focus on his solo career, signed to Bella Union and released eight albums in quick succession. His recognition during this period was limited, warranting a new direction and a fresh persona in the form of Father John Misty on 2012's Fear Fun.
The change of identity raised many questions. Was he trying to make himself more marketable by morphing into an artist of the lowkey mainstream variety? Or, was he wary to commit his name directly to his work, establishing a separation between his forthright views on political and societal issues? Paradoxically, his songs proffer listeners a vivid insight into his private life – mostly his experience of falling in love with his wife, Emma. And there lies the complexity of Father John Misty's music. This is the dilemma of an artist; finding the balance of how much of yourself you are willing to pour into your work and deciding what you choose to keep private. In the beginning, Tillman wrote about his sexual escapades ("I want to take you in the kitchen / Lift up your wedding dress someone was probably murdered in") whereas now he is inspired by the concept of disassembling the deficiency of man on a much wider scale. A poignant moment of this is explored in the titular track, 'Pure Comedy', "The only thing that seems to make them feel alive is the struggle to survive / But the only thing that they request is something to numb the pain with / Until there's nothing human left."
Lyrically, the contrast between Fear Fun and Pure Comedy is vast and demonstrates his duplicity as a songwriter and a man. On Pure Comedy we are presented with a pared back, more mature musician who is not relying on overly embellishing or delivering bravado throughout his compositions. Finally, we are given an earnest insight into his point of view on a number of things by simply letting the words do their job.
Immediately, Pure Comedy is different to his previous work which was filled with predominantly joyous and complex rhythmic folk arrangements. There was a mixture of upbeat melodies to dance along to on those albums, characterised by energy that would become synonymous to Father John Misty's sound and garnering an instant cult following. He showed that he was witty, crass (and often arrogant, particularly in interviews) and that he was adept at constructing songs that would resonate and stay with his audience. The success of his first two albums can be attributed to their instant accessibility; they conformed to the expectations of what an artist of his ilk. But if we return to those records now having heard Pure Comedy we can trace early indicators to the direction he would eventually embark upon. For instance, 'I Went To The Store One Day' and 'Bored in the USA'  serve as precursors to the current phase in his evolution not only as a musician under the Father John Misty persona but as a figure that generates gravitas in his convictions; professionally, politically and personally.
Pure Comedy is, undoubtedly, Tillman's finest work to date. If you were expecting his third album to follow in the tempo of its predecessors then you may feel an initial disappointment in the slower pace, the lack of vigorous horns and lyrics about making hay. Tillman is more subdued than ever in his words here. He is observant and forthright in how he ridicules our generation, often mocking the extremities of our unabashed senselessness; "I'm gonna steal some bedsheets / From an amputee. I'm gonna mount em on a canvas / In the middle of the gallery." Again, in 'Ballad of the Dying Man', we're told a story that has become too relatable in the age of Twitter validation via the gravitas one puts on their opinions; "And all of the pretentious, ignorant voices that will go unchecked. The homophobes, hipsters and 1%. The false feminists he'd managed to detect. Oh who will critique them once he's left?" These lines are not necessarily revolutionary but they resonate because they are integral to our generation in a "world that is getting smaller."
Tillman's deliveries over the 75 minute duration of the album, notably on 'The Memo', 'Pure Comedy', and 'Things It Would Have Been Helpful To Know Before The Revolution', are most impactful due to the emphasis on the message. The instrumental accompaniments are gradual and subtle. A piano and a guitar are generally what Misty implements in the musical structures. He sings with little distractions behind him and then, out of nowhere, the last movement of the song washes through following a wave of emotionally charged instrumental compositions to mirror the lyrical sentiment. Every aspect of Pure Comedy has been given careful consideration to make a greater immediate impact. The execution of how he has brought the songs to life through the overall production of the album has resulted in thirteen perfectly crafted compositions.  
The standout moment is, without hesitation, 'So I'm Growing Old On Magic Mountain'. It is  the most accomplished and beautifully written tracks to feature throughout Father John Misty's repertoire. The subject matter faces the reality of growing older and having to accept this inevitability. The production of this piece is particularly moving. The subtle reverb on his vocal, the gradual introduction of the organ (which will unexpectedly tingle your tear ducts),the anguish of the nostalgia shows a vulnerability in Misty, he becomes human. A lot of these songs are longer than your average radio-friendly single. 'Leaving LA' is a thirteen minute long ten verse song, but it never feels like he is rambling. His openness makes you listen because you can feel the meaning behind everything that he shares.
There will, of course, be people who will call Pure Comedy a self-indulgent, over-long piece. If you consider it with the context of what it follows then you can appreciate this as Father John Misty demystifying the enigma of his past and present. By sharing memories of listening to music for the first time and taking us to present day by evaluating what it takes to be a songwriter we are shown the growth of Tillman as a person and musician. This sincerity makes Pure Comedy both affecting and effective as a body of work one that you can return to with ease. Zara Hedderman