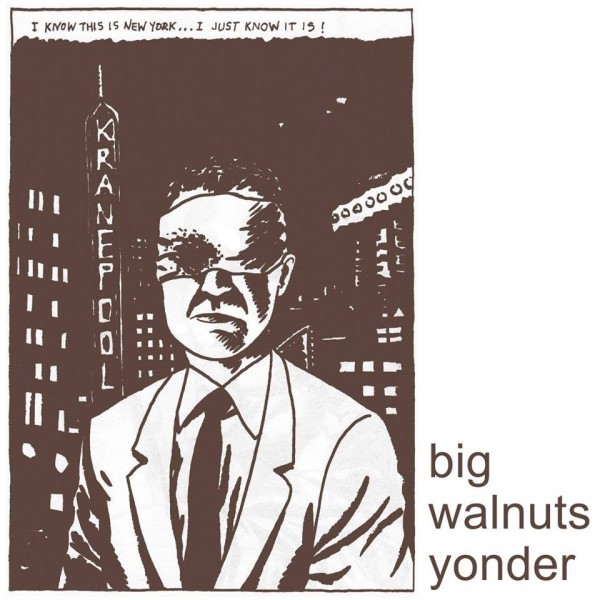 A lifelong self-professed student of the bass, Mike Watt has tirelessly explored the instrument's intricacies since his teenage forays into punk rock with D. Boon in Minutemen. Watt's subsequent four-decade career has seen him play with a slew of bands and collaborators, influencing countless players along the way. Through his tenure with fIREHOSE, Dos, and in later years The Stooges and current freeform trio Il Sogno Del Marinaio, Watt has bounced between genres, musicians and continents playing his trade; mastering his instrument.
It was in Japan that the genesis for Big Walnuts Yonder began, from a conversation between Watt and Tera Melos' Nick Reinhart while their bands toured together in 2008. A lengthy gestation period then, from that initial spark of inspiration to this ten-strong album that eventually came to count Wilco guitarist and long-time Watt cohort, Nels Cline, and Deerhoof drummer Greg Saunier amongst the ranks. On paper, if nothing else, it's a formidable roster, and not least that dream rhythm section.
With a line-up like that in place this eponymous release was never going to be anything less than the sum of its parts. Saunier and Cline each contribute one track to the finished product, but this is very much collaboration with Watt as the fulcrum. Recorded over three days in Brooklyn in the summer of 2014, eight of the record's tracks originated on Watt's bass and were sent to the other members to add their own slant before the whirlwind session. Despite the advance prep time, the immediacy of that three day blitz is apparent on the end result.
The twangy, funk bookend to 'All Against All' is just a ruse, before Reinhart's vocal lead the charge with a brief taster of what's to come – dual-engine guitar churning, drum lines to turn your head in admiration, and Watt's earthy, omnipotent low end. His loping bassline draped over Saunier's haphazard clatter gives 'Rapid Driver Moon Inhaler' an eccentric structure, allowing the two guitarists to go for it in equally out-there fashion – and this is an album where creative freedom reigns.
A mire of glitchy noise opens the sonic entanglement of 'Flare Star Phantom' before the band tumble in with some erratic, experimental acid jazz, where frets are flayed, skins are rattled and cymbals hiss and fizzle from Saunier's sustained attacks. It quietens to a baroque, chiming outro that's at odds with the mayhem that has just gone before. Watt's guttural vocal marks two mid-album tracks apart from the rest. 'Raise the Drawbridges?' is a direct punk rocker, with even Saunier playing it relatively straight and heavy, and 'I Got Marty Feldman Eyes' is a second great, straight-ahead punk tune. Dense on guitars, Reinhart and Cline duke it out while Saunier provides the flourishes behind the kit.
There is no apparent lead guitarist on Big Walnuts Yonder – no solid rhythm man to stabilize the platform for a solo. Reinhart and Cline's guitars clamber all over one another, each gaining lift and momentum, finding new avenues to explore between the opposing notes in their quest to outdo the other. Let's face it – with Saunier's backbeats providing the impetus, it's tough not to race for the prize. 'Forgot to Brush' and 'Sponge Bath' are both coated with an oily psychedelic sheen, the latter more overtly akin to a Deerhoof track with Saunier's trip-hop beats, while 'Pud' and 'Heat Melter' bring to mind the bonkers experimentalism of The Flaming Lips during their mid-period, replete with Reinhart's breathy Wayne Coyne vocal and drum patterns that Steven Drozd could easily call his own.
Almost a decade in the making, Big Walnuts Yonder ended up as it rightly should have – with four unique players of high regard knocking the shit out of their instruments, racing against time and money in a room in Brooklyn. This project could have ended up as an indulgent mess. But it's far from it. In fact, it may well be one of the most exciting records in its field that you're likely to encounter this year; a culmination of countless hours of back-and- forth that has spanned careers and continents…and all because of Mike Watt, student of the bass. Justin McDaid