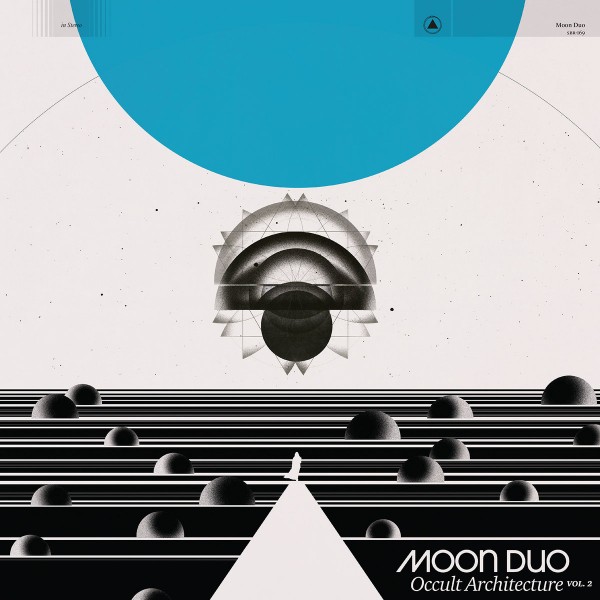 The double album is a much maligned concept nowadays, something that can be thrilling when done right but is far more often overly long and bloated, easily chopped down to a single album of highlights. The announcement of a double album release sets alarm bells ringing as fans start to worry about their favourite bands' ambitions starting to fly a bit too close to the sun. Perhaps splitting them up into a part 1 and 2 is a good way of keeping things less bloated, but then of course the records both have to be good enough to justify buying both. Moon Duo have tried their hand at this latter approach with Occult Architecture, a two album concept exploring the journey from darkness into light, with somewhat mixed results.
The release schedule of February/May suits the dark/light concept well, informed as it was by the recording sessions stretching from winter into spring last year. On Vol. 1 this separation felt like a strength, as they used the concept to streamline their sound, unworried about padding the album out with the right level of variety, instead simply focusing relentlessly on what they do best while saving the leftovers for the second volume. It remains a highlight of 2017 so far, and sees Moon Duo fully step out of the shadow of Ripley Johnson's other band Wooden Shjips. Here though, the opposite is true, the lack of variety weighing this record down and leaving it feeling like something of an afterthought.
Opener 'New Dawn' immediately explains the move into the light in its title, and gets things off to a decent start with their usual fuzz-laden guitars, droning synths and mechanical drums, boasting the same widescreen production as the Vol. 1 material but swapping that album's huge, propulsive krautrock for a lighter touch and a gentler melody. The same can be said for the catchy 'Sevens' and the two tracks are the standouts here – admittedly both fail to match the quality of Vol. 1, but they stand alongside it reasonably well.
Elsewhere 'Mirror's Edge' is a seven minute instrumental that circles around a single psychedelic riff to fairly addictive effect and feels like a natural album closer, but instead that falls to another instrumental, 'The Crystal World' that simply alternates between two chords for 10 whole minutes with little variation, where it could easily have been developed into a shorter track with vocals. Similarly, the chorus to the gentle 'Lost in Light' is affecting, but the rest of the track carries on for a bit too long without really going anywhere. At a mere five tracks long, but with none of those clocking in at under six minutes, it often feels like they've been padded out somewhat to fill up time, something that the first record managed to avoid, save perhaps the extended outro to closer 'White Rose'. Here it leaves the feeling of an overstretched EP, dragged out to album length when perhaps an EP would have been a perfectly fine companion piece anyway.
None of the material on Vol. 2 could really be described as weak in its own right, but packaging it all together leaves it feeling somewhat inessential, as it begs to be broken up by something a bit more exciting. Any of these tracks would fit nicely enough onto a longer Moon Duo LP, slotted into the tracklist of Vol. 1 without weighing it down too much, though admittedly none would ever really be a standout.
The overall impression then depends on whether you're viewing the complete package of Occult Architecture or focusing on the two records individually in the way they've been released. As part 2 of the dark/light concept, Vol. 2 absolutely works, a hazy comedown to what's come before, the calm sound of morning breaking after a stormy nightmare. The two make for a pretty impressive double album after all, an ambitious opus that while still overly long as a whole, does capture the yin/yang effect they were going for and the journey they set out to make. The main problem then is that Vol. 1 happens to work perfectly well as an excellent standalone record, while Vol. 2 just falls fairly flat when isolated from its companion. Perhaps they set their own bar too high. While the light is all well and good, some bands just work better in the dark. Cathal McBride