Features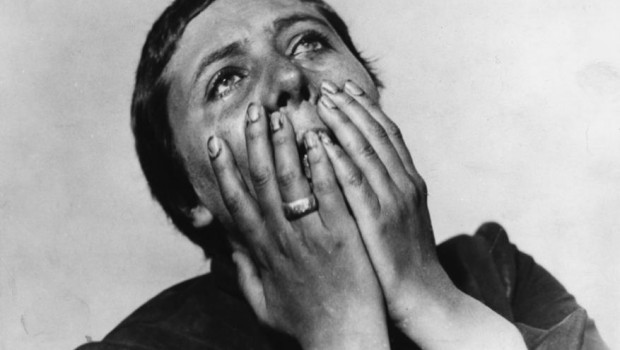 Published on May 12th, 2017 | by Brian Coney
0
Preview: Heliopause on The Passion of Joan of Arc Film Live Score @ The MAC
Ahead of teaming up with This Ship Argo to live score Carl Theodor Dreyer's classic 1928 silent film The Passion of Joan of Arc at Belfast's the MAC on Thursday, May 18, Belfast musician Richard Davis AKA Heliopause talks to Brian Coney about the process, impetus and collaborative drive underlying the project.
Go here to buy tickets
Hi Richard, first off – how did the project come about? What drew you guys to The Passion of Joan of Arc?
I first watched the film a few years ago when working at The Duke of Yorks cinema in Brighton with my friend & co-worker Sophie, who wanted to curate a series of live score events for the first Scalarama Festival. It was a Sunday morning screening so we went for brunch afterwards and I talked about how I had been wanting to live score a film. The Passion of Joan of Arc really struck my imagination but I actually had FW Murnau's Sunrise in mind which she was keen on too. So that actually became my first project.
It was performed in Brighton during Scalarama, then at the Belfast Film Festival last year followed by a performance in Stroud.
After the success of it and I wanted to try another film and it made sense to go back to The Passion of Joan of Arc where my conversation about live scores began. The film is beautifully shot for its time with its unique, dramatic, close-up angles which inspire the imagination. Joan of Arc's extraordinary history fascinates me and having been to Rouen and visited the place of her trial and death, I feel like it's another way to indulge in the enigma.
You're teaming up with Aileen McKenna AKA This Ship Argo. Have you collaborated before and how do you feel your styles conducive to each other for this performance?
This is our first time collaborating on a project. Aileen has begun writing her own material recently with Ricki O'Rawe under the name This Ship Argo. It's a beautiful blend of ambient vocal, synth and electronic loops akin to Julianna Barwick. They haven't even played live yet but they have their first gig next month at the Black Box. Definitely worth checking out!
Creating a live score is quite an undertaking and after collaborating on Sunrise, I realised I wanted to work with someone again for this score. On hearing Aileen's demos I realised that her style was very similar to my thoughts on what form the live score would take. It seemed the natural step to take.
You're using layered loops and electronica to emphasise its unusual cinematography and Joan's emotional state of mind. How have you approached the composition?
My initial idea was to focus on the voice with live singing, recording, looping and effecting those loops over soft ethereal electronica. When I sat down with Aileen, we very quickly figured out the sounds but the actual composition took longer. The film itself is just one long trial. It's not a narrative with many chapters and obvious change points so it took awhile to really break it apart and figure out the dynamics of each section, following the constant changes of emotion and allocating key musical themes to these.
Silent movies were almost always accompanied by live music, and the two premieres of TPOJOA, held in Copenhagen and Paris, featured specially composed scores. Have you looked into the music at those or is it a completely clean-slate sonically?
I think the version I originally watched had the piano score by Mie Yanashita which is lovely, but there are endless possibilities for interpretation and every one, for better or worse, is unique to the style of the composer. I never looked into the original scores or many other live scores as it is distracting. I feel it's best to approach the project by watching the movie completely silent and trusting your own musicality.

Music from everyone from Nick Cave to JS Bach has accompanied screenings. Is it daunting or galvanising following in those esteemed footsteps?
I would love to hear Nick Cave's version! I guess I went into this project knowing full well that so many people have scored this famous film over the years. It would be overkill and how could I possibly do anything that could compare!? Any other film would perhaps put me off but I was just so compelled by how unique this film is.
I'm curious about what kind of cues you're using. Is it scene-by-scene based?
There are very few scenes in the movie, very few noticeable changes with only really three settings so it was hard to break it down and figure out where the cues would be. There is the trial in the cathedral, the prison tower and the execution site so rather than use scene changes, we really looked for subtle moments like changes in Joan's emotion, appearance of sunlight, camera movements and certain title cards.
The MAC is a perfect venue for the show, but why did you opt for the space?
The MAC is such an amazing space and are always a pleasure to work with. I have performed various shows there over the last year including my score to Sunrise. They have a perfect set-up for screening film and a great system for live music in a theatre setting. Perfection combination for this kind of event. When this year's film festival was coming up they got in touch to ask if I had another score that I might want to perform. I mentioned this idea but that it wouldn't be ready for March so they were great and allowed me time, scheduling it in for May.
You've recently said you're nervously excited about the performance. Is that that still the case?
I am always excited about performing but we will be preparing, tweaking and practicing the score right up until the very last minute to make sure it's ready so yes, very nervous too. But what's a performance without nerves!