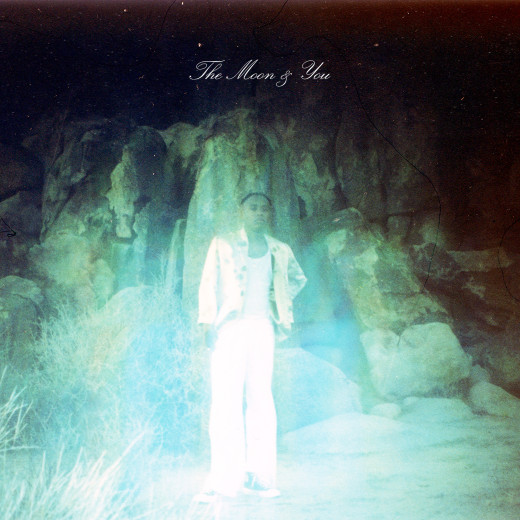 "Free mixtape this month. Just for the fans. Everybody else can suck my d**k."
In spite of his tweets, there's no way Rejjie Snow's The Moon & You is going to avoid attention from critics. Since his early YouTube videos blew up as a teenager, the Drumcondra rapper has become  something of a critical darling: his off-kilter style found frequent comparisons to Earl Sweatshirt, and his debut EP Rejovich topped the iTunes chart ahead of Kanye West and J Cole upon its 2013 release.
It might seem strange that a Dublin rapper would hold such high international regard, but Snow is truly a man of the world. Born to Nigerian and Irish-Jamaican parents, he won a football scholarship in Florida and has spent time in LA and New York since signing to 300 Entertainment. His time in the States has seemingly had a strong influence on his recent output, with LA influencing January's single 'Crooked Cops' and this mixtape's 'Sunny California'. Worlds apart from the former track's lyrical grit, the latter is the sort of carefree summer jam that the title suggests, while the production's hook tips its hat to G-Funk. The mixtape's production is largely handled by Benjamin Miller, who largely opts for warm synth sounds that compliment Snow's low register (the piano only accompaniment to Snow's sung vocal on 'Me & My Piano' being the exception).
The tape doesn't have one theme in particular- there's a lot on Snow's mind. He contemplates marriage and sex on 'Unborn' and 'Fashion Week', at times pushing the boundary of good taste ('You my favourite accident/ Seven months to this day'). There's a sense of nostalgia on Joey Bada$$ and Jesse Boykins featuring single 'Purple Tuesday', carrying the 90s love-in of previous single '1992'. Over C'am Obi's jazzy beat, Snow and Bada$$ trade verses describing various violent incidents from their adolescence, while Boykins joins the latter in singing the song's hook. It's a fine single, and coming off the back of the Bada$$ excellent new album, Snow could be handed some vital exposure by his American cohorts.
Elsewhere, Snow gives attention to social and political ideas touched on in 'Crooked Cops'- the early morning soul-searching on 'Hope' ("Kids doing drugs while the schools sell hope/ Sell hope, shit, I meant dope") and pondering consumerism on 'Congo (Mama Africa)'. In reality, it's not a particular strongpoint of Snow's, and he knows it too, focusing more on the personal throughout.
It's telling that the two strongest tracks, 'Pink Flower' and 'Acid Trip',round off the tape, both focussing on relationships. 'Acid Trip' is particular, which compares the magnetism of his new love to his uncle's drug addiction, allows Snow to at once be sensitive and vulnerable while indulging in macho imagery. It's at moments like this, when Snow's bassy flow is complimented by an equally smooth beat, that the Dubliner exudes an effortless, world-beating talent.
If The Moon & You  is solely for fans as Snow attests, there's a lot to enjoy here. For newcomers, the collection is a little unfocused but still testament to Snow's obvious cool flow and ear for matching production, cranking up the excitement for next year's debut long player, Dear Annie, very nicely. Caolán Coleman