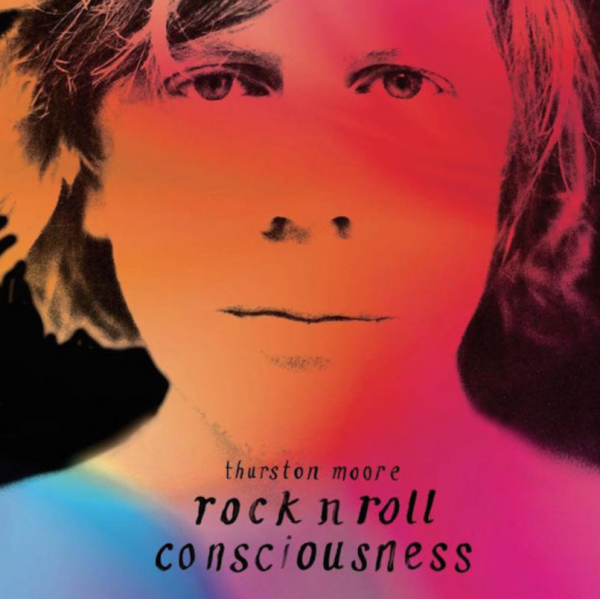 There is barely a facet of modern rock and indie that doesn't have at least some minor degree of separation from Thurston Moore. During and since his time with Sonic Youth, Moore has collaborated with a formidable raft of musicians, be it via stage or studio, not to mention giving Ian McKaye a run for his money in the talking head department when it comes to music documentaries. His presence in modern music is ubiquitous, so it seems almost slack that Rock n Roll Consciousness is only his fifth solo release. Give him a break, though. Moore is a busy man, persistently following whatever path his artistic delectations may take him.
Born from an earlier improvisational collaboration with drummer John Moloney, Chelsea Light Moving a few years back was a four-piece outfit indebted to Moore's more hardcore leanings, as well as to his literary ones; a stopgap of sorts to satisfy his restless musical wanderings in between solo records. It appeared that Chelsea Light Moving's one and only release had reignited Moore's taste for a more full-blooded, band-oriented sound than the acoustically rendered Demolished Thoughts in 2011 or Trees Outside the Academy four years previous. Even the aforementioned two-piece experimental project with Moloney that immediately preceded Chelsea Light Moving displayed a guitarist whose heart lay in the electric arena.
The Best Day in 2014 saw his old Sonic Youth bandmate Steve Shelley reinstated behind the drumkit, alongside My Bloody Valentine's Deb Googe on bass, and James Sedwards of Nought on guitar. Despite being billed as a Moore solo venture, that too was very much a band effort – particularly in Moore's kinship with Sedwards – and it's little surprise to see this configuration return for the not- dissimilar Rock n Roll Consciousness.
There are just five songs in which to explore Moore's rock'n'roll consciousness on this outing, and as the twelve minutes of opener 'Exalted' stretch out, it's with a leisurely piecing together of the elements – a riff unfolds, Shelley's metallic taps join, and the guitars gently spar. There's plenty of time to up the ante. Moore eventually meanders in over the top of Sedward's rhythmic scratch and Googe's bassline before a midpoint change-up; a series of crashing chords that bottom out into a distorted, repetitive squall and Moore's breathy exaltations ("She is the future/ And the prophetess").
That airy vocal persists into 'Cusp', a number that takes a cue from Roy Montgomery's dense '2LB' from the You Can Never Go Fast Enough soundtrack album on which Sonic Youth also featured. The relentless, pitching momentum of Shelley's snare rolls underpins the entire thing. As with his latter day work with Sun Kil Moon, the drummer's subtle inflections match those of the guitars, where the deftest of changes in tone or strength – the strike of a skin or the swipe of a chord – lifts a song to another plane before reverting just as easily to its previous state.
'Turn On' breathes that bit more than the first couple of tracks. The guitars give each other space. It's clean, for the most part, despite the sporadic flashes of distortion and discordant guitar work. Midway, Googe's bass carries Moore's solo while Sedwards and Shelley largely hang back, before it all slowly builds to a crescendo. Spaced, chiming chords herald 'Aphrodite', giving way to a dual buzz saw of guitars that dissipate and re-emerge, hissing and wailing with a feline snarl. The guitarists trade off with oscillating notes before returning to the song's opening motif, and the album crunches to an abrupt end once the strains of Moore's fret-wandering hit that final full stop.
The guitarist has previously demonstrated his technique of toying with tension and momentum, and on Rock n Roll Consciousness that knack is undiminished, if a little less surprising this time around. Ideas tend to recur throughout Moore's work, whether sonically or thematically, and at times only for the most fleeting of moments. With a musician of his standing working a guitar neck, though, there is always going to be something to hold the attention. That's no different on Rock n Roll Consciousness. It doesn't quite have the immediacy of The Best Day, or the air of the unexpected of Chelsea Light Moving – it's more of an extension of what went on in those records. And that noise was just fine. Justin McDaid