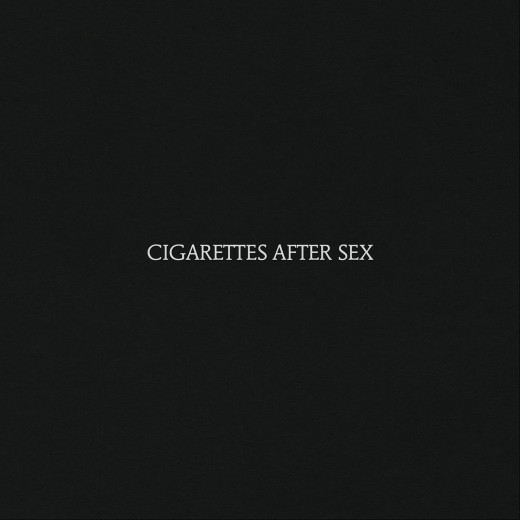 Cigarettes After Sex' self titled debut comes nine years after the band's first incarnation in El Paso, Texas. Now based in Brooklyn and signed to indie label Partisan Records (John Grant, Sylvan Esso), the band play their opening gambit with frontman Greg Gonzalez at the helm. On first approaching the band it's easy to be nonplussed by their notably cringeworthy name but upon listening it becomes evident that the name is indeed a very fitting one. Cigarettes After Sex write romantic yet melancholic love songs and the feeling one gets when listening to them is one of warmth and wonderment. It's this style that has helped get the band noticed with early outings  'Nothing's Gonna Hurt You Baby' and 'Affection' garnering them millions of YouTube plays and Spotify streams.
With their first full length release, the band continue from where they started. The album's 10 tracks are reminiscent of their early EP and singles channeling equal parts dream pop and slowcore. Mazzy Star, Cocteau Twins, Slowdive and Beach House are all strong influences here. The androgynous croon of Gonzalez's voice is one of the more appealing aspects of their sound as it's hard not to be drawn in by his effortlessly cool delivery. Each song is almost identical in its DNA; delicately picked guitar, string synths and bass lines that never stray too far from the reliable thud of the kick drum. This makes it difficult to approach the album at first as it's hard to categorise it's songs in any other way than: slow, slower and slowest. 'Sunsetz' and 'Apocalypse' are so similar in fact that initially it's hard to tell them apart. However, on repeated listens the nuances of the album begin to shine through and the songs can be appreciated in their full realisation. But while the likes of 'Young & Dumb', 'K' and 'Each Time You Fall In Love' are all strong, there's sadly nothing on Cigarettes After Sex that's quite as alluring as their early gems.
Lyrically the album sticks to the same theme: love, or more specifically, sex. Opener 'K' begins with a simple verse describing a lover named Kristen: "I remember when I first noticed that you liked me back", "We had made love earlier that day with no strings attached". While the song is clearly very personal, Gonzalez delivers it in a nonchalant way that is simultaneously endearing and frustrating. Even the slightest hint of emotion here would help the listener connect with the music and provide a much needed edge to a relatively edgeless band. 'Sweet' is an upbeat love song which breaks away from the albums dark demeanour with a simple major chord progression. Here it's definitely a positive that Gonzalez delivers his lyrics as cooly as he does, otherwise lines like "You know that I'm obsessed with your body, But it's the way you smile that does it for me" would be sickeningly sweet.
One of the highlights of the record comes in 'Flash' as Gonzalez showcases a more vulnerable side of himself: "Cut in half, you saw me lying there bleeding to death", "Now I stand on the stage, I forget my lines". It's a refreshing moment that provides a more rounded image of the singer. Unfortunately his bravado returns on 'Truly' where the chorus 'Truly, you don't need to be in love to make love to me' reminds the listener of the seedier side of love songs. One must admit though that this is nonetheless one of the catchier moments on the record.
Album closer 'Young & Dumb' is probably the best track on Cigarettes After Sex. Here, Gonzalez's melodies combine perfectly with the music; swelling in the choruses and relaxing in the verses. The chorus is reminiscent of Belle and Sebastian and shows that this is a band that can write great pop music when they want to. Cigarettes After Sex is a decent effort that shows a good deal of potential for the band to expand their sound but unfortunately it isn't the groundbreaking debut that some may have hoped for. Hugh O'Dwyer