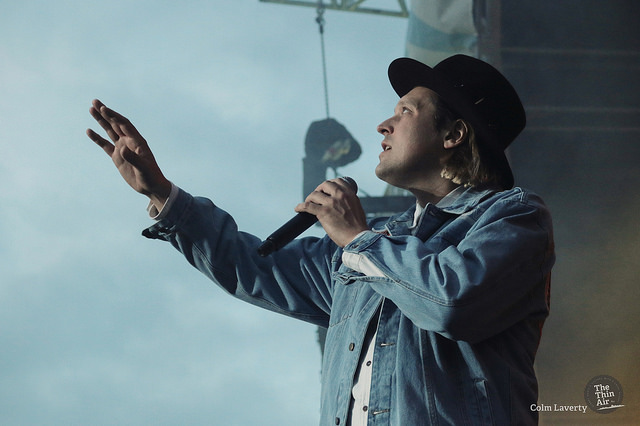 Canadian indie trailblazers Arcade Fire live at Belfast's Belsonic and Dublin's Malahide Castle. Words by Jonny Currie and Robert Higgins; photos by Colm Laverty and Aaron Corr.
Belsonic, Belfast
Photos by Colm Laverty
After previous failed attempts to attract Arcade Fire to Belfast, the Montreal nine-piece kick-off this year's Belsonic line-up ahead of the release of fifth album Everything Now. The long-overdue visit is acknowledged by frontman Win Butler, revealing that they have chosen to spend the last three days in Northern Ireland.
Landfill indie trailblazers The Kooks resurface this evening in support, gurning and yelping through an hour of turgid Poundland-rock. They are a strange choice for the bill, and it's a disappointment that local talent is again overlooked at Belsonic.
All corners of Arcade Fire's back catalogue are respected tonight. Selections from 2014's Reflektor, a record viewed as something of a critical misstep, punctuate the set's ebb and flow. The shifting tempos of 'Here Comes The Night Time' rouse the slightly tentative atmosphere before ushering in a stripped-down trio of songs from Neon Bible. The anthemic 'No Cars Go,' while immaculately delivered, feels like it has been dispatched too early in the evening. 'Windowsill's' name-checking of millennial paranoia makes for eerily prophetic listening in 2017. The sophomore album's title track may have sounded heavy-handed ten years ago, but it deftly articulates the toxic blend of religious nationalism and political populism that now befalls this parish.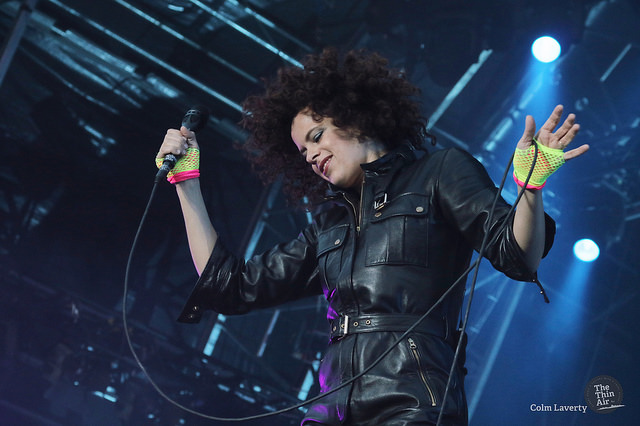 Judge them on their lyrics alone and Arcade Fire would be zero craic. Thankfully they also have festival chops a-plenty. Singalong hooks and riffs spill out of every song somewhere. Regine Chassagne takes the limelight for the joyous 'Haiti' and the gorgeous 'Sprawl II (Mountains Beyond Mountains).' Her unceasing enthusiasm and kookiness could grate on its own but is a useful counterpoint to Win Butler, who lurches around the stage with lanky, languid charisma. He frequently urges the crowd to sing along by nonchalant waves of the microphone. You write catchy tunes as well mate, deal with it.
There is a slight indistinctiveness to the new songs, which should be ironed-out by their impending familiarity. 'The Suburbs' could have been transcendent but is undermined by a poor sound mix – it's a struggle to pick out the evocative piano riff and guitar beneath a gruelling fug of rudimentary drums and bass. An incendiary 'Ready to Start' picks up the pace again. Tonight the band sounds most visceral when guitars are to the fore.
'Neighbourhood #3 (Power Out)' and 'Rebellion (Lies)'are delivered with no messing about – a sharp reminder of the emotional power of Funeral – and the crowd responds accordingly. The band has chosen to begin recent festival appearances with the anthemic 'Wake Up.' No such risks are taken here and its' encore performance is an inevitable but undeniable highlight. On record the signature song packs so much into four and a half minutes before tumbling to an underwhelming conclusion, but tonight it was a fitting victory lap of euphoric release. Jonny Currie
Malahide Castle, Dublin
Photos by Aaron Corr
The sun is still high in the sky as Arcade Fire take to the stage at Malahide Castle. It feels a little strange seeing a band once so synonymous with darkness in daylight, but then again, so too is seeing the six-piece decked out in the sort of 80's get-outs that wouldn't look out of place in a John Hughes film. It's all quite the change from the pale figures who emerged looking like sketches from a lost Tim Burton notebook on 2004's Funeral. One might have been forgiven for questioning if they still have the same fire in their belly, if they are still the same band that howled so convincingly against the suffocating suburbs. We need not have worried.
The skewed Abba groove of 'Everything Now' kicks things off nicely. Released two weeks ago, its piano melody seems to have already wormed itself into the crowd's collective head and leads to the first mass hum-along of the night. Anyone expecting a slow start to the gig is dealt an immediate cold glass of water to the face as the unmistakable bassline of 'Rebellions (Lies)' emerges from the distorted climax of the opener. It's the sort of showstopper most bands would rarely introduce before an encore and it's a testament to the strength of the band's back catalogue that they can dispense with it before some attendees have even returned from the bar.
From here on in, the Canadians deliver one knockout after another. Anyone looking for a dud in order to trek to the portaloos is well out of luck. A joyous 'Haiti' has the first tentative dancers finding their feet and they give a shout out to support act Bombo Estéreo who had kept the early arrivals entertained with their Colombian rhythms. The band find time to revisit 2007's Neon Bible – enjoying its tenth anniversary this year – with the album's title track and standout 'Windowsill' backed by a flashing screen of the album's cover art.
Then we are into the hit parade. 'Ready to Start', 'Neighbourhood #1 (Tunnels)', 'Afterlife' and 'Reflektor' all land without giving the audience chance to draw breath. As the darkness creeps in around the castle, the stage effects get going and a dark smog engulfs the band as they rock out on Neighbourhood #3 (Power Out).
Win Butler seems in fine form and his in-between song chatter generally consist of outbursts of uplifting platitudes. It doesn't matter much what he is saying as each word is swallowed by the cheers of the approving crowd. This is clearly a group who are enjoying themselves and one who have grown comfortable in their role as one of the biggest bands in the world.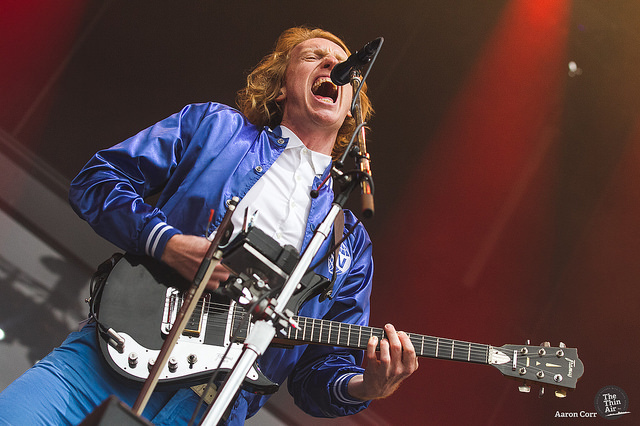 With the group on the cusp of releasing a new record, some might have been feared that they would be subjected to a set heavy on testing out new material, but Arcade Fire are in greatest hits mode this evening. When the new materials does arrive – a double salvo of 'Creature Comforts' and 'Signs of Life' – there is a slight decrease in the volume of the crowd but the audience is already in such high spirits that they'd listen all night.
Régine Chassagne takes centre stage for 'Sprawl II (Mountains Beyond Mountains)' which leaves many straining their voices and scratching vocal chords as they attempt to match her high notes. The finale, inevitably but fittingly, is 'Wake Up'. It's suitably massive and gives everyone the release they had been craving.
Except it isn't the finale exactly. For a few lucky souls, there is to be a second encore crammed in the sweaty confines of Whelans later that night. A performance of new single 'Creature Comforts' most of us will only glance bitterly through YouTube clips and gloating tweets, but a nice touch from the band nonetheless.
It's hard to pinpoint the exact moment where a band segues into the second act of their career. Most seem to agree that Arcade Fire's last album Reflektor saw the group reach that point, but tonight's show proves that the band are far from a spent force.
Their willingness to experiment and refusal to make 'Neighbourhood #24' in order to keep their audience onside is a testament to their relentless need to break new ground. They have settled into a new stage of their career and while a certain exhilaration might be lost on the way, the band has metamorphosed into something new and still exciting. On an early summer evening, there are few things better. Robert Higgins