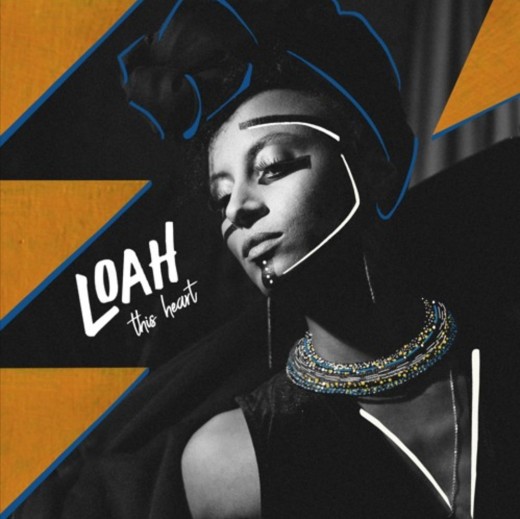 Sallay Matu Garnett AKA Loah's debut EP This Heart is, at it's core, a magical fusion of folk, soul and R'n'B. An effortless blend that draws on elements of eminent female artists such as Grace Jones and Fiona Apple as well as her own own classical music training. What she dubs 'ArtSoul' – soul music, which incorporates the scope of all the musical art that Loah loves, including classical, folk, blues – is a carefully curated mix of different sounds and different cultures. Not only that, This Heart  is a proud artistic celebration of Ireland's multiculturalism, and an opportunity for Garnett to simultaneously embrace her Sierra Leonean roots in tandem with her Irish ones. The effortless interplay of genres across the EP is a strong indicator of that.
Despite this being her first release, Loah is no stranger to the Irish music scene, having previously collaborated with artists such as Bantum, Villagers, and Hozier – whose track 'Someone New' she co-wrote – as well as being a celebrated regular on the country's live circuit. This EP is not short of collaborations either, having been produced by Ken McCabe (Come on Live Long), and Muse sound engineer Marc Carolan. This Heart also features a number of notable guest musicians, including Brazilian drummer Andre Antunes, saxophonist Michael Buckley, as well as the string quartet of the Crash Ensemble. Perhaps most significantly is the personal contribution from her sister, Fehdah (AKA Emma Garnett), who performs masterfully on the backing vocals. These collaborations demonstrate what This Heart sets out to do, an embrace of music and people  from a wide array backgrounds, creating a thrilling fusion of sound.
The opening  title track s a perfect example of this skilled genre-blending. Here there are funk and Caribbean- elements reminiscent of Grace Jones'  Living My Life era, but the mesmerising instrumentals and guitars wouldn't be out of place in any indie/folk circles either. We can hear the influence her peers such as Hozier or My Tribe, Your Tribe have here. It's the perfect opening to the EP, atmospheric and powerful and with it's hard-hitting, strong vocals on the bridge contrasting directly with the Loah's softer melodies during the chorus.
'The Bailey', which was previously released as a single takes on the government and is an exploration in misguided decisions, and the power of dominion over people and their self-worth. The lyrics here are powerful and rich with descriptions of an ill-advised cliff walk –  "we go down to the water side / climb down a precipice / then one by one we jump in / I am terrified" . The swell and mesh of piano, guitars, and vocal harmonies  are such a smooth compliment to Loah's raw vocals here, evoking the anger toward establishment and control, in comparison to the dangers and uncertainty of the water – "This is hell / it is paradise we are in / we can change / how we go there so easily / for a moment". The lyrics here are fraught with frustration reminding one of the passion of baroque pop legends Fiona Apple and Tori Amos – who were also classically trained – or San Fermin, with the vivid lyrics reminiscent of some of Hozier's tracks such as 'Arsonist's Lullaby'. Loah has compared her performance process to that of Sinead O'Connor, not performing songs that she doesn't connect to the energy of anymore. It is something that Loah says she is conscious of and something that is obvious in the careful, precise delivery of the lyrics here. This is honesty and passion in their rawest forms.
The third track, 'Unveiled', is similar in its folk leanings. With its simple guitar and vocal combination Loah demonstrates her vocal range, rolling from note to note as naturally as speaking. The track is raw and almost demo-like in it's simplicity and is stronger for it. "Rawness" is a common running theme in this EP – although carefully curated and produced, there is a passion and grit in Loah's voice that cannot be hidden or camouflaged with careful production – this is heard in all the tracks, but especially in its closer, 'Nothing', where the quiet, minimalist sounding verses contrast with the savagely tongued lyrics – "I might be wrong / I might be unkind / some ugly shit on my mind". And then again, this contrasts with the rich volume of the choruses where Loah exclaims how she is 'nothing at all' in comparison to others. The six minute track is a journey as it begins quieten and steady until it evolves into a empowered declaration against judgment.
Contrast is seen a lot in 'This Heart' – from the contrast of the genres that Loah blends into art-soul, to the  contrast of energy within the songs themselves. The lyrics – especially in tracks such as 'The Bailey',  there is contrast between the control and meticulousness of the establishment, to the wildness of the sea.
Perhaps the standout on the EP is the ethereal  'Cortege', a sleek combination of folk and jazz,  and one of the tracks that has helped Loah in reaching her current status as one of Ireland's most celebrated up-and-comings artists. The theme of the song is the idea of praising feminine strength and Loah exemplifies that strength here, her voice like wine, smooth and warm, exhibiting total conviction and strength. The song is sung in the Sierra Leonean languages of Sherbro and Mend, drawing from West African inspirations such as Grammy winner Oumou Sangare, a prominent activist for women's rights in Africa, and one of Loah's own favourite artists. It still however, harks back to Loah's Irish roots, with the isolated vocals at the start being reminiscent of the classic Sean Nós style.
Plagued by release delays, it would have been nice to hear more tracks on This Heart that we hadn't heard before, but Loah has promised that a second EP is fast approaching. Nonetheless, it is nice to finally hear these tracks as Loah wants them to be heard, together and tied neatly in a bundle that shouldn't really stick together but somehow, with Loah as the glue that binds it all, does so marvellously. Aoife O'Donoghue