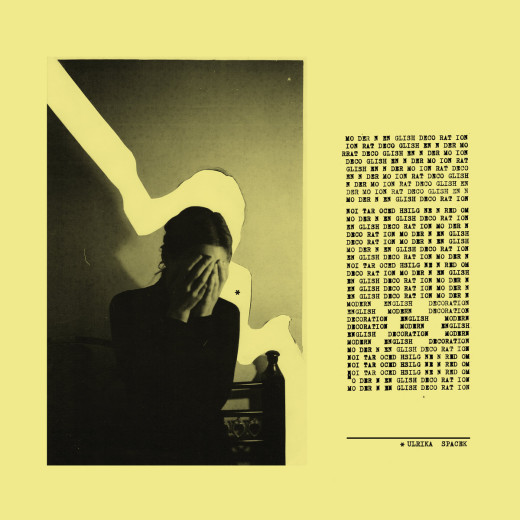 It's scarcely more than a year since Ulrika Spacek appeared as if from nowhere with their critically lauded debut, The Album Paranoia, on the ever reliable Tough Love Records. So it's surprising, by today's standards at least, that they're already back with a follow up, Modern English Decoration. Recording and mixing the whole record entirely in their own shared East London house that serves as their creative hub probably helped speed things along, mind. Although the band had already expanded from the core duo of Rhys Edwards and Rhys Williams to a full five piece by the time of The Album Paranoia's recording and having all five involved right from the off this time round will have presumably led to a more fluid flow of ideas.
Modern English Decoration makes no wild leaps from its predecessor, though it does see them narrow their focus somewhat. Where The Album Paranoia saw them switch between the breezy pop of 'Strawberry Glue' or 'Ultra Vivid' and longer fuzzed out psych tracks like 'Beta Male' and 'Nk', Modern English Decoration on the other hand sets its sights firmly in the middle of those two extremes. No songs reach the 6 minute mark this time out, but the record's chiming, intertwining riffs constructed around steady motorik drumming will feel more than familiar to any fans of the debut.
The wiry guitars on tracks like 'Ziggy' recall a more krautrock-addicted version of Ought, before the fuzz is ramped up on 'Everything All the Time', a single from last September that finds a permanent home here, slotting nicely into the middle of the newer tracks while standing out enough to be a highlight, possessing as it does their catchiest chorus to date, all making for a track that Preoccupations can be envious of.
The title track slows things down a bit for a welcome – if less memorable – change of pace, while the burbling vocals of 'Saw a Habit Forming' echoes elements of early Animal Collective, but otherwise the band remain largely in one place. 'Victorian Acid', though, is the closest they come to repeating those sprawling epics of the debut, this record's most Can-indebted moment, anchored by its hypnotically addictive two-note bassline and swamped by a triple attack of woozy, My Bloody Valentine guitars and indecipherable vocals. 'Protestant Work Slump' closes out the record with more post-punk riffing and spots of droning synth.
Modern English Decoration is a less varied work than The Album Paranoia and is one that swaps that album's ambition for a feeling of comfort in their own skin. But the band manage to avoid sounding samey or one-note by simply doing what they do incredibly well. The record sounds consistent and focused, even if it doesn't reach quite as many thrilling climaxes as its predecessor did. Cathal McBride