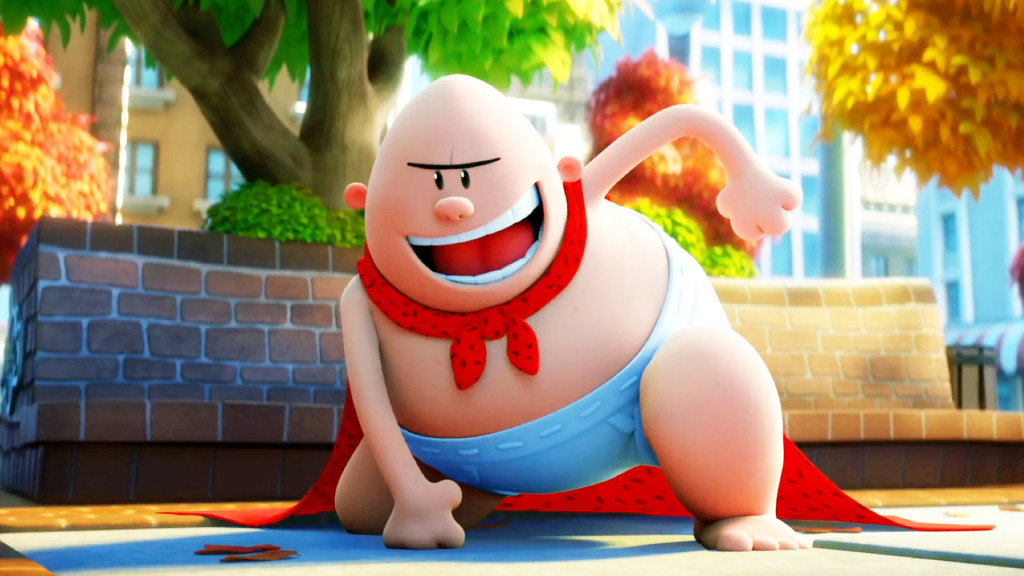 Unsurprising news: Captain Underpants is a silly movie. Surprising news: it's also not bad. Based on Dav Pilkey's popular children's novels of the same name and directed by David Soren (Turbo), DreamWorks' Captain Underpants pretty much comes as advertised: it's about a big, dumb guy in Y-fronts and a cape.
Like the book series, the Underpants movie centres on two fourth-grade best friends and neighbours, George Beard (Kevin Hart) and Harold Hutchkins (Silicon Valley's Thomas Middleditch), and their efforts to inject a bit of life into their grim middle school existence, under the authoritarian grip of principal Mr. Krupp (Ed Helms). The two amuse themselves during class and spend evenings in their treehouse, crafting the comic adventures of the titular nearly-nude hero: one writes, the other illustrates. (Sidenote: it's nice to have a kids movie in which the protagonists are actually creative people.)
When the two pranksters are caught red handed, Krupp threatens the worst punishment possible: separating them into separate classes. Basically, it's the end of their friendship, and it feels like the end of the world. In a wild Hail Mary, they hypnotise Krupp with a cereal box ring and bring their imagined hero to life. A click of the fingers is all it takes to transform the cold-hearted principal into the earnest, dopey Captain Underpants, a delusional educational bureaucrat with no trousers on.
Underpants is less about the dim-witted heroics than the struggle of George and Harold to keep their creation under wraps and, in the process, enjoy the giddy liberation of a school life where they can do whatever they want. It doesn't exactly shy away from the potty humour: the finale involves the heroes fighting an actual giant toilet. Along the way, there's a villain named Professor Poopypants (Nick Kroll having fun on the voice acting), a mad scientist sick of his surname and determined to rid the world of laughter. Underpants sails above the average kids movie with a formal playfulness that spices up the simple story, George and Harold breaking the fourth wall, switching into flip-book animation or, the best sequence, a sock-puppet version of a future where the two are estranged and robots shoot lasers at eachother.
Sony's Cloudy with a Chance of Meatballs movies remain the modern highpoint of hyper-goofy kids movie gags ('there's leek in my boat!'), and the script here from Nicholas Stoller (Neighbours 2: Sorority Rising, Zoolander 2) can't reach those giddy heights. Still, within its more limited ambitions, it does a solid job: Captain Underpants has heart, creativity, decent laughs and an enjoyably amateurish aesthetic. The Emoji Movie looms on the horizon, but this might be a better option for a kids afternoon out. Conor Smyth