Film / Theatre Reviews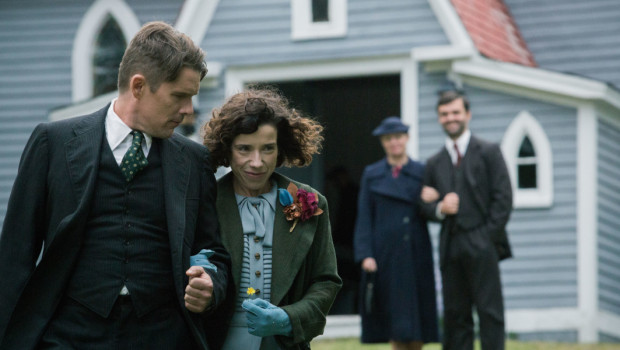 Published on July 19th, 2017 | by Conor Smyth
0
Galway Film Fleadh: Maudie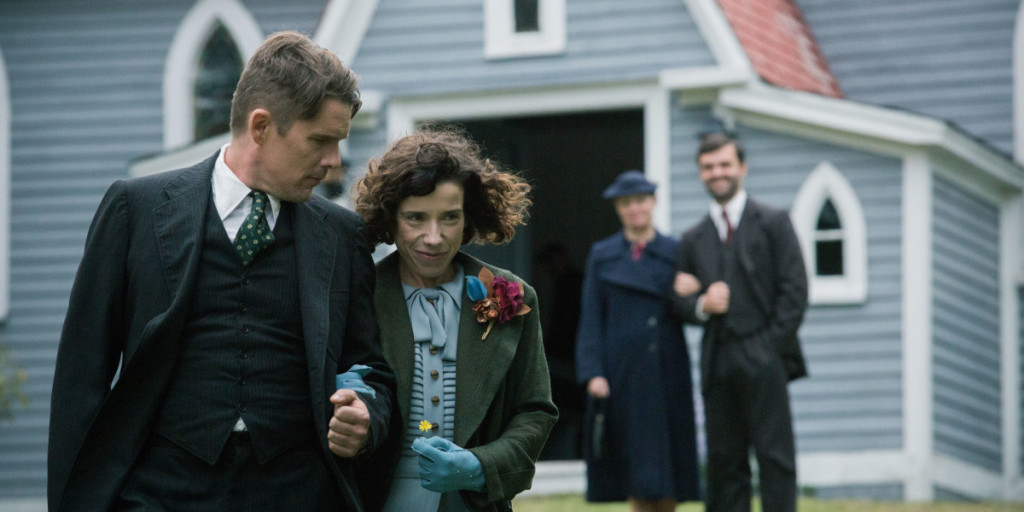 The real-life tale of an arthritic misunderstood woman who finds meaning and recognition through art, Maudie could've have easily fallen victim to award-baiting faux-sensitivity. But much like the paintings produced by Nova Scotia artist Maud Lewis (1903–1970), now celebrated as one of Canada's most famous folk artists, the biopic remains bright, simple, optimistic and a little childish. Dublin-born director Aisling Walsh (Song for a Raggy Boy, The Daisy Chain and numerous TV projects such as Dylan Thomas feature A Poet in New York) keeps a firm hand on Lesley Crewe's script, which traces Lewis' marriage, fame and eventual illness.
Crewe, a Canadian, looked at the small-town pressures of modern Nova Scotia in her screenplay for 2014's Relative Happiness, and Maudie returns to the same place in a mid-century setting (partly shot in Ireland), an environment with limited prospects for a spinster with a funny walk. Things are unpromising for Maud (Sally Hawkins), born with juvenile rheumatoid arthritis, orphaned at a young age and mollycoddled by brother Charles and Aunt Ida, who presides over the grown-up Maud like a stern parent, chiding her over chores and sinful trips to the dance hall. When Charles sells the family home and maroons Maud with her aunt, she spies a Help Wanted in her local store: rough grifter Everett (Ethan Hawke) needs a housemaid and, in a flash of pragmatic self-determination, Maud pockets the ad and shows up at his out-of-the-way cabin. For room and board she sweeps the floors, makes dinner and adds splashes of shocking colour to Everett's cramped, workmanlike home, their relationship progressing gradually into an unlikely romance and source of gossipy chatter for condescending townsfolk.
Maudie celebrates difference and the value of forging one's own path. Neither Maud or Everett are particularly liked by, or fond themselves of, the people around them, but they tolerate eachother. The clammed-up, quick-tempered Everett requires an atypical anti-charisma from Hawke, while the crooked, chicken-leg Hopkins flashes glints of buried steel, Maud's sly, unshowy satisfaction mushrooming as she finds a surer place in the world. The two grow into eachother, and their connection makes more sense as the film progresses, but initially at least there is something a little cartoonish in the double-act banter, the film taking its own charmingness for granted. The odd couple dynamic can be uncomfortable in light of the power asymmetry between the characters, which the film at least acknowledges: at one point Everett strikes Maud, at another he feels her up in bed. These details strike as accurate to the context of the time, but Maud's ascent out of victim status in their makeshift household, so central to her overall arc of self-development, isn't sketched out in enough emotional depth.
Like the subject herself, Maudie approaches her artistic acclaim with matter-of-fact humility and plain sense, a welcome difference from biopics that frame the creative process in montage-friendly fits of zealous inspiration. Maud mostly sidesteps cliched post-success conflicts that pull partners apart, largely because Maud and Everett's life stays much the same, even as TV crews from fancy cities make the drive out. Everett is unsettled and embarrassed by the attention, but apart from that Maud's rise invites provokes little change, the recurring rhythms of their settled domestic arrangement stalling narrative and character development.
Hopkins performance in particular brings spirit, and Walsh's disciplined eye gives a sense of expansion to the couple's domestic life, but the film's reticence about going big also works against it, and a sharper digging into Maud and Everett's feelings about eachother and her work would have helped lift it above vague sweetness. Maudie closes on brief camera footage of the real Everett returning home to his wife and paint-cluttered abode, spiking the emotional conclusion with a jolt of joy you didn't realise was missing in the first place. Despite the monochrome film stock, it feels more colourful than much of what came before. Conor Smyth
Maudie was screened as part of the Galway Film Fleadh and will be released in the UK on 4th August.
Summary: Dir: Aisling Walsh, 115 min, certificate 12A