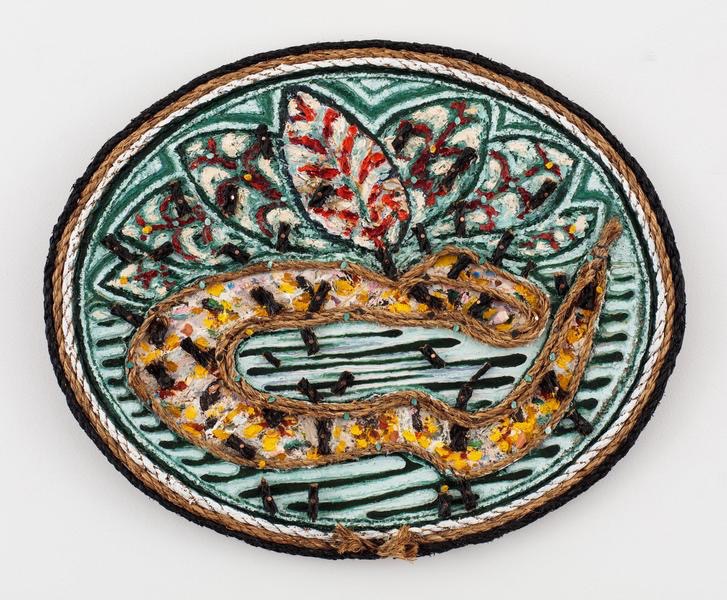 Daniel Rios Rodriguez, Snake Theory, 2017, Oil, nails, rope, and glass on panel with artist-made frame
Opening tonight in Dublin's Kerlin Gallery is a new exhibition featuring the works of four up-and-coming artists – three Irish (Marcel Vidal, Hannah Fitz and Áine McBride) and one American (Daniel Rios Rodriguez). The show is the first time any of the four have shown in the Kerlin Gallery, with McBride and Fitz presenting sculptural work, Rodriguez paint based pieces and Vidal a mixture of both.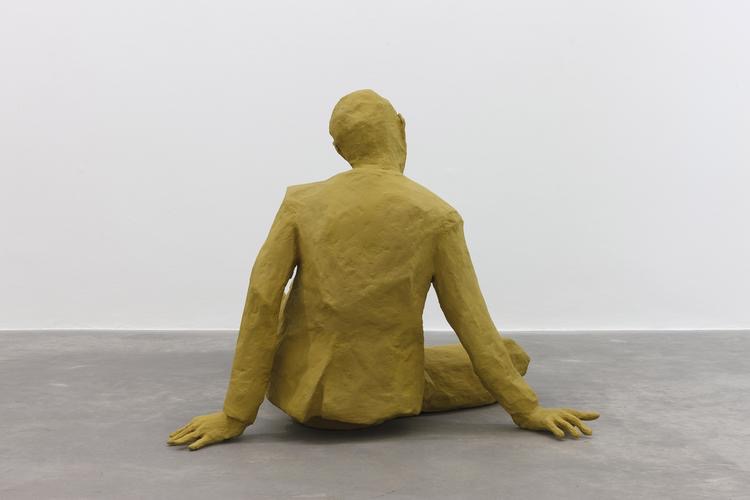 Hannah Fitz, Man, 2017, mixed media
Fitz's work makes use of both sculpture and video practices, with her pieces often having  recognisable forms from everyday encounterable objects. These root the audience in the familiar before bring them on an exploration of this distinguishable but slightly jarring world – you can view more of Fitz's work here.
For the exhibition McBride has created a partition wall to interject within the space – this will then be shown alongside smaller works of wood and ceramic. This work is set to challenge the role of presentation and reference within artwork.
While his work is rooted in a more painterly traditions, elements of sculptural work also exist in that of Marcel Vidal. Oil based paintings are shown alongside plinth like sculptures that have been mounted on castor wheels. Two contrasting but complimentary approaches – you can view more of Vidal's work here.
Marcel Vidal, Cactus 2017, oil on linen
Rodriguez's pieces show a personal view of this world, with the works on show at an intimate scale. Layers of impasto paint are constructed upwards, with Rodriguez using handcrafted frames that cocoon the work. These frames make use of rope, nails, stones, shells, wire and a myriad of other found materials  – you can view more of Rodriguez's work here.
Tonight's preview opens from 6pm until 8pm, with this diverse and intriguing exhibition set to continue until August 26th. Full details are available here.