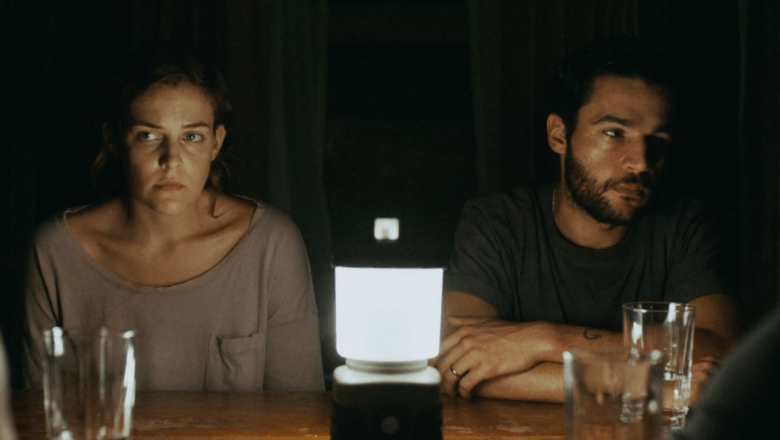 It is a wonderful thing when Hollywood actually develops some backbone and throws their weight behind filmmakers like writer/director Trey Edward Shults (Krisha). His latest genre bending horror, It Comes At Night, is incredibly brave filmmaking, as even the title is deceptively chosen – some might call it false advertising. This is an intelligent and tautly crafted horror, with its base set in the dystopian nightmare genre, but there will undoubtedly be detractors who may feel shortchanged by the elusiveness in showing what the 'It' fully entails.
Set at a time of mass extinction for the human race, Joel Edgerton (The Gift) is a father and husband living an extremely vigilant lifestyle in a secluded house in woodlands with his wife, Carmen Ejogo (Alien Covenant) and son, Kelvin Harrison (12 Years A Slave). After his father-in-law's death to a mysterious and highly contagious virus, the trio's tight-knit and highly disciplined unit comes under unbearable strain. But when another desperate family, led by Christopher Abbott (James White) and Riley Keough (American Honey), interrupt their solitude, and a sinister, otherworldly force seems to be lurking in the woods, the psychological strains start to weigh on what little tranquillity they had. Can the trio hold onto their sanity and humanity while threats build up around them?
Shults has managed to make a film that seamlessly moves between a plethora of genres including zombie, thriller, dystopian, monster and psychological, while always keeping them within horror boundaries. The remarkable level of realism and detail, bolstered by the fantastic cast – Edgerton can do no wrong at the moment – goes a long way in creating suspense from the start, the film-maker deftly manoeuvring around the tension's breaking point as the film digs into its bleak premise. Visually, the use of dreams and seamlessly combining them with reality is crucial to creating much of the horror, and points to the true terror coming from the psychological impact of the conditions they are living in.
But there is a lot of mystery and intrigue with It Comes At Night, as the director continuously hints at something otherworldly lurking in the woods. The manner in which Shults represents this may frustrate many people, especially fans of the more straight-up horror movies, but for me, it only added to the intrigue, making me an instant fan, as he is clearly a film-maker who puts a lot of thought into his craft. He had me thinking about it for days after.
It Comes At Night neither shows or tells what 'It' truly is and because of this it will have its haters, but there is no doubt that Shults has created an original and highly realistic piece of horror that will leave you with as many questions as answers. But the complex development of the characters in extreme circumstances is what is really on show, and the filmmaker does not pull his punches in showing that humans under duress can be every bit as monstrous as whatever may or may not be lurking in the wilderness. Kev Lovski