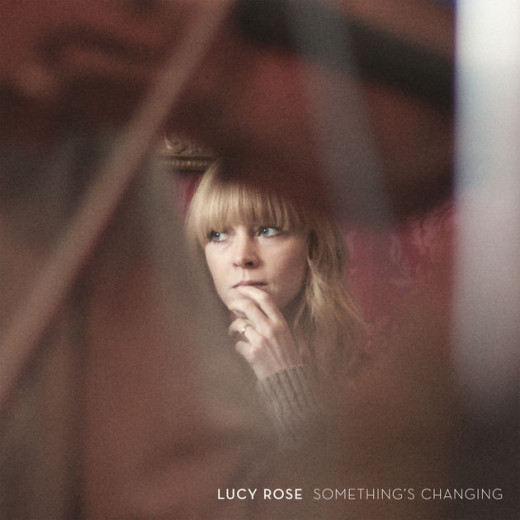 Last year, British singer-songwriter Lucy Rose embarked on the trip of a lifetime. In the space of two months she played 33 gigs in eight countries. The challenge set in this case was that the dates were in Latin America, a place where you would be hard pressed to find her music in shops and where her promoters did not believe she could fill a venue. In a move that was deemed crazy by both her label and loved ones, Rose promised her Latin American fans she would bring her music to them if they could book her venues and find her places to stay. This led to a tour independently organised by and for the 28-year-old's fans who transported, fed and housed her throughout. Along with the release of her third studio album,  Rose has released a 20-minute film that documents the trip which provides a touching embellishment and context to the release.
Something's Changing opens a with a fitting invitation from Rose for us to join her on her personal journey embroiled with "all the good, the bad, the happy, the sad." This journey begins with 'No Good At All,' one of only two tracks written before the Warwickshire native set off on her transatlantic trip. It gives us an insight into Rose's lack of confidence in her musical capabilities before the Latin American tour, the influence of which permeates the album. The insecurity is noted on the piano-based track which sees her trademark airy vocal floating above the hum of gentle orchestral instrumentation ("I'm not the oil painting you once bought" "I'm nothing like the vision you once formed" "A flower of fallen seed"). This lack of confidence in her own music changed over the course of her trip as the songwriter met fans who shared stories of how her music has touched them personally and for whom music was more than just "background music when you're cooking". As the album progresses, we start to hear the chains of insecurity fall away. 
In a livestream earlier this week the singer talked about a particularly touching moment on the trip when she was messing about on an old Spanish guitar which belonged to one of the fans she was staying with. "I thought it was just nonsense that I was playing," Rose explained, but it had touched the fan she was staying with who asked her to promise to finish it. This resulted in 'Love Song,' a slow, lilting track that, despite being one of the album's least exciting moments, flourishes in its final 40 seconds when the melody transitions to something assertive, up-beat and catchy. There's something altogether more heart-warming in the knowledge that this song exists almost solely because one person believed in it.  It is in moments like these that we get a first hand example of Rose's renewed confidence in her own music.  She now believes a song is worth it even if it only means something to one person – it's hard to find fault with a mantra like that. Rose seems to now understand that a song need not make everyone happy, and in that knowledge there is liberation. 
Elsewhere there's a number of impressive collaborations including Elena Tonra of Daughter ('Soak It Up') and alt-folk trio The Staves ('Is This Called Home', 'Floral Dresses'). The Stavely-Taylor sister's vocals blend beautifully with Rose's, adding an extra dimension to both tracks. 'Is This Called Home,' is an affecting cut confronting the global refugee crisis that is lifted by their contribution, reaching its emotional peak when they come in to harmonise on the closing refrain – "Let me hold your hand." Lead single 'Floral Dresses,' is a raw, Joni Mitchell nodding folk tune that sees Rose rejecting absurd gender expectations, ("I don't wanna wear your floral dresses / And my lips won't be coloured"). A stunning flurry of swirling harmonies, it is accompanied simply by an acoustic guitar and stands as the album's true high- point.
Much of the best material has been used to promote the album, save for the third track 'Strangest of Ways'. The song was originally written for a film about "a girl who's allergic to everything," but after becoming so attached to it Rose decided to keep it for her own album instead – and it's not hard to see why. It's the only track that is reminiscent of the likes of 'Our Eyes' and 'Like An Arrow' from Work It Out. 'Find Myself', one of the tracks most heavily inspired by the people she met in Latin America ("Cause I find myself, I find myself in new company / Now I find myself, I find myself within your dreams"), meanwhile, has a great hook and some sweet harmonies but falls slightly short of being quite the chart ready number it seems to strive to be. 
The lack of sweet indie-pop "hit" doesn't hinder the album however. If anything, it's another example of how Rose has evolved and matured into a more self-assured person and artist. The lyrical maturity is evident throughout the rlease with a number of subjects broached for our inability to recognise the beauty in ourselves on 'Second Chance' to fate and destiny on 'Moirai.' Following the theme of growing confidence, Rose challenges the greek god Moirai and asserts: "I won't settle for the theory you're not made for me / This fate and fortune misery / Let's go against the grain / Let them think we're both insane / Rewrite our own history."
Lucy Rose has come a long way from the days of simply providing backing vocals for Bombay Bicycle Club, and her second album's uncomfortably forced drive to be a scrapbook of chart-worthy indie-pop only served as a disservice to the singer. Left with no manager, no booking agent and no label, Lucy Rose took the reins for Something's Changing and in the process found a profound resilience and honest determination, the sound of which is ready and waiting now to be heard and embraced. Nicole Glennon