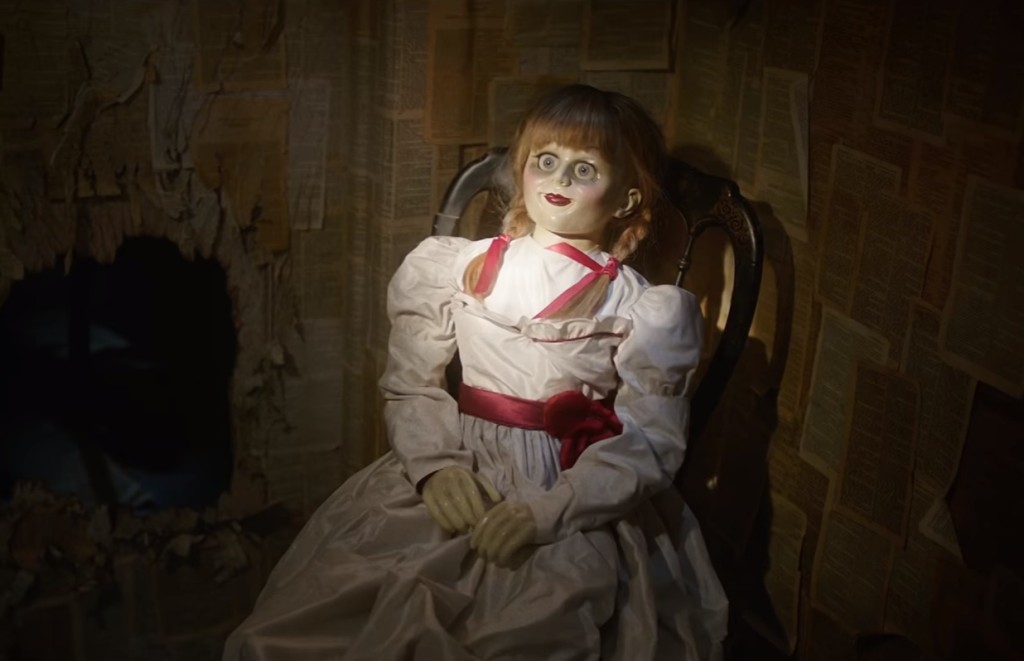 Someone call a priest. It's last rites time. Studio horror is dead, or at least consistent in its undeadness; zombie movies, creaking bags of tricks with empty centres, haunted bodies without spirit. Warner Bros' prequel-spinoff Annabelle: Creation, which sets up the origin story for the titular haunted doll of 2014's lifeless Annabelle, confirms this. The latest offshoot from James Wan's highly successful, ever expanding The Conjuring franchise (future releases include The Conjuring 3 and spinoffs The Nun and The Crooked Man), Creation is a box-ticking exercise with zero dread and a reminder of how essential the personalities of Patrick Wilson and Vera Farmiga's married ghost-hunters are to the series.
Set some time before the events of The Conjuring, Annabelle: Creation begins with cosy domestic life of gentle doll-maker Samuel Mullins (Without A Trace's Anthony LaPaglia) and his wife Esther (Miranda Otto), a decent, good-fearing pair with a young daughter "Bee" (Samara Lee), who is cut down when she runs out in front of a moving car (the scariest point in the film). 12 years later, a gaggle of orphans led by Sister Charlotte (Stephanie Sigman) move into the house on the invite of the still-mourning couple, but are forbidden from entering the late daughter's untouched room or the reclusive Esther's bedroom where she lies, wearing a Phantom of the Opera mask, an utterly ludicrous costume decision.
Esther's infirmed nature is mirrored by polio-stricken orphan Janice (Talitha Bateman), who drags her poorly leg and watches enviously as the other kids play outside in the dusty heat. Janice and her best friend Linda (Lulu Wilson) are at the bottom of the orphan pecking order, ruled by older queen bees Nancy (Philippa Coulthard) and Carol (Grace Fulton). When Janice hobbles into the dead daughter's room and discovers the "Annabelle" doll, a malign presence targets her, raising suspicions from the Mullins that something familiar to them has returned.
It's sure familiar to the audience anyway. Written by Annabelle's Gary Dauberman and directed by David F. Sandberg (Lights Out), Creation brings no new imagery to the jump scare game. Doors shutting by themselves; a kids song ("You Are My Sunshine") slowed down for creepiness; glowing eyes in the dark; bible page wallpaper; the crunching sound effect of rearranged limbs; frightened, wide-eyed girls in nighties. None of the characters are interesting and they are overwhelmingly passive in a way that kills momentum. Without the Warrens or their equivalent to offer agency and resistance to the house's demonic tenant, the girls and their minders are picked off one by one in stock scares.
Creation doesn't establish a meaningful origin to the children's toy at its centre; the explanation, when it comes, is a hodgepodge of standard tropes. And the thing was never that scary anyway! Par Regina George, someone needed to tell WB to stop trying to make Annabelle happen. Filmed in the vague polish that's typical of studio horror, and executed with no memorable visual flair, Annabelle: Creation feels as wooden as its grieving father's workshop creations. This one's a real dull doll. Conor Smyth
Annabelle: Creation is released on 11th August.