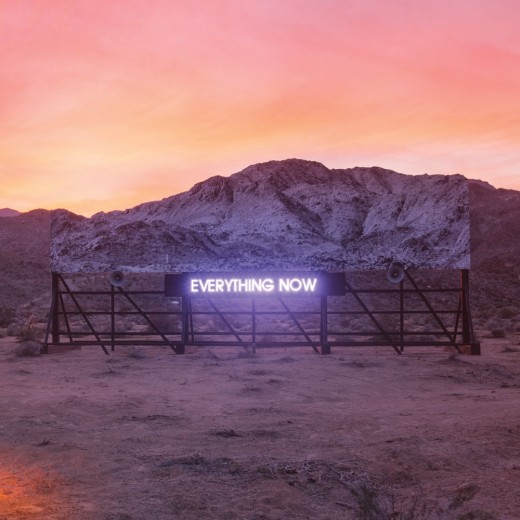 The most troubling time in anyone's life is adolescence. And often, insecurities born during this time are masked by either acts of defiance or retreat as a way of coming to terms with the transitional phase. It is important then to note that Arcade Fire released their debut, Funeral, 13 years ago.
Prior to the release of Everything Now, the fifth studio album from the Canadian band, they engaged in several viral marketing campaigns, each news story or act as incredulous as the last, all garnering substantial media coverage. It began with a fake Twitter profile presented under the guise of a Russian spambot, and was  followed by fake, premature evaluations and reviews of the record constructed by the band. Then came various fake news stories leaking apparent strict dress codes and restrictions for their shows. Finally, with the release of a new record spawns a cycle of new merchandise, in Arcade Fire's case fake merchandise, naturally. A  parody of the infamous Kendall and Kylie Jenner t-shirts, special Everything Now fidget spinner-USB hybrid containing the thirteen new songs retailing at $109 were created along with fake cereal produced to coincide with the release of 'Creature Comfort'. A joke was created, the media were sucked in and an album just happened.
Considering the exploitation of the fake news phenomenon, and Arcade Fire's #quirky way of interacting with media and fans, there is nothing to prevent us then from assuming that Everything Now is nothing more than a culminating factor of that campaign; a fake album. There are several reasons why someone could be forgiven for thinking that Arcade Fire are turning their music into a joke. It has all the hallmarks of a hoax when you listen to the lyrics and arrangements and see that there are three song titles that are in essence the same, as well as couplet sharing one title. The formatting of song titles bearing similarities is not uncommon (think of the 'Neighbourhood' series on Funeral or 'The Sprawl(s)' from The Suburbs). Listening to this album it is almost impossible to recognise this as the same group that wrote songs like 'Rebellion (Lies)', 'Wake Up', 'No Cars Go', 'Ready To Start', and 'Reflektor' though. The differences between the new material and everything before is so vast that any semblance of a comprehensive excursion of musical experimentation on their behalf comes off as dull and false. Upon first listen, songs like 'Peter Pan', 'Chemistry' and 'Infinite Content' are baffling. Aurally abrasive, and not in the good way. Not at all. 
Each of the aforementioned cuts are awful for different reasons. 'Chemistry' takes us on a Jools Holland Hootenanny style walk through bad ska (what I'm choosing to call 'Dap Pop') that veers, for a moment into the same kind of guitar "rock jam" that is eerily similar to Britney Spears' pointless cover of Joan Jet's 'I Love Rock and Roll'.
'Infinite Content' is a definite contender for the most nonsensical and irritating track of the year. Thrashing guitar, unapologetically raucous drums (again, not in the good way) and a shrill violin add to the annoyance of Win Butler shouting the words "infinite content" sixteen times amidst his "clever" wordplay turning the song's title into an assertion of being "infinitely content." The use of the word content is another indicator that this album is comprised of satirical jibes at the current culture of everyone thriving on churning out content, infinitely. Get it? The harsh rhythm of the latter transforms instantly into 'Infinte_Content', where we get to hear those two magical words repeated a further seven times to a lilting arrangement that could easily be heard on a Wilco album.
Taking on the persona of an established band is not limited to an impressive interpretation of Jeff Tweedy. ABBA are reborn on 'Put Your Money On Me', just imagine 'Lay All Your Love On Me' mixed with 'Voulez-Vous' and you have Butler venturing into unsettling territories. It's strange that a band previously championed for their individuality and inventive compositions, beloved for the swell of intricate musical patterns and textures and sincere, intelligent lyrics, have become so utterly void of individuality here. There is scarcely a pillow up-turned or corner searched that doesn't expose more robbed, contrived ideas. All of that nuance has disintegrated into a body of work that is challenging to process, listen to or appreciate.
Musically, Everything Now is without hesitation Arcade Fire's worst album, the vocals from both Win Butler and Régine Chassange are grating and require patience if you are willing to wade through its 47 minute duration. Moverover, the lyrics throughout are equally, if not more, troubling. There are pleas for fame, references to assisted suicide, substance abuse, self-harm and eating disorders in 'Creature Comfort'. All extremely serious aspects of life that Arcade Fire are, perhaps, not entirely qualified to sing about, especially if one is to assume that this is an album built on parody. There are countless lines that make you feel embarrassed to listen to this album; "Be my Wendy, I'll be your Peter Pan", "I can feel you making eyes at me / Baby you can try, but you can't deny.", "Love is hard, sex is easy."
There is a line from 'Electric Blue', one of the album's singles, that is one of the only resonating moments in the wake of listening to Everything Now and evaluating Arcade Fire during this point in their career: "I can't get my head around it." The joke isn't funny anymore and it's unfortunate that a band with such talent have reduced themselves to a joke in a bid to provide a sort of social commentary that has manifested into an atrocious album waiting to be forgotten. Zara Hedderman