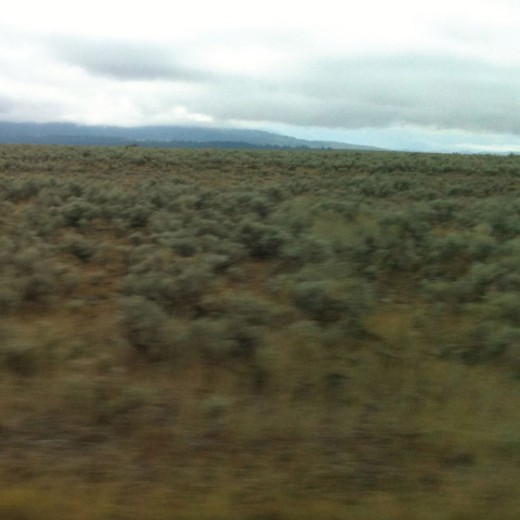 Growing up in Alabama, Caroline Sallee (aka Caroline Says) wasn't within reaching distance of the formidable west coast. After college, she became a waitress in Yellowstone as an exercise in solitude and isolation, saving up to complete a journey of transfiguration along the aforementioned path. She returned to Alabama to record 50,000,000 Elvis Fans Can't be Wrong in her parents basement, a debut album that captures the melancholic loneliness of such a journey within its nine tracks, just shy of 30 minutes.
The thoughts that Caroline Says convey in this initial release are all felt in a passing manner. It's hard not to imagine the lyrics and melodies floating in orbit of Sallee's head as she gazes melancholically out of a bus window, wistfully recounting days gone by as the vibrant American landscape blurs past. In fact, on opening track 'Winter is Cold' – a gentle, guitar plucked kiss on the forehead – the lyrics "Sign your name on my window/Don't take long to fade" almost set the stage for a coming of age film. It teeters on the edge of that stereotypical movie scene wherein the protagonist does just what is described above, but the honesty expressed and the caressing vocals steer our mindset away from the Hollywood projection of youth and focus it on actual lived experience.  
As with any journey, this one focuses on reflection of the self and of a relationship that appears to have ended rather abruptly. Sallee seems to be fixated on the idea of loneliness and isolation in relation to both of these aspects as she draws from them in the majority of tracks, exploring the complexities of what the absence of familiar faces does to the mind. The end result is something that encapsulates the listener with its endearing honesty as she sings about her previous partner and coming to terms with it all. During 'I Think I'm Alone Now' we begin to see her travel-induced nostalgia for them as she imagines meeting them along the west coast, despite the fact that she took the journey to escape those very emotions. It appears as though in her isolation her thoughts weere not cleared, but rather amplified in the silence that followed.
These musings are quiet and delicate, but at points they become repetitive. We are constantly reminded of the loneliness she is experiencing, but rather than reinforce the idea and strengthen its authenticity, occasionally it comes across as a reiteration of an established fact. There are points when loneliness is mentioned but no elaboration occurs, and the listener is left gasping for more detail and expression. However, when the themes of self-reflection and isolation do appear, they're translated to us through the album's gorgeous, dusky tone.  
A warm, inviting light is cast over the entire album, likely conceived from ambience of falling sunsets witnessed on her journey. This can be heard throughout, but is particularly evident on 'My Fiance's Pets'. The guitars are tempered, the vocals are hushed but true and sincere, and the lyrics are honest and simple. All of these things contribute to placing the listener right beside Sallee on that bus, too distracted by the journey to give our full attention to the destination.
50,000,000 Elvis Fans Can't be Wrong is an album of transience. Throwing herself headfirst into an absence of everything she knew, Sallee did not find new thoughts of revelation so much as she found herself hearing the same thoughts, only much more clearly. The melancholic debut is a reflection of how the de-cluttering of the mind works. When we remove all the unnecessary furniture and miscellaneous objects that obscure our view, we are not provided with a chamber of solitude, but rather one that forces the whispered thoughts and emotions to crescendo to a point where they cannot be ignored. Mitchell Goudie