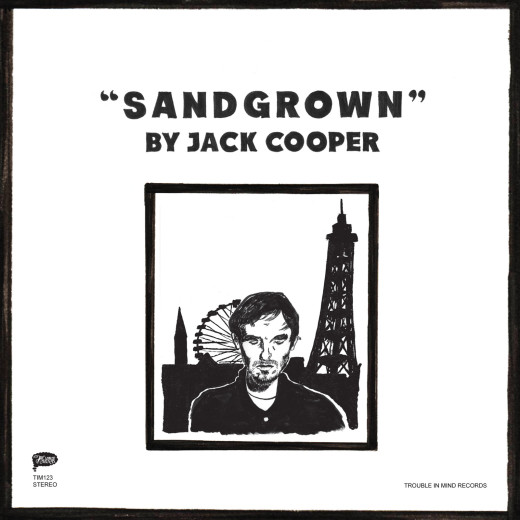 After more than a decade in the music industry, Jack Cooper has found a moment to himself to release Sandgrown. The Blackpool native has fronted indie-rock bands The Beep Seals and Mazes in the past, and is currently making music with James Hoare under the title Ultimate Painting, but his first solo record consists of a set of nine easy-going folk inspired tunes with the lyrics, the instrumentation and the production all handled by the man himself.
In his own words, Sandgrown is a "loosely connected concept record" that centres around the seaside town of his youth. Not just the Blackpool that lays home to vintage wooden rollercoasters and whipped ice-creams, sandcastles on Pleasure Beach and sunset walks on the promenade, but more interestingly, Blackpool in winter. A darker place that conjures images of social exclusion, rampant drug problems and a loss of self. Cooper's roots are in this tourist town and even when it seems desolate and depressing, there is assurance somewhere in there that the sea will always "raise another wave."
Sonically and thematically, it's an ode to the past, a nod to simpler times. The album was recorded on a four-track cassette recorder, a Teac 144 (the same machine Bruce Springsteen used to record Nebraska). The mere fact that Cooper hunted this machine down to record Sandgrown gives you a glimpse into the nostalgic feel of the LP. It's a hazy half hour of quiet musings and sentimental reflections complimented by relaxed vocals, languid guitars and steady beats. It's an album that asks you to press pause on modern life for a moment, sit down with a cup of tea and reminisce on home; the smells, the sights, the sounds.
This is an album for a Sunday morning, a soothing voice for a hungover head. Such is the sleepy sound of this record that one could be forgiven for overlooking the lyrics which are pensive and introspective. On 'Memphis, Lancashire' he touches on the loneliness of touring life, ("And when the crowd goes quiet, I hear myself again") while on 'North of Anywhere' he addresses insecurity and self-doubt ("I am trying to shine, but the weight of my chest is bringing me down"). It's an insight into a musician who has, before now, always been shadowed by other band members. On Sandgrown, Cooper is under no pressure to have his voice heard above a crowd.
Perhaps that's why there's no moment where Cooper really lets loose on Sandgrown. 'Estuary' is one of the most upbeat moments on the record and even still you could find yourself nodding off to it. Cooper does branch out ever so slightly in terms of genre at least, with 'North of Anywhere' and 'Stranded Fleetwood Blues' having a slight country vibes while two jazzy guitar instrumentals ('Sandgrown Part 1' and 'Sandgrown Part 2') are not an unwelcome deviation from the otherwise predominantly folky collection.
Comparisons to The Velvet Underground or Lou Reed aren't entirely out of place here, but while Sandgrown is certainly enjoyable, it doesn't feel like a classic for your record collection. It's unassuming and charming in its own way but it perhaps is not enough of a venture from what he has been doing with Ultimate Painting to be completely justified. All the same, one senses that this was altogether a personal venture. And in that regard it's nice to hear Cooper do something that is truly and completely his.  Nicole Glennon