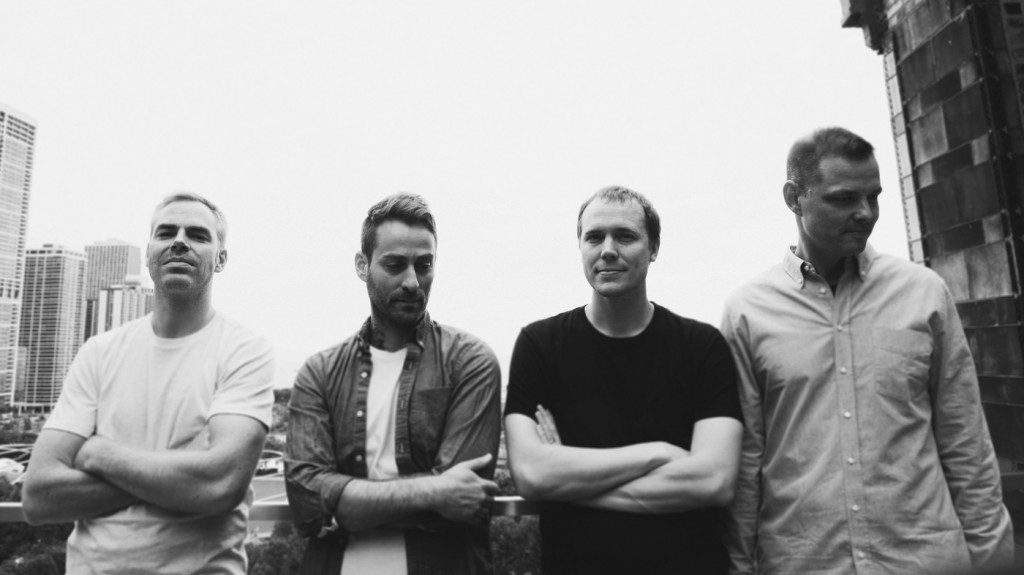 Few bands will ever have the underground cult status of American Football. The Illinois quartet are credited with the creation of one of emo's most romanticised albums and have been part of the most anticipated return in the emo revival. Ahead of playing The Button Factory in Dublin on Monday, Kelly Doherty chats to Steve Lamos about their return.
Where did the decision for American Football to get back together come from?
A couple people came to us in light of the first album being reissued and asked us to play. I don't think we had really considered it before but they made it seem like there was an audience and there's an interest. We put tickets up for sale for a couple of those first shows and they sold quickly and here we are. I think we were nervous it wasn't gonna be a terribly good time and it turned out to be a fantastic time. We've been making new music and enjoying each other's company.
When you ended did u think there would be a chance of return?
It didn't seem terribly likely that we would play again. The whole thing continues to be a surprise – it seemed like it had run its course and that was it. I for one am very surprised – I couldn't have anticipated all those years ago that I could be talking to you now from Ireland. It's still pretty amazing.
Was there a pressure to recreate your debut album?
I don't think there was during recording. The album we recorded would have been the exact same if we had only met 2 months previous, I think. This record reflects who we are. I do think when we got into the artwork and started thinking about what it was to make an American Football album we did start trying to make connections. I think Mike certainly made some implicit connections and links with his lyrics. He's talked about how the character on the new record could be construed as an older version of the character on the first record – what are things like 15/20 years older? I mean, we're all people trying to figure out what it's like 15/20 years on. We certainly wanted to acknowledge the first album but I don't think it got particularly in the way.


How has your fan base changed?
It exists now. We used to play very infrequently for virtually nobody. The first record evolved on the internet and was grasped onto by younger people but I had no idea. A reason why there wasn't a ton of pressure was because this all happened without any of our explicit knowledge. We didn't play a single time after we recorded that album and we did no press or any of the things that normal sensible people do after releasing music so it's changed a lot. There are people who are interested in what we do and we're grateful for that but it wasn't the case the first time around.
Is there an emotional pressure on your music from fans who associate your music with major events in their lives?
I've certainly had people come up to me and say very flattering things about how the records impacted their lives and how meaningful it was to them and I've got to say that's one of the best feelings you can have. It's the same for me with bands. I saw Spoon for the first time a few weeks ago and I'm in my 40s with lots to be doing – I shouldn't be going to rock shows – but it was awesome. I was backstage and I pulled one of the guys aside and was like 'this was amazing and this show meant a lot to me'. Being able to participate in a show as a fan and think about how amazing it is and then turning around and having people coming up to me after our shows and saying the same thing means the world to me.
We always cringed a little bit at the emo tag but as I've gotten older I've thought if what emo means is that this is meaningful music and it touches people, well I'm on board with the label.


How has the reaction to the new album been?
I'm a grown up and I use the internet but I was never into critical culture, I never got into blogs or any of that so to be the subject of it is a bit weird and at first negative reviews really stung. Now I think I understand how the internet works a bit more. The response has been positive, I think we established that we're a band to the best of our ability and that we're going to keep on making music until people get tired of it or we're tired of it. I think it's a positive thing and I hope we get to do more of it.
So, American Football are going to continue on? It's not just a reunion period?
I didn't think we were going to enjoy this so much but we've had so much fun hanging out at these gigs. We're coming over to Ireland soon and it's like a long weekend and a chance to see each other. It's like a mini vacation and after 2 or 3 days it's time to go home to our kids. We're going to keep doing that as long as people keep showing up. It's refreshing having nothing to prove and that none of us think we're going to make it in the rock and roll world because we're too old for that stuff. It's kinda awesome.