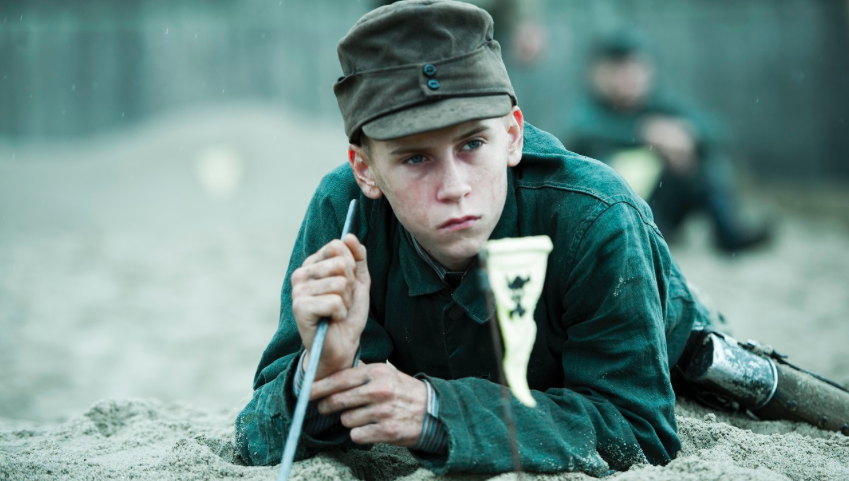 World War 2 films could be seen to have been at saturation point for quite some time but writer/director Martin Zandvliet's (The Model) new drama Land Of Mine proves that there is still plenty of mileage in the genre, with a tale that sheds light on a very controversial time period in Denmark's history, while also dealing with age old themes of revenge and forgiveness with stark authenticity.
Set just after WW2, Land Of Mine tells the story of a group of surrendered German soldiers, all of whom are young boys from the Hitler Youth, who are ordered to demine the coast of Denmark – the Nazis thought D-Day was going to take place on the Danish beaches. Under the watchful eye of a ruthless Danish sergeant with little to no sympathy for anyone German, the boys are tasked with defusing a stretch of beach with thousands of various types of mines, making for incredibly perilous stakes. But if they can make it through this with their lives, they will be free to go. With the odds so stacked against them, can any of them survive?
With a stunning opener that commands your attention, as the sergeant nearly kills a captured German soldier who he deems to be disrespecting their flag, you get the impression that this isn't going to bode well for any Germans involved. The sergeant – played with awesome menace by Roland Moller (A Hijacking) – is charged with keeping the boys in check and under strict discipline for getting every mine in the area cleared. To achieve this harsh environment, the director shapes tense scenes and does a particularly effective job at catching the viewer off guard in ever inventively brutal ways, though never in an unrealistic manner. The level of detail and research involved in Land Of Mine is second to none.
When the movie loosens up and the sergeant starts to cut the boys some slack, there are some great moments of comradery between them but the story never goes down the easy route, the ups and downs come at an unrelenting pace as the demining process takes its physical and mental toll. The acting from the boys in the more tragic scenes is absolutely heart breaking. There is not one bum-note hit with the acting from a very young cast and they are all challenging, highly charged roles.
There are some aspects to Land Of Mine that can be seen as telegraphic and contrived, maybe even convenient, but this is a solid war movie with incredible realism and highly emotive acting, that tells an important and fascinating tale about a shameful episode in Denmark's history. However, there is unexpected – and much needed – heart in its finale that makes the film a very rewarding watch after all the carnage. Zandvliet has to be commended for a story that few people would want to tell, doing so with aplomb. Kev Lovski