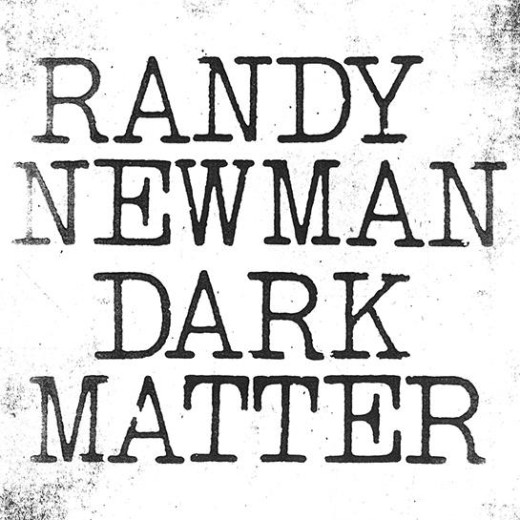 For over fifty years now, Randy Newman has been a mainstay of the American music industry, as a songwriter, a performer and a film composer. His songs have been covered by dozens of famous artists, several of his albums have met with critical acclaim, and he has made a comfortable living as the composer of choice for the likes of Pixar (to date he has composed the soundtracks of seven Pixar films). So he is that rare beast, both critically rated and ridiculously successful.
Dark Matter, Newman's 12th album proper, covers a lot of ground in its nine songs, using what is now his signature mix of satire-heavy show tunes, blues, classic R&B, piano balladry and whatever else takes his musical fancy to cover an idiosyncratic range of topics. On the sprawling show trial opener, 'The Great Debate', he pits science against religion before putting himself in the dock. This breaking of the fourth wall, a device Newman has occasionally used before, most notably on the title track of his previous record Harps and Angels,  gives a mischievous insight into Newman's own song writing process and his deep respect for gospel music.
The brothers in the title of second number, 'Brothers', are of course the Brothers Kennedy, discussing the abortive Bay Of Pigs Invasion of Cuba in 1961. This song is perhaps the album's most gnomic, covering a number of other contemporary matters before taking a right turn into a latin-tinged ditty singing the virtues of Celia Cruz, the biggest musical star to emerge from Cuba during the 20th century. Devoid of the commercial pressures heaped upon younger artists it is clear Newman can and does say and do what he wants to in his songs.
Newman continues the presidential theme with the next song, 'Putin', which was released as a single around the time of the 2016 US Election but written some time before. This satirical stomper, in the mould of his other works such as 'Political Science' and 'A Few Words in Defense of Our Country' presents a complex portrayal of Putin post-Crimea and due to ever present allegations regarding the aforementioned election maintains its potency.
Striking a more sombre note, 'Sonny Boy' tells the tragicomic story of Sonny Boy Williamson, an African-American blues musicians of the '30s and '40s whose name was swiped by a rival artist in a successful bid to capitalise on the original's name, and who died an early death in a violent robbery. Beneath its sardonic delivery, it is a clear paean to the artist and an indicator, if needed, of Newman's deep knowledge of and love for important musicians in American musical history.
'It's A Jungle Out There' is a rerecording of a song Newman wrote for the TV series Monk in 2004, the sole purpose for its inclusion seeming to be to get a well deserved dig in at the Boys In Blue, "even the cops are scared today, so if you see a uniform, do exactly what they say, or make a run for it."
Amid all the comic pizzazz and sparkling word play are a number of more sombre numbers that more quietly display Newman's ample abilities as a songwriter who can strike an emotional chord. 'Lost Without You' is a treatise on family relationships as life approaches it end, while album finale 'Wandering Boy' can be added to the long list of Newman compositions that taps deep into the wellspring of sadness, confusion, and regret that is part and parcel of the human condition. The song is narrated by a father, tenderly describing an estranged son and plaintively asking where he is. Thematically and musically, it has a cousin in Tom Waits' big sounding weepy "On The Nickel."
There is much to mull over on this album and Newman tackles complex themes with a vitality and aplomb that belie his years. CJ McCanney