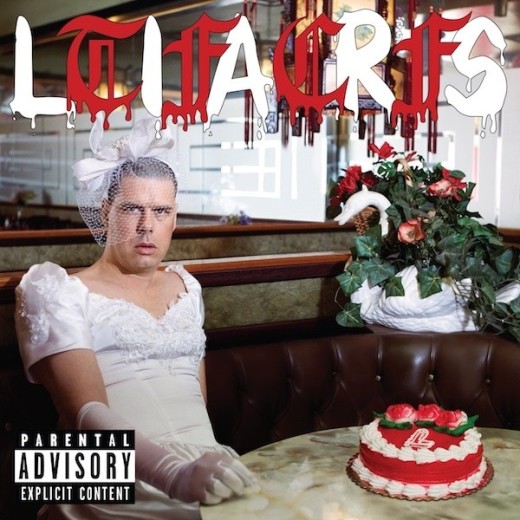 While a new Liars album is always cause for celebration, reactions seemed somewhat tempered this time around for the announcement of eighth LP TFCF (short for Theme From Crying Fountain) by the revelation that the band is now a solo project, with only frontman Angus Andrew remaining. Drummer Julian Gross, part of the trio since their second album after expending their original rhythm section, had already hung up his sticks shortly after last album Mess due to a bad back making touring difficult, but the departure of founding member Aaron Hemphill came as more of a surprise. This, coupled with some slightly bizarre and uncharacteristic artwork – Andrew in a wedding dress, paired with a tacky font and parental advisory sticker that suggest something has gone awry – seems to have set expectations unusually low.
Thankfully, one listen to lead single 'Cred Woes' should have put such fears to bed. It's classic Liars, combining a WIXIW-esque electronic hook with some Sisterworld guitars and Andrew's unmistakable voice, as he rages relatably against the "minimum wage routine" with "all upper management in their teens". You'd be hard pushed to tell from this that Andrew has been forced to go it alone.
This idea of a 'classic Liars' sound feels like something of an oxymoron though. Each of the band's albums have their own identity, from the post-punk of their debut They Threw Us All in a Trench and Stuck a Monument On Top, through noise collages and ambient effects, up to the electronic work of their last two records, the subdued and anxious WIXIW and the louder, brasher Mess. After seven albums it had been difficult to see where they could go next. Going acoustic never seemed like a serious option before, but acoustic guitar turns out be a dominant force on much of TFCF, but typically it's much more twisted than that sounds.
Opener 'The Grand Delusional' manipulates its acoustic guitars with delay effects before being joined electronic percussion and keys, while album highlight 'No Tree No Branch' piles on competing layers of piano and keys alongside propulsive percussion and an infectious chorus. 'No Help Pamphlet' is startling though, in being likely the closest Liars will ever get to acoustic folk balladry, even if it's regularly disrupted by sampled background noise, like an attempt to sabotage its own simplicity in typical twisted Liars fashion. Electronics still dominate much of the record too, but in a more lo-fi and charmingly haphazard fashion compared to the slick precision of Mess. Andrew has commented on how electronic programming forces a precise time signature on your music, but here it has a much looser, improvised feel.
Liars albums are so often informed by location – their debut was an archetype of early 00s Brooklyn post-punk, Drums Not Dead was Berlin experimentalism, while more recent albums channel some of the gloss of LA. TFCF then is the first album recorded in Andrew's native Australia, having moved to an island near Sydney in isolation, with nature as his driving force rather than city landscapes. He would record the natural sound of his environs outside at the same time as recording the album, something most notable when the looped sounds of crickets and a passing plane crop up towards the end of 'Staring at Zero', a track that manages a fairly convincing lean towards low key hip hop.
While not the most consistent Liars record – tracks like 'Emblems of Another Story' for instance can amble on aimlessly for a few minutes before finally deciding to go somewhere more interesting – the way the tracks bleed together lend it a cohesive feel. Despite veering between the acoustic and the electronic from track to track, it's not really an album of individual highlights to be picked out, more a cohesive whole to be consumed in one sitting.
Lyrically, TFCF is a break-up album, not of a relationship but of a creative partnership, a fairly novel idea but one that must have been fairly difficult to put out there for his old bandmate to hear. While Hemphill's departure was amicable and they remain friends, Andrew admits it was something of a devastating blow, and the record has a mournful atmosphere – "we both became the thing we would have killed before". In this context, that artwork starts to make sense, Andrew left alone as the band's jilted bride, left with sole custody of the wedding cake.
Some fans have decried Andrew's decision to carry on the Liars name rather than starting a new solo project, and certainly it'll be odd to see him performing old songs live with a brand new backing band. But if his output is going to continue to so completely capture the ethos of Liars, what's the point of rebranding? Liars have always been a band obsessed with reinvention anyway – Angus Andrew seems to be perfectly capable of carrying that reputation on alone. Cathal McBride