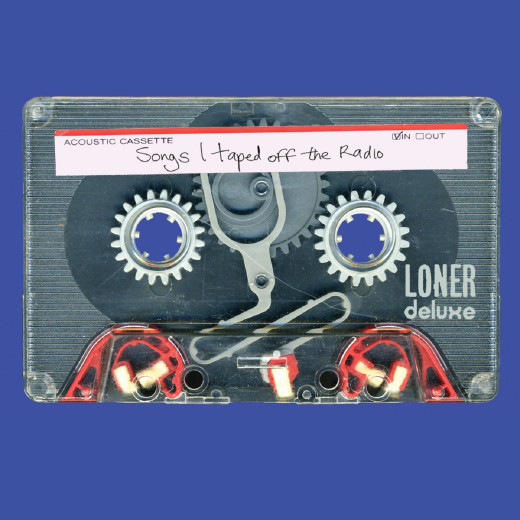 The only way to discover something truly new in music is to experience it without any preconceptions as to what it could encompass. Remove all your expectations, clear your mind of any niggling biases, shut yourself off from any stimuli that could interfere and truly immerse yourself. It's advice we could all do well to follow, but when the occasional press release promises the birthplace of a brand new genre it's near impossible to stop your mind spinning with all possibilities of what's about to happen.
Songs I Taped Off The Radio, the second album by Galway-based Loner Deluxe does just that, offering humanity's first taste of 'UFOlk'. You're forgiven if you, like me, have an inner Brian Cox compelling you to instantly toss reading this out the window and hotfoot it to your local record store to sample this delicacy (although the cassette only release of this album makes it rather challenging) and skip to the track in question.
This intergalactic package, entitled 'Moon Dunes', is a three and a half minute, immersive prog track that opens with Public Service Broadcasting-esque voiceover and questions about if our existence in the universe is shared and what evidence to suggest we aren't is being hidden from us. Proto-electronica throbs and toy theremin combine to create an eerie sense of dread as the track meanders along – chilling enough when you're listening inside through headphones, but out on your own in your car under a clear night sky and you might return with soiled seats. A handful of other tracks follow a similar composition, notably 'Darken My Door', 'Night Klub Ghosts' and 'West of the River Corrib', but each bring their own unique element, whether that's a peppering of vintage synthesisers, thundermaker or bouzouki sounds. The latter of these is used beautifully on opener 'Winters Last Fire', which weaves together hip-hop and folk over vocals by Cecilia Danell.  
Despite being the alleged homeplace of a brand new genre which has sturdy foundations and an instant feel of familiarity, Songs I Taped Off The Radio comes into its own on 'How To Sleep Better' and 'Summer Song', which follow more in your face algorithms, full of immersive hazy guitar layering and pop structures. In doing so they provide the standout moments of the album, and yield poignant moments of emotional uplift and unleash wave after wave of serotonin. 'How To Sleep Better' is notably the album's furthest foray into rock, with Rusted Rail labelmates Aaron Coyne of Yawning Chasm and Gary Morrison from The Hollows slinking together distorted chords and palm-muted harmonics into a melee of road trip-friendly feedback. 'Summer Song' is a mille-feuille of cliched seasonal imagery and breezy pop, toying with spaced MicroKorg, web-like lead guitar lines and generous helpings of banjo.
Whilst Songs I Taped Off The Radio is adventurous, expansive and full of colourful ideas, there is an overriding sense that the ideas could be explored a little deeper, perhaps stretched out a little more into seven or eight minute symphonies of synthesisers. All the right ideas are in place, but given the often short duration of each track it's hard to spend too long in the mindset that each song attempts to convey. Nevertheless, there's an abundance of interesting experiments that contrast the analogue with the digital, the retro with the modern and the astral elements with the earthier tones, which make for a captivating listen that will itch underneath your skin. The timeless nature of our fixation with outer space and UFOs will ensure the record is enjoyed, which is a final bittersweet kick given that not so many of us have working cassette players anymore. Dominic Edge