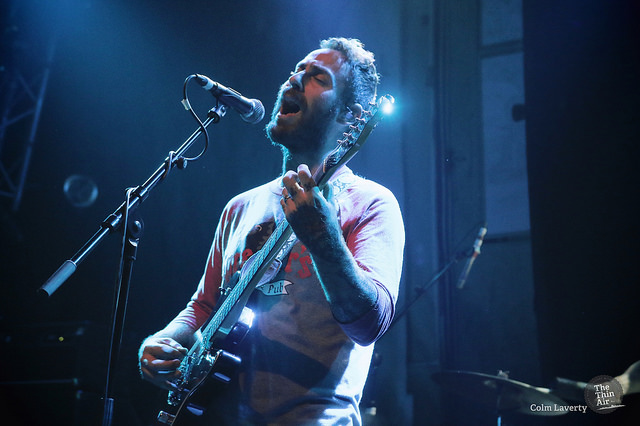 It's unlikely that you're ever going to find a crowd as earnest as the gentle gang of 20-something year olds that bundle into The Button Factory for emo heroes, American Football. It's been a long time coming but the Illinois band are finally making their Irish debut 20 years after their humble beginnings and emotions are running high among the expectant audience.
The first thing to notice about American Football is that, despite how few shows they've actually played over the last two decades, you'd be hard pushed to find a band more technically accurate. Each song sounds identical to its studio version and they master complicated time signatures and progression with such ease.
It's great to see that the band's chemistry is thriving. Mike Kinsella plays the charismatic frontman – sipping beers and losing himself in the music between quips and dry jokes but the rest of the band play just as much of a role in the onstage banter and each interaction makes the show feel like a bunch of pals playing in their garage and having a bit of a laugh. In our interview with Lamos last week, he mentioned that they never planned for a full reunion tour but they just ended up having a lot of fun so kept it going and that's clearly evident.
At times, the audience is lost on cuts from the second LP, though that feels more like laziness on the behalf of a fanbase still hung up on the 1999 release rather than any actual issue with the record itself. Tracks like 'Home Is Where The Haunt Is' are instant classics and sound beautiful in a live setting and 'Desire Gets In The Way' and 'My Instincts Are The Enemy' slot perfectly into the modern noodly emo landscape whilst still calling on the sound that made American Football so good in the first place.
However, this crowd is looking for nostalgia and the band more than deliver. 'Summer Ends' is the first cut from their debut performed and it meets a rapturous response. They perform their legendary tracks with such passion that it's easy to be transported directly to a sad basement in midwestern America. As the iconic 'Never Meant' draws to a close, the crowd is screaming as if their teenage years depend on it and it's clear that something beautiful happened tonight. Kelly Doherty
Photos by Colm Laverty