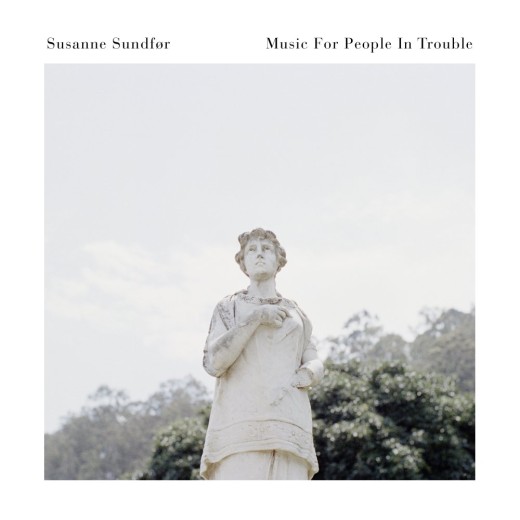 Not to be that guy, but *ahem* as Confucius once said: Real knowledge is to learn the extent of one's ignorance. Now, without trying to send readers running for the hills with a review rife with personal enlightenment and pretentious philosophical opening statements, it'd be hard to deny that Susanne Sundfør's latest album, Music for People in Trouble initially appealed as a sitting duck for my worrisome self and an overhanging £5.20 library fine for a book I never once picked up. This review was drafted to open with a breezy, whimsical quip about Sundfør's medicinal and spirit-cleansing qualities and the subsequent effects on my criminal self. Yet after just a handful of bars of opener 'Mantra' it's apparent that this would be naive and downright ignorant, for Music for People in Trouble deserves so much more, and so much better.
It's been two years since breakthrough album Ten Love Songs, a wildly ambitious effort that swung heavily between complex orchestral compositions and vintage Scandi-pop, the latter of which drew unfortunate parallels too close to the wearisome pulse of Chvrches. It'd be fallacious to say that Music for People in Trouble sees Sundfør return to her roots, given the incredible yet endearing amateurism on nearly every aspect of her self-titled debut, but it is somewhat stripped back and conservative; the bulk of melodies are performed on piano or gently finger-picked guitar, with flash-in-a-pan woodwind ('Bedtime Story'), sparing use of synthesiser ('The Golden Age') and smokey cameos from saxophones ('Good Luck Bad Luck'). Each track is relatively straightforward and simplistic as opposed to the orchestral epic 'Memorial' on Ten Love Songs, and will heavily appeal to the zeitgeist over at new home Bella Union (Mercury Rev, Marissa Nadler, The Flaming Lips).
Whilst Music for People in Trouble is a strong indication that Sundfør is yet to find her signature sound – something she claims she never wants to find anyway – there is one ever present throughout her discography: pellucid and richly textured vocals. It'd be impossible and equally unjust to try and describe them to those who are yet to have the privilege of experiencing them without wading back into dangerous territory of a deeply personal and philosophical tale, but beware of not becoming emotionally broken at the closing moments of 'Mountaineers', a duet with labelmate John Grant.
If you're not quite transported to rock-bottom yet musically, Sundfør's lyrics should finish the job nicely. Wanting to reconnect with the world, Sundfør hit the road, taking in countries from the United States, China and Iceland to North Korea. The results are clearly heard on Music for People in Trouble; despite not being an overtly political statement, it's evident that her time left her feeling rather morose. To say it's a tumultuous time in the world now would be a platitude, and lyrically Music for People in Trouble is a hodge-podge examination of the apocalypse, drones and environmental destruction. 'Bedtime Story' is a schmaltzy ballad which poignantly addresses loneliness at the apocalypse: ". . . and when the nights are cold and strange/and all the birds are gone/and all the oil's been spilt/and left us on this earth alone/I think about the time you reassured me you were mine". Sundfør takes on Rent-boy within the chilling spoken-word title track, arguing that"'we don't do life, we don't choose life/life does us". Certainly it appears that it wasn't quite the average gap year, and if there are any criticisms it'd be that we don't hear about any positive experiences at all. Whether this is because there weren't any is a rather harrowing thought for another publication entirely, but surely she could lift the mood detailing her ride down an awesome water slide or something?   
As the crescendo of closer  'Mountaineers' fades to a desolate silence, the true meaning of Music for People in Trouble manifests itself in an overwhelmingly powerful manner. Sundfør hasn't crafted an album to console fortunate Westerners with overbearing £5.20 library fines, but instead aims to awaken our absent sense of social responsibility and global injustice. Music for People in Trouble feels charitable in its nature, as if it's true purpose is to stir awareness for causes and/or societies without enough media attention. Like all recent fundraising collaborations, it leaves a bitter taste of despondency that can whip us into action, yet refreshingly is completely devoid of Olly Murs and co attempting to navigate a tambourine, and who wouldn't drink to that? This is intoxicating and thoughtfully crafted escapism that chews us up and spits us out to nowhere other than where we should already be. Dominic Edge