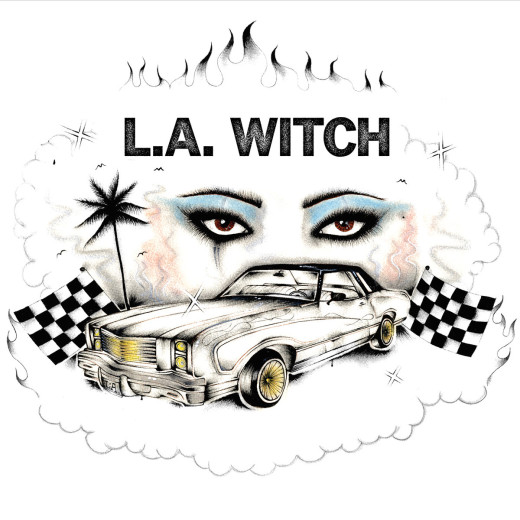 L.A Witch's eponymous debut long player is the movieless soundtrack of the year, one that is utterly addictive and that will leave you begging for a visual counterpart. From their brooding vocals and hazy riffs, the Californian psych rock trio take us on a cinematic journey through the seedy bars and clubs of 1960s Los Angeles.
L.A. Witch have set out to capture a hazy, Californian dream; a sound lost and found only in the depths of David Lynch's surreal, on-screen exposés of the Southern Californian underbelly. Any of these nine tracks would slip neatly into this scene; crackling in the background through a broken jukebox or buzzing through the car radio of a cadillac tearing across the desert plains of the south west.
This vivid scene is painted through a number of different methods. Firstly, through invocations of the myriad of influences from the south western American alt-rock scene like Mazzy Star and 13th Floor Elevator (e.g 'Baby in Blue Jeans'). Secondly, their first-person morality tales of love and woe like 'Untitled' give character and plot to the scene, solidifying the setting and introducing the running theme of escapism. Finally then, and most importantly, there is of course the sound itself. L.A. Witch's washed out vocals and gritty riffs conjure the analog sound of a collector's prized 45′ from some short-lived footnote cult band seamlessly and serve to solidify the atmosphere they strive for.
Once they've set the scene, L.A. Witch delve into an intriguing plotline of problematic love and escape; a classic Bonnie and Clyde, us-against-the-world scenario. 'Kill My Baby Tonight' is the perfect showcase track; a marriage of the album's main themes and defining, musical characteristics. Sade Sanchez's hazy, lulled vocals paint a vivid depiction of the album's protagonist, ("I'm gonna hurt my baby tonight/This way he'll forever be mine"), the band's very own Ellie Driver; a femme fatale fit for an all-female, 60s garage trio. This anonymous, fictional renegade features throughout the album, playing a central role in the execution of the album's narrative.
While Sanchez's sultry narration brings character, it is Ellie English's punctual, jarring rhythm that really brings the album to life in tracks like 'Drive Your Car' and 'You Love Nothing'. L.A. Witch utilise their drumbeats to set and manipulate the tone of the album. Lines like "wish I had a heart as cold as yours" are delivered with a venomous, motorik beat before the drums drop completely, giving space for the ominous, echoing void of a lone bass line from Irita Pai.
The dramatic theme of escapism is palpable in just about every track but is most noticeable in final track, 'Get Lost', ("Take me where you go/To get lost from myself /To get lost from my soul"). Our protagonist draws on issues of love and self-doubt, repeating the same running-from-your-problems scenario that has featured  numerous times before in the album. While repetitive at times, L.A. Witch's execution feels fresh at every turn.
While 'Get Lost' is both lyrically and structurally similar to the other album tracks, its execution is unique, letting it stand out from its predecessors. Sade Sanchez's hypnotic, velveteen vocals strike up a stark contrast against English's vigorous, percussion-soaked breakdowns, topped off with a tyranny of soporific guitar riffs that resonate with a haunting reverb, carrying this wonderfully executed album to a neat and satisfying conclusion. Christine Costello