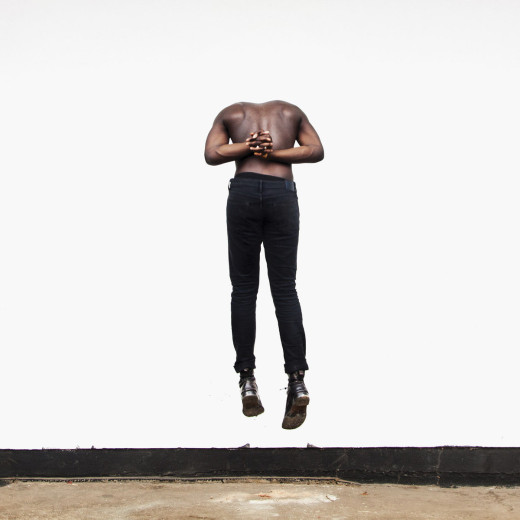 Self-diagnosis can be a dangerous thing. I mean, who hasn't convinced themselves they're suffering from nail psoriasis, only to later discover that it's actually just an unfortunate wad of sock fluff hiding underneath their toenail? If you rummage too far in the dark-yet-comfortable confines of WebMD with the blinkers on you're more than likely going to misdiagnose yourself with something, ultimately doing more harm than good. One man who understands such risks is L.A based singer songwriter Moses Sumney, who, after weeks of diligent and tentative research correctly diagnosed himself with ADHD. More recently, he stumbled upon a new term which seemed to describe his feelings perfectly: aromanticism. The term describes someone who experiences little or no romantic attraction to others, but is still capable of feeling love on a platonic level, like that from a relative or friend. This left Sumney at a crossroads: is this normal, and does it need to be discussed with a specialist, or is it something to write a concept album about?
Following a flurry of singles and collaborations, notably including longterm friend Solange and The Cinematic Orchestra, we find our answer, the aptly named Aromanticism, released on the ever dependable Jagjaguwar (Sharon Van Etten, Bon Iver, Foxygen). Sumney, an artist who is yet to find his definitive voice, straddles between swathes of cosmic electro soul which are grounded by more subtle folk and jazz elements inspired by Ghanaian roots. Musically, Aromanticism follows a trajectory comparable to a romance, with early tracks 'Don't Bother Calling' and 'Plastic' centring around breezy compositions of gently thumbed barre chords and warm cinematic strings, before stalwarts 'Quarrel' and 'Lonely World' pick up the pace and the attack, the latter of which is a collaboration with Thundercat, and pulsates into a twisted, whirlwind crescendo. 'Doomed' couples stark yet intense synthesisers with themes of existential self exploration: "When I expel/from this mortal shell/will I die for living numb?", before closers 'Indulge Me' and 'Self-Help Tape' bring down the curtain with perhaps the album's strongest guitar work.
But let's be frank. Sumney isn't currently in the spotlight as a result of his musicianship. There's no denying his brilliant ear for sequencing, looping and, for those that see him live, his creative percussion, but it's his voice that can leave you feeling weak at the knees, and moreover, his exceptional ability to layer it, notably on 'Man on the Moon' and 'Lonely World'. Aromanticism showcases an other-worldly range of vocals we've glimpsed at on breakthrough EP Lamentations, as well as singles 'Everlasting Sigh' and 'Seeds'. Sumney swings from falsetto, to spoken word, to a soulful middle ground similar to that of uprising talent Joel Culpepper, sometimes within the space of minutes. It can be hauntingly beautiful at times, crushing the next, but it also needs to be tethered. 'Doomed' is one such example, unpredictable and volatile, kind of like an army general spitting in your face at close range, but in G# as well. It's an endurance test on an otherwise easy listen.
Such a stirring, powerful voice draws the listener ever closer to the lyrics. Sumney picks apart aromanticism, bravely depicting an extremely vulnerable and personal side of himself throughout. 'Don't Bother Calling Me' reveals his confused and lonely state: "still no grasp of reality/the world is a wonderland scene/I don't know what we are". Although niche in its subject matter, Aromanticism appeals to a broad audience who may have had fleeting moments of being unable to reciprocate romance in the way that they'd like to. Sumney takes this further to a philosophical level on 'Quarrel', questioning why humankind relies so much on romance for a fulfilling and happy life: "I would give my life just for the privilege to ignore".
Just as romance itself so often is, Aromanticism is fleeting. Clocking in at a near inexcusable 34 minutes, it feels like an intense moment of eye contact with a stranger, offering a mere glimpse of what Sumney can offer. With such a unique lyrical theme brought to the fore of such beguiling music, it does what any great romance does: leaves you wanting so much more.  Dominic Edge