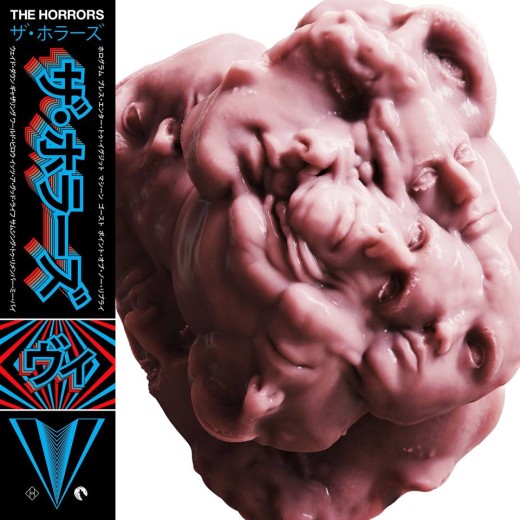 Starter for ten: Is V merely an incredibly unimaginative title to mark The Horrors filth album, or is it a big fat fuck off to the establishment? Let's presume for a minute that it's a cleverly hidden version of the latter. After all, The Horrors themselves have promised a return to the dark shadows they once occupied, stating that they wanted to "get nasty". Coincide this with the 10 year anniversary of debut Strange House, a happy-go-lucky melee of punk-rock, hairspray and garage–psych that seems like such a distant memory next to the commercial success of the much more danceable Luminous, and you might find yourself salivating profusely. It's a shame then that on V, The Horrors, an ambitious band that have undergone constant reinvention, have served up some of their most banal work yet.
Let's address the elephant in the room: If you're going to "get nasty", acquiring Paul Epworth for production duties is somewhat contradictory. There is no denying that Epworth is astounding at what he does and can almost guarantee success for any artist, but this is man behind Adele, Coldplay and Bruno Mars, artists who are likely to never have set foot in the dingy basements The Horrors once thrived in. The result is a squeaky clean polish over the top of half-baked tracks such as 'Point of No Reply' and 'Gathering', the former of which is full of insipid verse-chorus psych, completely devoid of any end goal.
There are the burgeoning swells of The Horrors' trademark elegant cosmic anthems, but as each moment comes and goes you can't help feel like they're being held back, like there's a lack of integrity in their work. For instance 'Ghost' almost tells the tale of guitarist Josh Hayward's escape from a lacklustre drum machine loop, only to cram his accompanying panache back into the closet for the aforementioned 'Point of No Reply'. Lead single 'Machine' is the closest offering to the Mercury-nominated snarl of Primary Colours, fizzing through garage-stomp and blistering synth meltdown in the bridge, but aside from this, you have to beg the question: Are The Horrors really aiming for horribleness, or do they want another taste of UK Top 10 and all the niceties that come with it?
Frontman Faris Badwan offers less to chew on lyrically. If, musically, V is about as nasty as a tickle-fight that results in you wetting yourself, then thematically it sits somewhere comparable to a younger version of you walking into a classroom with your shirt hanging out your zipper, i.e. forgettable after an hour. 'Hologram' asks the futuristic questions no one else bothered or in fact needed to: "Are we hologram?/are we vision?'", while 'World Below' finds our protagonist looking down on the world and describing some disturbing apocalyptic scenery: "hold on/morning comes/raining these flames down on Earth". The irony of Badwan accusing someone of being "no more than a machine" is palpable on an album that is nothing more than a launchpad for chart success. Other than to perhaps send an undetectable shiver down the spine, there's little coherence or overall theme to V, making it quite unclear what it's purpose is.
In truth, despite the above ramblings, V isn't necessarily a bad album. The glam stomp closer of 'Something To Remember Me By' draws parallels to Depeche Mode and won't become vicious irony. The Horrors are going nowhere but onto bigger things. There are riffs and hooks aplenty that will please the masses, each burrowing deep in psychedelic anthems that provide the clearest indication yet that Faris and co. are ready for the arenas. It may be a far cry from their 2011 masterpiece Skying, but for the many that pick up their journey here, they'll never notice so much is amiss. The only crowd to which The Horrors have indeed become nastier is to those that revered them most. Dominic Edge