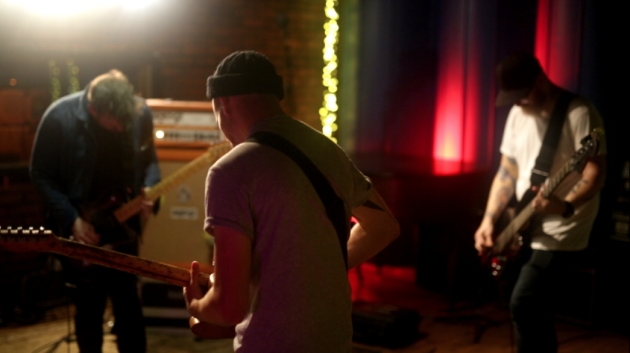 Having just returned from a mammoth European tour and ahead of their biggest hometown show to date, our very own world-beating instrumental titans And So I Watch You From Afar play the inaugural session at The Live Room Belfast, following the release of their massively acclaimed fifth album, The Endless Shimmering.
Having transcended their reputation as not just an internationally-respect math-rock outfit, but one of the cornerstones of contemporary Irish – specifically Northern – subculture, the north coast quartet are in many ways they're the only band who could've fittingly kicked off this series of sessions Start Together Studio's Live Room, where four of their five albums have been recorded, with those first two instrumental in solidifying the reputation of both studio & artist; and, given that ASIWYFA graced the cover of our first physical print issue, it's safe to say we share the sentiment.
This session is the first instalment of what's set to be an ongoing series that Belfast has been in need of for quite some time. check out their site, featuring some stills that look suspiciously like a session from gargantuan sludge trio Slomatics. This comes just in time for the tenth anniversary of Start Together – which celebrates that fact at the Oh Yeah Centre this Friday, December 15 –  where countless landmark local & international records have been mixed over the years.
The Live Room Belfast was spearheaded, mixed & edited by one of the studio's longest-serving engineers Niall Doran, and has been tastefully and intimately documented by the eyes and ears of Belfast scene treasures Ciara McMullan, Billy Woods and Chris Ryan.
Stream 'A Slow Unfolding of Wings' – the first in a series to be, ahem, unfurled – below:

ASIWYFA ring out the year with the following run of Irish dates:
December 16: The Telegraph Building w/Touts, Catalan & Calling All Horses
December 28: The Academy, Dublin w/Robocobra Quartet
December 29: Garbo's, Castlebar, Co. Mayo w/Be Curious, Kid & Catalan
December 30: Cyprus Avenue, Cork
December 31: Roisin Dubh, Galway w/Paddy Hanna, Ryan Vail & Anna Mullarkey