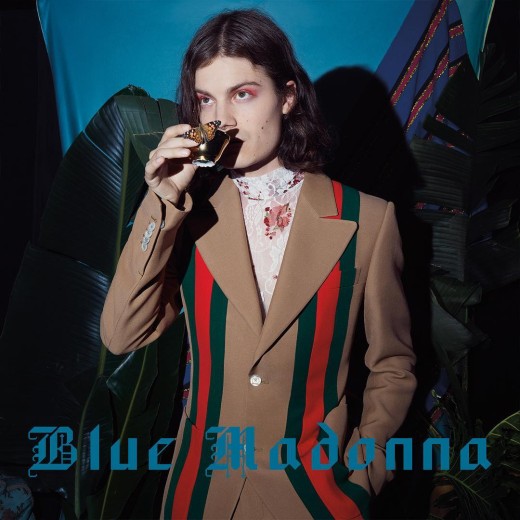 Returning with his highly anticipated sophomore effort Blue Madonna, Michigan born Garrett Børns captures the momentum from his debut Dopamine and transforms it into a catalyst for experimentation. Gone is the typical homogeneous album setup, replaced instead with kicks and flares from a medley of instruments that spring up from the spaces that break up the noise. 

Where Dopamine reclined into a suave sofa of plush electro-pop beats, Blue Madonna erratically paces across a floor of glossy, facet tiles. Opening with the relatively reserved 'God Save Our Young Blood', BØRNS' pace and tone matches that of his collaborator, one Lana Del Rey. The track doesn't sound dissimilar to Lana's own output, but the familiar BØRNS crescendos along with the irregular percussion ensures that she remains in the background. Following on is the juxtaposing beat of lead single 'Faded Heart'. Driven by powerfully melodic rising and falling guitar riffs, the track hooks and pulls the listener with every digression into the chorus where the tempo slows and BØRNS' soaring registrar takes centre stage.
As one song leads into another though, it doesn't take long to realise that there isn't any real musical theme or thread running through this album besides that of ethereal vocals. Retro toe-tapping guitar plucks, gracefully wistful piano, delicate strings, and soaring celestial synths are all densely woven into the record's relatively short runtime, such that it can feel like a real kitchen-sink effort. Saturation often comes at the cost of tracks feeling overproduced and artificial, but such a fate only occurs on 'Second Night of Summer' where everything falls away into an awkward metronomic beat for the chorus break. This record was never meant to be cohesive one supposes, sonically at least. In actuality, this serves to help the album, not only musically but lyrically too.
When we begin to strip back the fantastically whimsical yet substantial instrumentation on Blue Madonna, we are left with themes and lyrics that, while not poor, don't reflect the same level of craftsmanship as on his debut. Songs such as 'Sweet Dreams', 'Faded Heart' and 'Bye-Bye darling' indicate tales of a breakup or troubled love. Elsewhere we're also presented with the ideology of disillusioned youth. Sprouting primarily in 'God Save Our Young Blood' and 'We Don't Care', lines such as "Climbed up the tree of life/kicked out of paradise" and "The world's on fire but we don't care" demonstrate alternating depictions of the topic, with the latter resembling a bitter acceptance of adulthood. Those themes are never fleshed out much more though. There's no enveloped graduation from the dissonance associated with adulthood to the eventual fiery acceptance. There's no development on the tales of romance or lack thereof. Essentially, there is nothing substantial to bind the tracks together thematically. But once again, where this would be the ruin of many other albums, it seems to work here.

By allowing the tracks to live and thrive individually, this album is, in effect, a collection of unique singles that have been carved in such a way that when they sit beside each other we can kind of see the family resemblance. This approach to the structure of an album is nothing new for a pop artist, but the sheer variety of sonic displays throughout creates something entirely different and more spectacular than the sum of its parts. The price paid for this is the lacklustre lyrics and storytelling which do go amiss at points, but this album isn't about taking us on a long vicarious journey, it's about short bursts of thought and ideas that we glaze over until they crystallise and become real.
In creating an album with no adhesive, BØRNS has been granted permission to explore new ground, saturating every track with new and curious flourishes that weren't seen on his debut. He bends and warps the sounds at will, demonstrating just how well he can construct melodies and intricate patterns. It's uncertain what direction he'll head in next, but as his music expands and begins to take new forms it's something we should be excited for. Mitchell Goudie