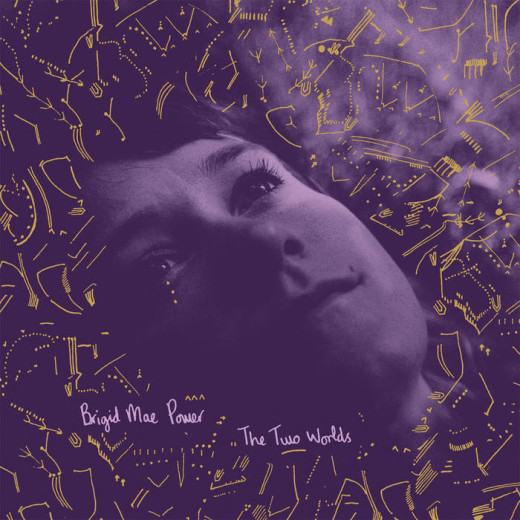 We're all guilty of living between two worlds. Personal and private, work and leisure, pre "this" and post "that" comprise just a few. God forbid should they ever crossover; most of us fight losing battles to keep them apart, whether the consequences are trivial or something much darker. Brigid Mae Power does not seem to be such a person though. The Galway based singer-songwriter runs at her demons head-on throughout her third full length album The Two Worlds, and the fallout of such a collision is a staggering beauty to behold.
Under the support of the #MeToo movement, Power recently penned how she had trapped in an abusive relationship in the U.S. before returning to Ireland some years ago, giving birth to her first child as a single mother and struggling with the costs of childcare. The acceptance of her difficult past and the empowerment that confronting it has given her is at the very fore of The Two Worlds, with sharp, spiky lyrics piercing those who have done her wrong. "You'd try to convince me, that I was somebody that' I'm definitely not" she sings on 'Don't Shut Me Up (Politely)', a track which far predates the paradigm-shifting Weinstein revelations, before shifting her attention to the transition between another two worlds, New York City and rural Galway on 'Down on the Ground': "Not trusting my return will be pain free/well it won't be/never will be." "How's your new home?/I hope you don't feel too alone" Power asks of her Grandmother on the exquisite and spacious 'How's Your New Home', ensuring that if your heartstrings weren't snapped already, they are now.
Power's frank and defiant lyrics are elevated by her ability to bottle the spirit of the remote and wind-battered landscapes of western Ireland. Her palette has become more expansive since 2016's self-titled breakthrough, with dust-coated pianos taking the fore on 'Is My Presence in the Room Enough For You?', 'So You've Seen My Limits' and 'How's Your New Home?', before the anachronistic accordions on closer 'Let Me Go Now' are squeezed so gingerly the cobwebs are barely unsettled. Each track feels like Power has discovered an antique instrument, made no effort to blow off the dust and recorded each track in one take, capturing raw and visceral emotions that define the present situation. The word "haunting" is a cliché bandied around all too often nowadays, yet Power's terse piano can be described in no other way.
With the aid of co-producer and husband Peter Broderick, this album remains nothing short of exemplary throughout, lifting the listener to a dream-like state in the damp air. 'I'm Grateful' and 'On My Own With You' are a little more route one folk, but must be taken with a pinch of salt in Power's definitions; the tracks are chorus-less and to-and-fro between downtempo, breathy Mazzy Star-esque lull-scapes and propulsive moments akin to the likes of Sharon Van Etten. 'Down on the Ground' weaves experimental and off-kilter push-pull shapes, showcasing an impressive and relentless stamina. Power has grown and matured in every way possible, and the only frustration is the persevering use of heavy reverb that places mammoth distances between Power and the listener when the lyricism compels you ever closer.

The Two Worlds sees Power drag the demons of her past into the present, and in doing so, opens a portal to a third world: the future. The album puts forward a solid argument that confrontation can be the best form of escapism and finishes on a strong feeling of hope. "You can let me go now, that's okay" Power reassures as the curtains come down, and you really do believe her; this is the kind of album that will stick with you forever. Dominic Edge