Galleries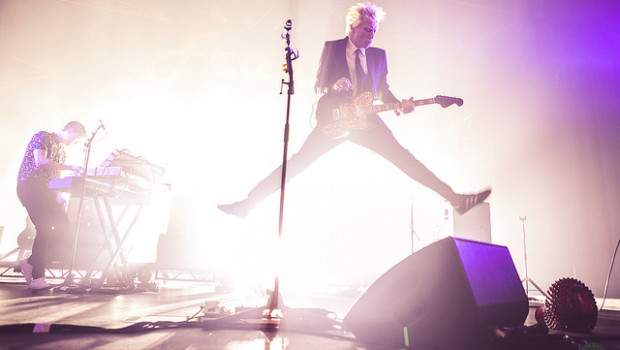 Published on February 13th, 2018 | by Cal Byrne
0
Franz Ferdinand @ Olympia Theatre, Dublin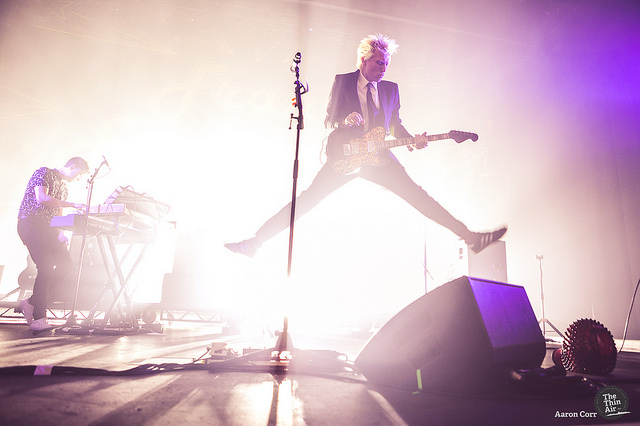 You get the impression Alex Kapranos enjoys this kind of thing. The frontman strutted on stage, fully decked out in signature skinny suit and tie, looking like he was born there. Sporting a newly bleached quiff and rockstar pout, the Scot had a heavy whiff of Bill Nighy's character in Love Actually about him. There were hips thrusts; there were finger wags; there were even Eddie Van Halen style guitar jumps. And like the aforementioned Nighy, you can't help but be endeared by his performance.
Before the Dublin crowd got this show of old school entertainment, there were some young guns to sling their tunes. Fontaines D.C. opened the night with a set that started off as inoffensive indie pop but quickly transgressed into outright noise rock. The Dublin five-piece appear to be filling a Girl Band shaped hole in the scene, with singer Grian Chatten's agitated intensity and repetitive lyrics giving off a similarly chaotic vibe. 'Hurricane Laughter' stood out in an all round impressive set, with Kapranos even stating his admiration for the track.
Franz Ferdinand brought an altogether different brand of entertainment to the night. From the moment singer Kapranos started his light-synchronized dance moves to 'Lazy Boy', you knew you were in for a treat. The man relishes the stage. He's an old school 'entertainer' in every sense of the word, constantly pushing at the seams of his skinny suit, gyrating 360° with his arms outstretched and fingers pointing towards the crowd.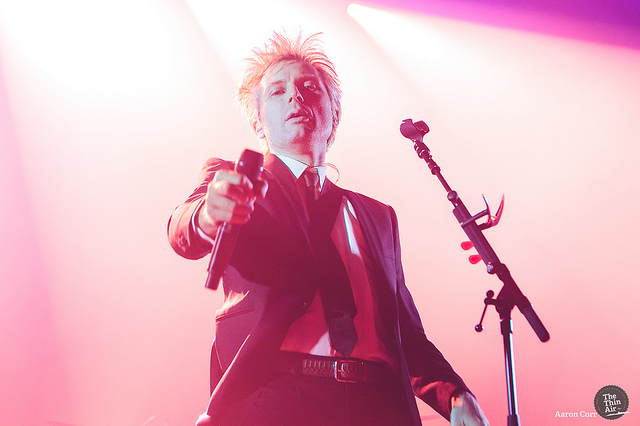 And by the sounds of it, they thoroughly enjoyed it. Anything from the first two albums killed. 'Michael' still has the power over an indie dancefloor that it did a decade ago and 'Do You Want To' has enough catchy hooks in it for an album worth of tunes. But 'Dark of the Matinee' was the standout tune of the night. Kapranos introduced it by reminiscing about the first time they graced the Olympia stage and by chorus was smiling so much that he could barely sing.
The renditions of their newer stuff brought fewer smiles. 'Finally' started off with a message of sincerity but was not matched by the song itself. Similarly, 'Lois Lane' was rather limp until the last 30 seconds and its musings on over 30s single life. But this underwhelming reception is understandable. The band only released their new record Always Ascending on Friday, and as with any artist who had their biggest hits over a decade ago, the crowd were only really here for one thing.
Thankfully Franz Ferdinand chose to end with an old school hit. The opening riff ro 'This Fire' was greeted with one of the biggest cheers of the night and every word was sung along by the sold out Olympia crowd. In classic rockstar fashion, Kapranos dragged every inch out of it, going for six or seven choruses. In anyone else's hands, this would have been unbearable. But there is a charm to Kapranos; something in his endless, childish enthusiasm that endears you to him and drags you along for the ride. Cal Byrne
Photos by Aaron Corr