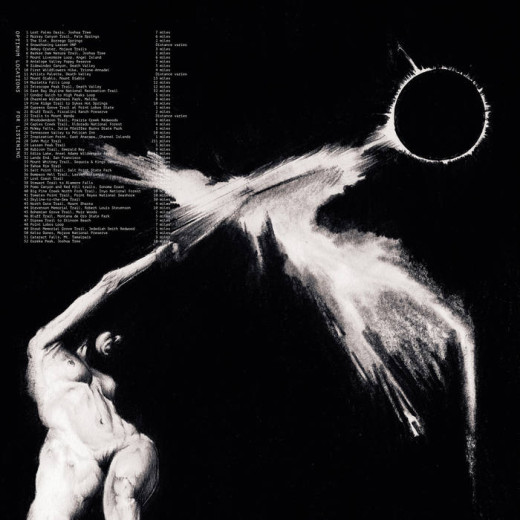 Dedekind Cut is the current pseudonym of Northern California based experimental composer & producer Fred Welton Warmsley III. His 2016 debut $uccessor was a singular piece of work, an abstract, opaquely kaleidoscopic fusion of paranoia and dread, sonically teased out via digital/analogue and synthetic/organic contradictions. If that record edged into the far corners of noise and drone music, then its true successor plumbs depths equally as distant.
Named after the mountain lake town in which its creator – who used to produce and release music as Lee Bannon – resides, a multitude of sonic components make up the macrocosm of Tahoe, its intricacies revealed through each consecutive immersion. It wouldn't be unfair to describe sections of Tahoe as glacial, not just in terms of the pacing, but in terms of its impenetrability and emotional indifference – at times it feels deathly still, like a breath held in anticipation. While Dedekind Cut's debut was often dark, it held melodic accessibility. Over eight tracks, Tahoe delves deeper still into the murkier recesses of its composer's muse, a long suite of submersion interspersed with oft-jarring sounds that heighten the sense of anxiety whose foundations were laid on $uccessor. This is music from the edge of the abyss.
The way perception shifts within Tahoe's songs is completely dependent on the listener and where they want to take it. The dense and seamless fusion of sounds, samples and motifs on opener 'Equity' typify the record, a brief intro before 'The Crossing Guard' begins to growl, gently oscillating with myriad strands of sound making up the thick drone. It seems to switch from a kitten's purr to Coppola's chopper blades with the slightest tilt of the head, until halfway through a rising hiss of synth marks a release valve from the low-end rumble and a high vocal echoes in the far distance.
The inherent discomfort makes itself most felt on the album's centrepiece, 'MMXIX', more erratic in its attack. An arcing, high frequency tone touches on aural abuse, and yet it's here that the album cracks open from the dense claustrophobia into airier chimes and expansive bass tones, toying with industrial percussive elements. Snippets of what seems like animal noise – a continuity from $uccessor's field recordings, perhaps – Gregorian chants, and orchestral choirs combine through 'Hollow Earth', the earthy low register morphing into something more ethereal and opaque. A fuzz of harsh noise breaks the spell; eventually pulsing into a repetitive, buoyant drone whose malleable surface seems peppered from above and pierced from beneath with subtle sounds and samples.
These three lengthy songs are Tahoe at its most effective, although either side of them Dedekind Cut is as at home channelling classical music as he is manufacturing static noise. This isn't an album to have on while strolling through town with the intrusion of traffic noise, or pottering around the kitchen while your housemate heats up their beans. It's a record that commands attention and time investment – one for sample freaks and drone heads, for earphones and insularity. On Tahoe, Dedekind Cut achieves a richness and depth whose effect is almost as tangible as it is oppressive – grim company for the isolation chamber. Justin McDaid