Live Reviews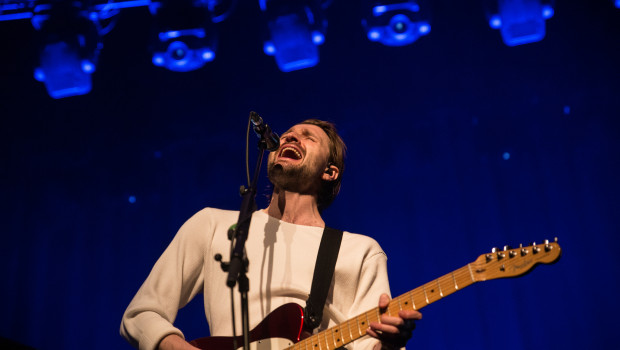 Published on February 18th, 2018 | by Cal Byrne
0
Wild Beasts @ Olympia Theatre, Dublin
This is the end of the indie technocrats. Nearly a decade after the release of Limbo, Panto Wild Beasts graced the Olympia stage for the last time. While this signals a very real end for the Kendal four-piece, it also serves as a more abstract end for an era of indie as a whole. Everywhere you look, mid-noughties bands are calling it a day. The age of four blokes and a guitar is over. But then, Wild Beasts never subscribed to this image of the scene.
Their music was meant as the antithesis of the cheap lager and a pack of smokes crew. The notes they tried to hit were more subtle; the images created more vivid. And on the evidence of their Thursday night farewell, they have a point. The Dublin crowd were treated to a generous 2-hour plus serving of intricate guitar music that was at times ambient and others frenzied.
The opener of 'The Fun Powder Plot' set the tone. It's a song that very much feels like a journey with its pitter-patter drum beat and languid build up. The audience swayed in mass as a mostly male crowd tried desperately to keep up with Thorpe's falsetto. They weren't successful, but that didn't matter; there were plenty more opportunities for this later.
What became striking early on was the sheer amount of variety in output. The contrast between the slightly frenetic world of Limbo, Panto with the beefed-up and polished electro of their last album showed a band who clearly put a premium on development. You'd rarely find two more different tunes than 'Big Cat' and 'His Grinning Skull' in the same set, yet Thorpe and co. made this work in their favour.
The technical ability of all four members was similarly impressive. It'd seem churlish to pigeon hole Thorpe, Little and Fleming into any one instrument such was the constant nature of the swapping that went on between the front three. The only constant in their arrangement was Chris Talbot, who found himself welded to his kit. But there is good reason for this. The multi-rhythmic drummer provides Wild Beasts with the key interlocking element that holds their intricate layers together.
Things got emotional towards the end. 'All The King's Men' was undoubtedly the stand out tune of the night – and this time led by Fleming's crooning baritone – the crowd had an easier task of keeping. The singer was speechless upon conclusion. "There are no fucking words" he said.

We couldn't agree more. Cal Byrne
Photos by Sarah Ryan